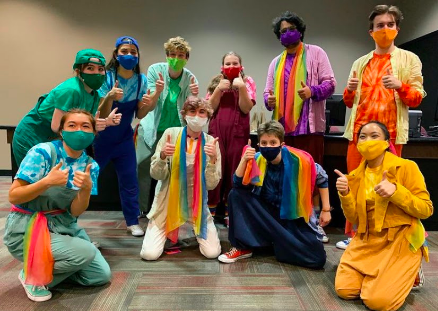 James Miller
It's not easy producing live theater in the age of social distancing, but drama directors Jeff Hall and Elaine Kloser have been working hard with students to put on a production of "Godspell" in a new digital format. 
The show was made up of a cast of about 34 actors, ten students performed live onstage and the rest performed on the screen through a variety of projections and special effects. In this new format, new opportunities, as well challenges presented themselves.
"It's been really fun to get creative in a way that we haven't before when [trying] to figure out how we can create a show and bring a larger group of people together in a time when we can't all be in person," said junior Ava Maloco. "I think it's pretty exciting when everything is a little up in the air and you're not sure exactly how things are going to turn out." 
Behind the scenes was a tech crew of 40 students who had been working tirelessly to ensure a smooth run.
"The tech crew has been preparing for Godspell by setting up not only what we normally use for a show, like lights, microphones, but we've also been creating a huge amount of video projections featuring the ensembles, in addition to all the equipment needed to stream Godspell to everyone watching from home," said senior tech crew member Luke Motschenbacher. "During the actual performances, the tech crew will be running lights, projections, microphones and sound effects, the cameras, and much more."
The show follows a bit of an unconventional plot line, illustrating the story of Jesus' life through parables, songs, and dancing. The message of the show, however, is really up to your own interpretation.
"The show basically follows Jesus's life, but I'd say that in a more abstract way the show is just about teaching valuable lessons, especially about community, in a more entertaining way," said Ava Maloco. 
Many of the virtual ensemble and principal cast members agree that Godspell is centered around a common theme of community.
"It's pretty difficult to really understand what Godspell is about. I know many people think it's a huge Christian and religious show, but I disagree," said junior James Miller, who played Jesus. "Godspell tells a very simple but important story: a group of strangers being united through song, celebration, and, most importantly love."
The show premiered on Friday, Dec. 4, with two more performances that followed Saturday and Sunday. Over 900 viewers streamed the show online, as well as a small live audience of family members who were able to watch the show live. 
"I think livestreaming the show really opened more doors than it closed," said junior Kate Goddard. "My grandparents live in Ireland, so if we were to do the show [in person] they wouldn't have been able to see it. But even with the eight hour time difference they were able to see me and they said it was the highlight of their long year in isolation."
Godspell is an incredibly touching story, and although the original show has been performed at Jesuit before in 1970 and 1995, it remains a show that reflects an important message relevant to the modern age.
"I think [Godspell] also relates to the times we are living in right now. There is a song called "Beautiful City" near the end of the show before Jesus is killed, and the lyrics mention how we can slowly start to recover and [that] things may not get better right away, but they will eventually," said junior Theron Abel. "This is such an important message for us right now, living in these tough times, and we have to realize that things will get better."