Jesuit Continues Hot Start to Season Versus Westview
A large crowd packed Jesuit High School's Knight Gym on September 23 versus the Westview Wildcats. Jesuit came into this game riding a nine-game winning streak, while Westview had only lost one out of ten. The game started out tight with Jesuit up 16-13 halfway through the first set, but the Crusaders created some distance between them, winning the first set 25-18. 
The scrappy Wildcats continued to challenge through the second set. Every time the Saders would seem to pull away, Westview answered with a run of their own. The Crusaders would ultimately win the set 25-19.
It was a battle between the two teams in the third set as they went into a timeout even at 5-5. The Wildcats were able to combat spikes from Jesuit's hitters exceptionally, allowing no easy points. A fantastic third set by senior Tess Massingale allowed Jesuit to go on a couple runs, winning the set 25-17. 
In the end, the Crusaders showed up and showed out in front of the biggest crowd of the season. 
Newcomer
Jesuit received a huge game from Freshman setter Jackie Carle. Carle, who had become accustomed to being senior Hannah Nguyen's backup, showed tremendous poise and was utilized the majority of the game, coming in halfway through the first set. She would go on to finish the game, providing setting to dynamic outside hitter's Isabel Patterson and Ceanna O'Loughlin. 
About the Writer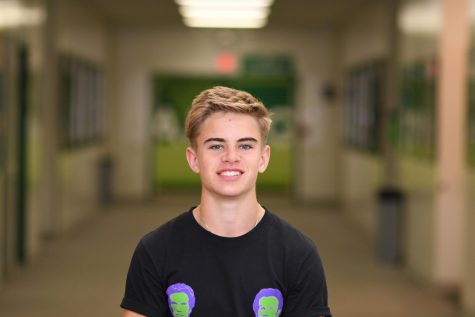 Spencer Carle, Staff Writer
Spencer Carle is a first year writer for the Jesuit Chronicle. As a member of the class of 2022, Spencer decided to take Journalism primarily because of his uncle Neil, who studied journalism at the University of Oregon and is now an anchor on the late night show: SportCenter on ESPN. Spencer has a true passion for sports, especially soccer, and has committed to play collegiate la at the D1 level at Gonzaga University. One of his essential inspirations for sports journalism is watching early morning soccer analysts on NBC and Sky Sports. His first experience with journalism was as a junior taking the Broadcast Journalism class, where he learnt how to commentate live sports, conduct interviews and display videography skills. This year, Spencer hopes to learn the fundamentals of journalism, and primarily focus on covering the school's Varsity games and pursue stories tied with the sports programs. In addition to writing about sports this year, Spencer would love to write about problems students face at Jesuit, mental health, food and fashion. Outside of the classroom, Spencer is one of the captains for the men's soccer team, a cook, an avid traveler and loves to spend time with his friends and family. A fun fact about him is that he lived in London and Amsterdam between ages six to ten.