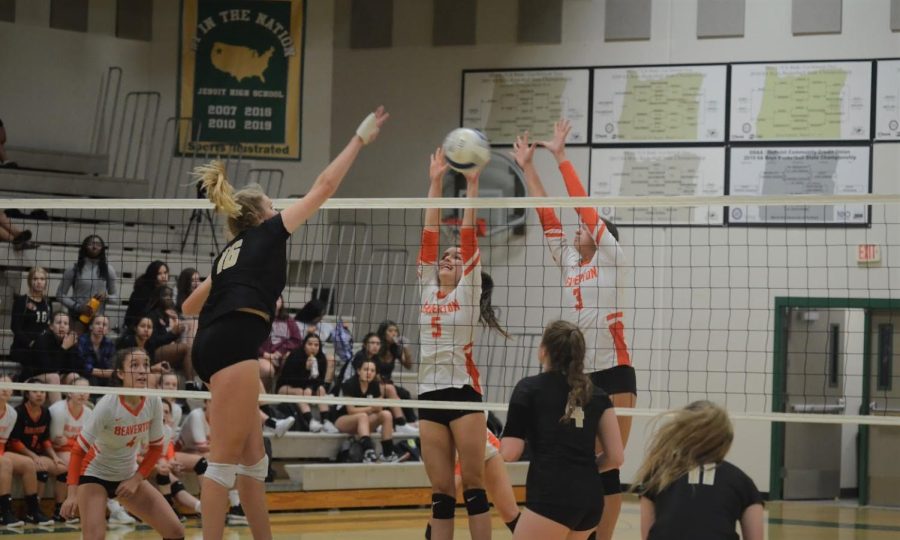 It came all too easy for Jesuit on their October 5th contest versus Beaverton High School. Knight Gym at Jesuit was packed with middle and grade schoolers as Jesuit hosted one of two CYO nights—and the ladies put on an exhibition. 
The first set was highlighted by strong defensive play from senior Hannah Nguyen and powerful outside hitting from juniors  Ceanna O'Loughlin and Isabel Patterson. Jesuit won the first set 25-13. 
The second set was a pure display of excellence. The Crusaders only gave up six points, steamrolling to an easy set win behind dominant Tess Masingale. 
The Saders commanded play again in the final set, this time behind the strong serving of senior Maisie Alexander, winning the set 25-10. Jesuit moves to 15-0 overall and 7-0 in league play while Beaverton drops to 3-12 overall and 1-7 in league play. The Crusaders next play at Southridge (0-14)(0-8) on Thursday, October 7th. 
Unplayable
Again and again the Crusaders are led by the consistency displayed by Tess Masingale and Maisie Alexander. The 6'3" middle-hitter's combination of accuracy and authority on spikes made her all but unplayable to the other team. The latter controlled the final set much farther from the net with her serving prowess. On one ace, an opposing player let out a yelp having been surprised by the ferocity of the serve.