F.D.A. Approves Pfizer Vaccine. Will People Take It?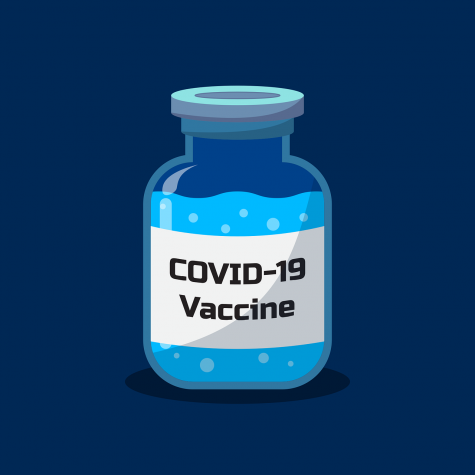 After nine months of quarantining in the United States due to the coronavirus, the F.D.A. has finally approved Pfizer's vaccine. But will the efforts of the drug makers pay off with a willingness from people to take it?
With the vaccine being approved Friday December 11, anti-vaxxers have taken to social media to express their grievances. On Governor Kate Brown's Instagram page, @oregongovbrown, users criticized the vaccine on one of her recent post.
"Our family will not utilize a product where the manufacturer is completely free from all liability, especially one that has not gone through proper safety testing and sent via Warp Speed to the marketplace," one user commented.
"In 10 years there will be commercials saying, "If you received the COVID Vaccine, you may be eligible for compensation, call Jones Law," another said.
While some on social media have strongly expressed their stance of being against the vaccine, many Jesuit students said they would be willing to take it.
"I'd be pretty willing at this point. The rates of it being effective are pretty high. I would like to look into it a little more, but I'm pretty willing." –Astrid Foster: Junior

"I'd definitely take it as long as they prove that it's effective and safe. I take the flu vaccine every year so I don't see how this would be any different." -Stella Anastasakis: Junior

"I would take the vaccine because I have no opposition to not taking it. I think that especially people who are allergic to vaccines it's important for us to take that responsibility." -Julie Pham: Junior

"Yeah I'd be willing to take it because although it may not be a hundred percent [accurate]…it works." -Patrick Rau: Junior
The first shots were given on Monday December 14, just a few days after approval (CNBC). The first to receive it will be frontline healthcare workers and those at long term care facilities. While it may seem like only weeks separate Jesuit students from receiving their vaccines, Dr. Anthony Fauci says that April will be the month when those not in high priority groups will receive their dose.
Sources:
About the Writer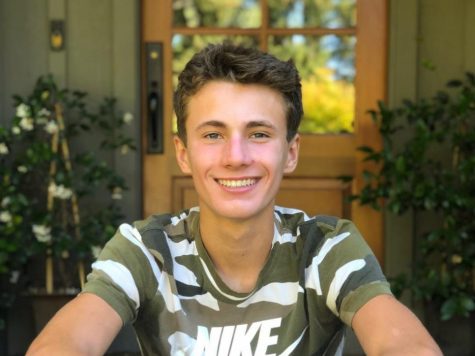 Anton Baricevic, Managing Editor
Anton Baricevic is a proud editor for the Jesuit Chronicle. As a member of the class of 2022, Anton decided to take Journalism because his sister Mia,...
Part 3: Roadtrips
For senior Emily O'Connor, she understands that traveling may be a necessity for some people and that some forms of travel are more acceptable than others, but, nevertheless, advises against it. 
"I think road trips are good because there's a lot less contact," O'connor said. "Some people need to travel, which is fine, but during the high frequency times on all of the breaks and stuff, I wouldn't travel." 
The CDC states that during car travel, getting gas, food, or stopping for bathroom breaks causes individuals to get into "close contact with others and frequently touched surfaces," so they recommend the following tips to stay safe during road trips:
Bring disinfecting wipes

Bring hand sanitizer with at least 60% alcohol content

Wash hands for at least 20 seconds after using the restroom or touching shared surfaces
Part 6: Feature on a Family's Decision to Fly
Unlike O'Connor who will be spending her Christmas at home, junior Lucy Langer and her mother Nikki Langer plan to travel over Christmas break to Arizona for six days via airplane. For the Langer family, their trip to Arizona is a necessity due to the deprivation of family connection.
"We're flying just because we have driven before and it takes a long time, so we can get there quickly," Lucy Langer said. "My family over there is comfortable with seeing us, so that's why we are going."
"That is where my entire family lives, and I haven't seen them for over a year," Nikki Langer said. "And my sister had a baby…and we haven't seen her yet, so we are excited to see her, and my parents are older so we want to spend some time with them."
When questioned about the precautions they will take on the plane, they both ensured that they and the rest of their family would be following standard CDC guidelines.
"We will take all of the normal precautions that are required," Nikki Langer said. "We will wear a mask the entire time, and I always bring hand sanitizer with us, and we will wipe everything off when we get there."
However, the Langer family is not abiding by the CDC's recommendation to quarantine 14 days before and after traveling. Rather, they are considering taking Covid tests to compensate for not quarantining. 
"We are not quarantining," Lucy Langer said. "We will see some people, but it's not like we are going to be in a huge group. We are doing what we have been normally doing. We have been traveling, so we might get Covid tests before we go because we are visiting our family."
"We are traveling in January to Hawaii and it's required to take a Covid test, so we will be doing that," Nikki Langer said. "With Arizona, we don't know [if we will get Covid tests] yet, and the biggest reason is that the research that I found is, if you don't have symptoms, it costs quite a bit [to take a Covid test]. It's over $100 per person. It's only a snapshot of where you are at that moment, but we haven't talked in detail about if we are going to."
According to Dr. Kristina Angelo, a certified epidemiologist for CDC's Traveler's Health Branch, there are "a lot of states that have requirements and restrictions now for people coming in and mask requirements and some states are requiring quarantines," so she advises people to check before traveling. 
Nikki Langer particularly emphasized her and her family's knowledge of the Covid scene in Arizona, saying that she "talk[s] to them all the time, so [she] knows what's happening over there."
So the question that families need to answer before traveling are: Does the need to travel outweigh the risk? If so, in what ways can you keep your family safe?
Part 5: Airline Safety Measures
While all of the previous professionals' concerns are valid, airports and many airline companies have enhanced their procedures and progressed their protocols to accommodate Covid regulations. 
American airlines has added the following safety measures to increase their passengers and workers' protection:
Amplified cleaning 

Hand sanitizing stations

Less ticket counters

Creating space for individuals to socially distance

Requiring proper face coverings

Plexiglass shields in front of ticket counters

Checking in through touchless devices
The mechanics and inner workings of an aircraft itself are carefully regulated.
"Most viruses and other germs do not spread easily on flights because of how air is circulated and filtered on airplanes," CDC said.
Part 4: Concerns Over Air Travel
Despite not choosing to travel over Christmas break, O'Connor flew on a plane in the early fall to visit a college, adhering to her statement that some travel is necessary. In her case, it was to make a final decision on where she would attend school for the next four years. O'Connor spoke of the many precautions she and her family took on the plane as well as her comfort level throughout the journey. 
"My parents bought little goggles, and they gave me wipes so that I could wipe down everything," O'Connor said. "I obviously wore a mask, and I didn't eat anything because I didn't want to take off my mask. It was one-way. The plane was almost completely empty, so I felt safe. On the way back, it was a little bit crowded."
For Pediatrician Dr. David Rubin, the director of PolicyLab, a research and public policy center at Children's Hospital of Philadelphia that is monitoring COVID-19 cases nationwide, thinks that air travel is troublesome, and, like O'Connor, supports of car travel.
"I almost think that cars are safer for those who are traveling, because it's just you and whoever you're traveling with," Rubin said. "At least you don't have the situation of a packed airplane where there might be several COVID-19 positive individuals on the plane."
O'Connor and Rubin's concerns are based on the premise that the longer an individual is around others who may be infected with or carry COVID-19, the higher chances they have of getting the virus.
According to CNN Travel, Erin Bromage, a comparative immunologist and professor of biology at the University of Massachusetts Dartmouth, the chances of an individual catching COVID-19 can be modeled in a mathematical equation.
"Successful infection= exposure to virus times time," a CNN commentator said.
Similar to Rubin and Bromage's rationale, CDC director Dr. Robert Redfield views air travel as the catalyst of the second wave of COVID-19, labeling it a "silent pandemic" because of the possible asymptomatic carriers that may be on board.
Part 1: How Covid Has Shaped Our New Reality
With Christmas break around the corner, families are eager to start vacationing. However, according to the Centers for Disease Control and Prevention, Covid cases are rising at an alarming rate, with the total number of deaths in the United States at 302,992 and counting. In light of this information, families are faced with the dilemma to either stay home for the holidays or safely continue their initial travel plans. 
"3 months ago, COVID-19 was not even in the top 75 causes of death in this country. Much of the last month, it was the #1 cause of death in this country. This is more remarkable than the 1918 Flu pandemic," according to Michael Osterholm, expert in infectious disease epidemiology.
Due to the gravity of COVID-19, for the past ten months people have had to adjust to a life of face masks, hand sanitizing, social distancing, and Covid testing for the sake of protecting themselves and others from getting infected by the virus. These procedures have since been normalized, forcing many to adapt to this new reality in their personal, academic, and work lives. Despite the universal understanding that physical health is paramount, there is plenty of dissension around what is considered "safe" for one's physical health in regards to traveling. 
Part 2: Advise from the CDC
The CDC says that "travel can increase your chance of spreading and getting COVID-19" so "postponing travel and staying home is the best way to protect yourself and others from COVID-19." The CDC especially emphasizes the unpredictability of asymptomatic individuals—people who do not show symptoms of COVID-19 but are carriers of the virus. 
While the CDC recommends staying at home and following quarantine protocol, they offer advice on how to travel safely for those that believe it is a necessity. 
Check travel restrictions in your destination

Get your flu shot before traveling

Bring masks and hand sanitizers

Do not follow through with travel plans if your travel buddies are sick

Wear a proper face covering in public settings that covers both the nose and mouth

Abide by social distancing regulations (six feet apart) to reduce close contact with others

Try to not touch your eyes, nose or mouth

Do not maintain eye contact with a sick person in close proximity as a common way to become infected is through virus particles entering one's eyes
The CDC also recommends that people consider the following questions before traveling. If the answer to any of the questions is yes, they advise the individual to think critically on if the need to travel outweighs the risk.
Ask yourself if you are planning on seeing anyone in the "high-risk" groups. If a member of your family or someone you are visiting is considered "at-risk," you should also consider yourself "at-risk" so that you can take the extra necessary precautions to protect the high-risk individual.

Are the cases rising where you will be traveling? 

Are the hospitals overwhelmed in your community or where you are traveling to?

 Does your community or destination have "requirements or restrictions for travelers"?

Have you, your family, or people you are traveling with been in close contact with people 14 days before the vacation or plan of travel?

Are you able to maintain six feet distance on your form of transportation?

Are you traveling with people outside of your immediate family?
For some individuals, following CDC guidelines is enough protection against the virus no matter the setting one is in. For others, CDC guidelines need to be upheld to the highest standard with traveling being the biggest transgression
Mock Vote Results: Biden wins in a landslide
In Jesuit's mock election, Biden and Harris won in a landslide victory with a whopping 77.6% of the vote, while Trump and Pence received 22.4% of voter support.
Juniors had the highest voter turnout, making up 30.9% of voters.
Sophomores had the lowest amount of voter turnout with 20% of the vote.
Biden, who identifies as liberal, has more popular views in Oregon, a state which has voted for the Democratic Party in every election since 1988.
President Trump, who identifies as conservative, is favored to win red states.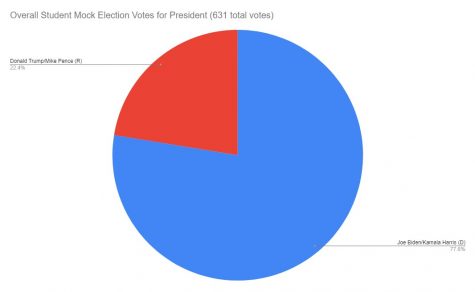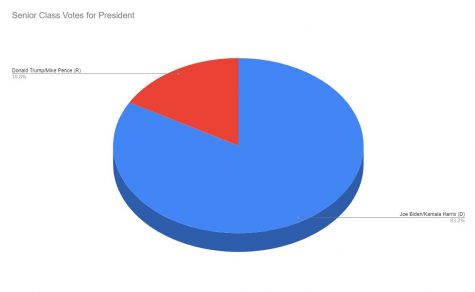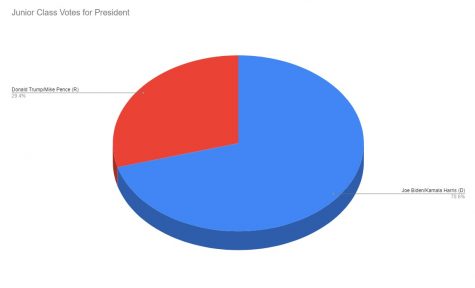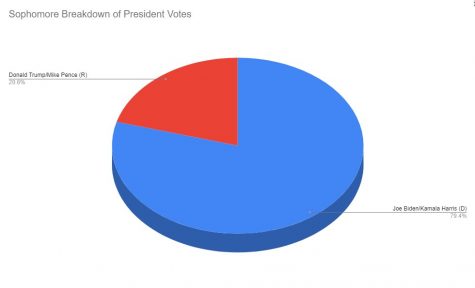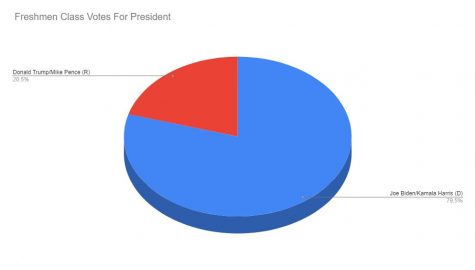 How students are feeling about the election
Jesuit Chronicle asked students to offer one word about how they are feeling about the 2020 Presidential Election. 434 students offered their feelings out of more than 631 votes cast.
The wordle above offers their responses.
Take Part in Jesuit's 21 Day Racial Awareness Challenge
Beginning November 2nd, the Diversity Equity and Inclusion Office will challenge the Jesuit community to engage in a 21 day event in an effort to become a more culturally aware and Anti-racist community.

The Ignatian Racial Equity Challenge will give students the opportunity to understand the realities of racial injustice endured by people of color throughout the nation. This challenge will provide a unique look into the lives of individuals facing racial injustice, and will help participants explore racial equity in light of the Jesuit faith and Ignatian Spirituality.
Participants will receive daily emails with a challenge beginning November 2nd and ending November 22nd. Sign up by October 30th by clicking this link.
About the Writer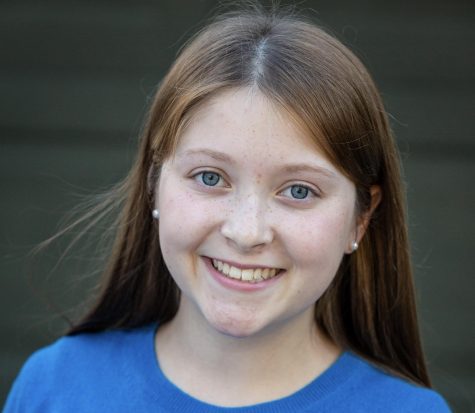 Steele Clevenger, Editor-in-Chief and Creative Director
Sarcastic. Artistic. Enthusiastic. These are three words Steele Clevenger would use to describe herself. A senior at Jesuit High School and a veteran journalism...
Why Is Tik Tok So Addictive?
Tik Tok was created in 2016 and has grown massively popular in America.  Despite its popularity it does have drawbacks.  Tik tok is very addictive and can waste a person's time very easily. Most parents probably understand this because they see their kids glued to the app, the average person spends around 52 minutes on Tik Tok everyday per Oberlo blog.
 One reason why it's so addictive is because Tik Toks are short 15 to 60 second videos. If you watch a 10 minute long video on Youtube, an individual can get very bored if it's not something they like, but if a person saw a Tik Tok a person doesn't like they, can just wait out the time or skip it with a swipe of a finger.  For Junior Dylan Mills Tik Tok is easily accessible. 
    "It doesn't matter how long you have, you can always watch a 15 second Tik Tok It doesn't matter if you only have a minute or two." Junior Mills said
    Another reason why Tik Tok is so addictive is because a users For You Page which is their feed where the videos on their screen are personalized to them. The first time a user goes on Tik Tok, it is taking notes on which videos a user interacted with -like, comment or share and will give an individual more videos like that. For example, if someone only interacts with sports posts there For You Page would be mostly sports-related. Junior John Holman is among the teenagers experiencing the personalization of content on Tik Tok
"I feel like every time I open the app, it has something that I like. Honestly it's kinda scary." Junior Holman said
The app does not take long to suck the user in once they open it. In other social media platforms an individual has to open the app and press a few buttons to find the content. On Tik Tok,  the videos start playing as soon as the user clicks on the app. 
A use can scroll for hours and nothing would change, just more videos popping up. There are more than one million Tik Tok viewed a day all around the nation per Oberlo blog. There's also no loading time for a new video, so a new one just starts playing with a swipe of a finger. 
Another part of Tik Tok that is addicting is making and creating the videos. There are so many fun features and filters to play with and make videos more exciting. There have been so many people who blow up and get famous on Tik Tok just for making one video.  For example a user that goes by the name @AngryReactions has 8.3 Million followers just for reacting to videos with an angry face. 
About the Writer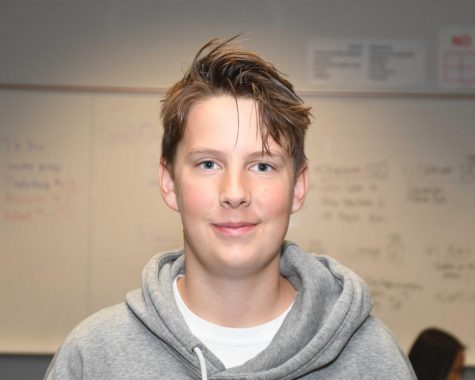 JJ Gray, Staff Writer






JJ Gray is a junior and this will be his second year in  journalism student, he is excited to be in the class and have a great time. In JJ's...
Dairy Queen Summer Workers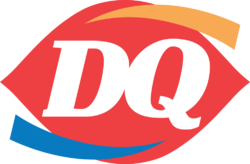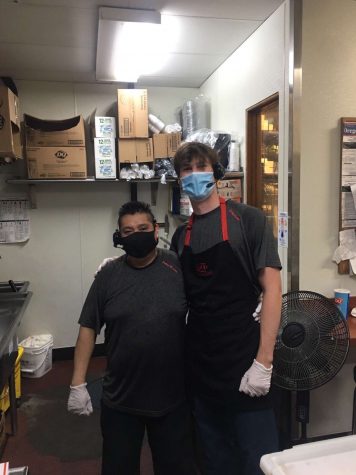 Due to the stay at home orders concerning COVID-19 some students decided to find a summer job. Multiple Jesuit students sought work at the Garden Home Dairy Queen. 
"My job was taking orders, making any menu item that had ice cream and candy in it, except cake, and toward the end of my job I also had to train the new hires," senior Aidan Alexander said."It was fun, especially because I worked with a few of my friends. It is really demanding though because you always have to be moving super fast and you have to learn how to deal with difficult customers."
Difficult customers were not the only challenge of working at Dairy Queen. 
"My least favorite part was cleaning the grease collector." Senior Grant Carufel said. 
"Blizzards were super messy," Alexander said. "Especially the Oreo Cheesecake one. It had Oreos, lots of cheesecake pieces, and this black paste. All the toppings filled the cup so there wasn't any room for the toppings to blend in. They just spit out everywhere and onto me." 
"Being a chef at Dairy Queen Garden Home was a laborious and stressful job," senior Jack Koontz said. "My Least favorite thing to make had to have been the oven baked sandwiches. That was an item that had to be prepared beforehand and placed in the huge walk-in fridge, but when you walk into the fridge and there are no more left, you have to sprint around the hot, stuffy kitchen to gather the ingredients to make it. Oftentimes you burnt your hand, as these sandwiches were pipin' hot, no doubt about it."
Although the work was tedious at times, the students also enjoyed themselves throughout the summer. 
"My favorite part of the job is the relationships that I have made with my younger coworkers, the majority of the staff is made up of teenagers so it is nice to work with someone in my age group," senior Taylor Andreas said.
"My favorite thing to make was the triple chocolate brownie because it was simple and it looked really good when I finished it," Alexander said. "Blizzards were incredibly messy to make, so it was nice when somebody ordered something that was not a blizzard." 
Jack Koontz even thought of the experience as a learning opportunity. 
"It taught me to manage fast pace stress and I feel like my experience as a chef strengthened very much." 
When school resumed, Carufel, Alexander, and Koontz decided to no longer work to focus more on their studies and college applications. Andreas was willing to continue working through the school year. 
About the Writer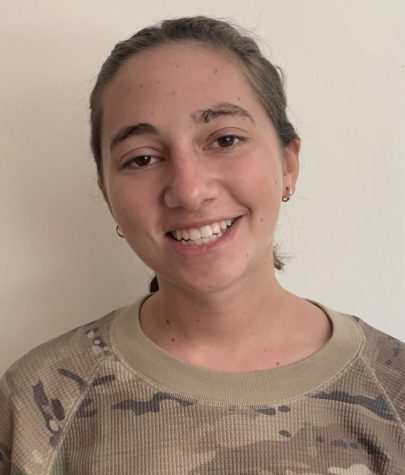 Lucy Menendez, Staff Writer
Lucy Menendez is a senior at Jesuit High School and first time journalism student. Lucy plays basketball at Jesuit and is involved in multiple clubs. Her...