CCA Walks for Joy
Jesuit and the Children's Cancer Association have been partners for 22 years. It all started at Doernbecher Children's Hospital 27 years ago when two young girls named Melissa Zimel '01 and Alexandra Ellis shared a room. Sadly, only one of the two girls survived their battle with cancer; Alexandra passed away at the young age of five. Her mother, Regina, was inspired to start a charity in her memory to help young cancer patients live a more joyful life through friendship, joy and music. This was the beginning of the Alexandra Ellis Memorial Children's Cancer Association(AEMCCA). 
When Melissa entered Jesuit High School in 1997 as a freshman, she knocked on Academic Vice Principal Paul Hogan's door and told him about the wondrous things the AEMCCA  had done for her and other children, hoping Mr. Hogan could instigate Jesuit support for the organization. He did. The school, along with the leadership of Melissa, organized the first Fat Daddy Ball rock concerts at the Crystal Ballroom, in support of what was soon  the Children's Cancer Association (CCA). 
Four years later, Jesuit decided that throwing rock concerts so close to graduation was a bit much for students, so they participated in the first ever Walk for Joy. The Walk for Joy is a fundraiser in which the six Portland Catholic schools, Jesuit, Central Catholic, De La Salle North Catholic, Valley Catholic, La Salle, and Saint Mary's Academy, walk together to raise money, show support, and spread awareness for CCA. While the CCA Walk currently operates smoothly, the first walks were not as glamorous. 
The first Jesuit-only walk was a 19-mile trek, which was difficult for many participants. For the next ten years the walk became the last six miles of the Portland Marathon route.  
The latest version of the  Walk for Joy began when four sophomores, Ruby Gray '17, Tim Haarmaan '17, Carli Wood '17, and McCall Phillips '17 came to Principal Paul Hogan's office in hopes of expanding the walk to incorporate rival school Central Catholic. The walk served as a branch to bring the schools together outside of athletic and academic rivalries while raising money to support CCA.
As the Walk continued over the years, it evolved. Instead of just two schools participating, all six of the Catholic schools walked together in 2017 and congregated for a Mass at Sellwood Park.
The Walk for Joy became a huge success over the years, raising money and creating new relationships between schools.
Sadly, due to Covid-19 and social distancing restrictions, the Walk for Joy was forced to become all-virtual. Meetings started in late May to discuss planning the Walk and how it could carry on in the age of COVID.
The final plan was for a student-led Coffeehouse to take place completely virtual on the night of September 26th, and the following morning of the 27th would be Mass hosted by Central Catholic, with all six schools attending. Immediately following the mass, students and their families were encouraged to go outside and do their own, now called "Walks for Joy," while dressed in purple and sharing their photos via social media. 
The excitement surrounding the Walks for Joy spread during the second week of school. Each school created a "hype" video to be played during a virtual assembly to excite students and introduce a more serious message from CCA founder, Regina Elis.  In addition, on Monday, September 14, Jesuit held its annual brown bag meeting over zoom led by senior student lead Gwynne Olson. The meeting was a success, teaching almost 100 students how to create fundraising pages, and reach out to donors. 
Within two weeks, not only did Jesuit reach the goal of 10,000 dollars, but surpassed it by over 5,000 dollars. So far, the schools raised almost 50,000 dollars. 
The Coffeehouse included performances by the students of all six schools. The Jesuit emcees of the night were senior Alannah Connolly and senior Mackenzie Jamies and student performers included senior Gregor McKelligon, and junior Denyse Gallardo. Supporting the musicians were technicians senior Grace Sopko and senior Luke Motschenbacher. Overall, the students were a hit, but they were not the only music performers invited to play that night. After the event, the world renowned Lumineers performed some of their hit songs. 
The next morning students woke up early for 10 a.m. Mass. With speakers from all six of the schools, a beautiful service was produced. The Mass was presided by Fr. David Shaw from Central Catholic and Fr. Pat Couture from Jesuit, with student reflections by junior Mary Lou Lux from Valley Catholic, Gwynne Olson from Jesuit, and junior Emma Watson from Central Catholic. The service was concluded with a reflection from Regina Ellis. 
Following Mass, students were encouraged to go out and walk with their families. Though the walk was significantly different from past walks, it was still greatly embraced by many students. 
"I loved the CCA Walk for Joy the previous years I participated because I got to walk with my classmates," senior Roxana Abtin explained. "However, this year I really enjoyed being able to walk with my family."
Looking back, the weekend was a complete success. Students were as involved this year as they have been in the previous years and had an amazing time. This weekend seemed impossible when planning began in April but ended up being amazing thanks to everyone who pitched in. 
"CCA, like a lot of charities, is hurting in the age of COVID-19 because they do most of their fundraising at events." Principal Hogan said. " My view was that things went astonishingly well. We could very well have just said,'Yeah, you know what, this is not going to work this year. We can't gather everyone in the Saint Mary's gym.how are we going to have a Mass?' In the end, I'm super grateful that students did not give up on it and I am so proud of our Catholic school student leaders!"
About the Contributor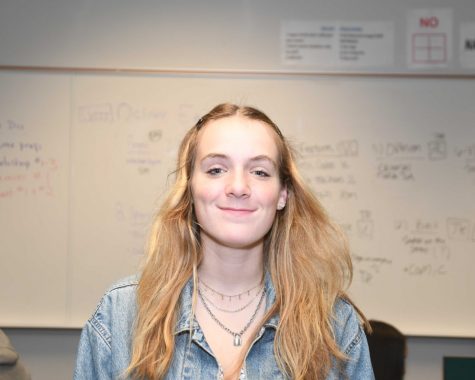 Gwynne Olson, Executive Editor-at-Large and Social Media Executive
Executive Editor-at-Large and Social Media Executive, Gwynne Olson uses writing and social media to inform, educate, and entertain. Beginning by writing mainly sports pieces, Gwynne dives into opinion pieces and news pieces as well as the occasional video,  humour article, and podcast. Gwynne hopes to continue to pursue journalism after graduating from Jesuit, wherever she may land. Though a journalist at heart, she also writes fictional pieces and poetry on the side.