Trunk Or Treat!: Halloween Drive Through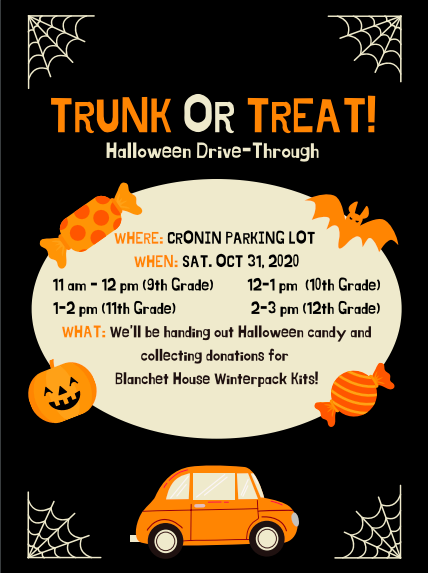 This Halloween, student government is helping Jesuit students get into the spooky spirit with the first ever Trunk Or Treat!: Halloween Drive Through event. The event will run from 11 a.m. to 3 p.m. on October 31st with separate time slots for each grade level, and take place in the Cronin parking lot on campus. Freshmen and Edison students can participate from 11-12 p.m., Sophomores and Edison students from 12-1 p.m., Juniors from 1-2 p.m., and Seniors can arrive anytime from 2-3 p.m. 
At this event, students will have a chance to drive through festive Halloween decorations and get some candy from student government members along with a few teachers. Students will also have an option to donate to the Blanchet House Winterpack Kits Drive as they drive past a designated donation station. At the end of the drive, students will have a socially distanced photo opportunity.
Members of student government will be visiting campus in small cohorts this week to begin preparing for the event, setting up decorations in the Cronin lot as well as bagging up candy to safely deliver to students.
 Because large gatherings and many Halloween festivities are limited due to the COVID-19 pandemic, student government has organized this event to hopefully help bring a sense of community to the students during this holiday. 
About the Contributor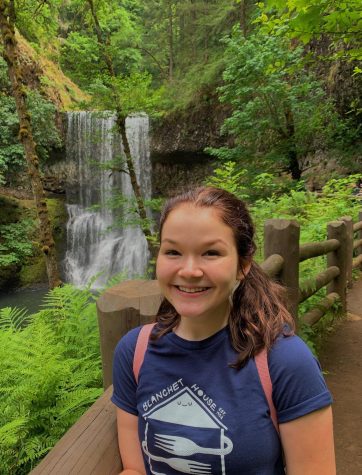 Chase Kerman, Staff Writer
Chase Kerman, a junior at Jesuit High School, is excited to explore Journalism and grow as a writer in her first year taking the class. At Jesuit, Chase is very involved in the drama program, the Jesuit Ambassadors and is also a representative for Student Government. In addition to performing at Jesuit, Chase spends time volunteering as a Student Ambassador at Blanchet House or goofing around at Northwest Children's Theater (her favorite place!) as an actor and member of the Interns NW program. She is very passionate about politics on a national and local level, social justice, and government. Chase hopes to shed some light on more controversial topics at Jesuit, and to inspire her peers to learn about current events because politics are cool!