Female Politicians: Battling Double Standards as well as an Opponent
It's been a groundbreaking couple of years for women in politics, with more gender diversity in government than ever before. According to the Center for American Women in Politics at Rutgers University, the year 2018 showed the largest increase in female representation among state governments (BBC). 
As the 2020 Presidential Election grows closer every day, voters have a chance to elect the first female vice president of the U.S: Kamala Harris. But is Kamala Harris up against something more than her opponents? Many have argued that women in politics, much like women in every field of study, are subject to an implicit bias that has long impacted our expectations of what a leader can be. 
An implicit bias is at work when someone tends to hold a preference towards a certain group of people, holds a specific attitude, or associates stereotypes to a group without conscious knowledge of their actions (Perception Institute).
Women in politics are often the subject of offensive, misogynistic remarks, as they are attacked by both the public and their political opponent. Last March, a hostile interaction between Rep. Ted Yoho, R-Fla., and Rep. Alexandria Ocasio-Cortez , D-N.Y. made headlines when Yoho was heard insulting Ocasio-Cortez, going as far to call her "crazy", "disgusting" and a "f—ing b-tch" (MSNBC).
Although these jarring words may seem shocking at first, there is a long history of men flinging insults at their women colleagues regarding their appearance, their ambition, their opinions or other subjective factors. As women are constantly criticized for these characteristics, their accomplishments and merits are overshadowed and appear less important.
Derogatory language towards women in politics has provided a long history of unfair coverage, double standards, and bias that has limited women, women of color in particular, from positions of power and authority. The same cannot be said for male politicians.
 In a research conducted by TIMES UP, a movement against sexual harassment and was founded in response to the #MeToo movement, the Vice Presidential coverage was analyzed between Kamala Harris, her opponent Mike Pence, and 2016 Vice Presidential Candidate Tim Kaine. The data showed that the white male candidates' qualifications remained unquestioned, while Harris was constantly criticized for her likability, her ambition, and other opinionated commentary (NowThisNews).
It's time to treat women in politics with the same respect and dignity that they deserve, and that their male counterparts receive. As Americans continue the fight towards equality, it's time to stop reporting on what a female politician is wearing, and start focusing on what qualifies her as a great leader for the American people.
About the Contributor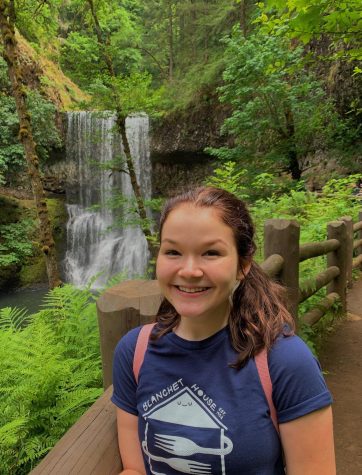 Chase Kerman, Staff Writer
Chase Kerman, a junior at Jesuit High School, is excited to explore Journalism and grow as a writer in her first year taking the class. At Jesuit, Chase is very involved in the drama program, the Jesuit Ambassadors and is also a representative for Student Government. In addition to performing at Jesuit, Chase spends time volunteering as a Student Ambassador at Blanchet House or goofing around at Northwest Children's Theater (her favorite place!) as an actor and member of the Interns NW program. She is very passionate about politics on a national and local level, social justice, and government. Chase hopes to shed some light on more controversial topics at Jesuit, and to inspire her peers to learn about current events because politics are cool!