Interview: Mr. Hahn on Running for Tigard City Council
In honor of Veteran's Day, I had the chance to interview history teacher and former veteran Jerry Hahn, who shared with me his experience of running for Tigard City Council this year. Even though the election is over and he did not receive a seat on the council, Hahn is positive that his involvement in the process is full of learning opportunities. Here was his interview:
Clevenger: Why did you decide to run?
Hahn: I saw the opening this summer, and there were two Tigard City Council seats open this year. I thought about ways in which I could be more civically engaged. I also thought I could learn a lot about the process of local government and how local governments function. Lastly, I wanted something I could model for my students [to show them ways to] be engaged, be community oriented, and be part of the solution.
Clevenger: Can you describe part of that process? What was the first step?
Hahn: The first step is getting on the ballot, and receiving at least 20 signatures from citizens who are registered to vote, mostly neighbors. I had to get enough signatures from people who live in Tigard, and then those signatures had to be validated. I went down to the Washington County Courthouse and paid a filing fee, which was $50. After getting signatures and filing, I was officially on the ballot.
Clevenger: What was the next step after getting on the ballot?
Hahn: People and institutions in the community want to know who's out there, so my first invitation was from the Tigard Police Union. I got a tour of their station and talked to their union leaders. They asked me a lot of questions about my stance on different [issues]. As a union and an institution, they were trying to find the candidates that were the best suited for them. I didn't get their endorsement, and I was a little surprised, but they wanted more experience. I was also granted an invitation to be interviewed by the League of Women Voters. The interview was on one of those back cable channels. I was also interviewed by the Tigard Times, which is the local paper.
Clevenger: If you were to be elected, what would your role be in the community?
Hahn: The Tigard City Council has a mayor, who runs the political nature of the city, and four city council members. One is the president, and the other three are council members. I would have been making pretty important decisions that affect the community. One of the bigger decisions for Tigard right now is the light rail system. The question is, 'Does Tigard seek to have the light rail line extended to Tigard?' I'm a big supporter [of the light rail]. There's so much traffic, and I think the light rail helps with congestion.
Clevenger: Would you consider this process was more of a learning venture as opposed to a job application?
Hahn: I did do it to learn about the process, but I was serious: I wanted to be on the council. I'm not disappointed or crushed or sad [that I wasn't elected], but I thought I could do something for this community.
Clevenger: What was the hardest part of the process?
Hahn: Nothing about it was hard. I thought it was very simple. I got a great deal of help from a woman named Carol Krager from City Hall who helped me through the process. The secretary for the councils, once I was an official candidate, shared with me the minutes of past meetings, and I was invited to get up to speed.
Clevenger: If somebody told you that they were going to run for city council what advice would you give them?
Hahn: Get yourself up to speed on some of the current issues in Tigard so you don't get caught off guard in a discussion. Also, it costs $100 to put your information in the voter's pamphlet, and wish I had done that.
Clevenger: What sort of restrictions did you have due to COVID-19?
Hahn: When I was out and about, or if I was going to have somebody sign a petition, I needed multiple pens and cleaning devices. Certainly, I was masked and socially distanced.
Clevenger: Did you receive any endorsements?
Hahn: Yes, from local businesses, but not from any institutions that I'm aware of.
Clevenger: What were the results of the election?
Hahn: Seven people ran for Tigard City, most of whom were from the business world. There was one incumbent (a person who currently holds an office but can run again), who received the most votes. There was also one non-incumbent (a person who does not currently hold office and is eligible to run) who won a seat. I received 1111 votes.
Clevenger: So the big question is, would you run again?
Hahn: I don't know where I will be in a couple of years in terms of health, interest, etc. There are people I know who said that the next time, if or when I run, they will put up lawn signs or give me money.
Clevenger: What would you do differently next time?
Hahn: I would campaign, and spend some money. I would have lawn signs and make posters, and have businesses put up signs as well because name recognition in small areas is huge. A lot of people vote based on familiarity with a name.
Clevenger: Thank you so much.
Hahn: Thank you.
About the Contributor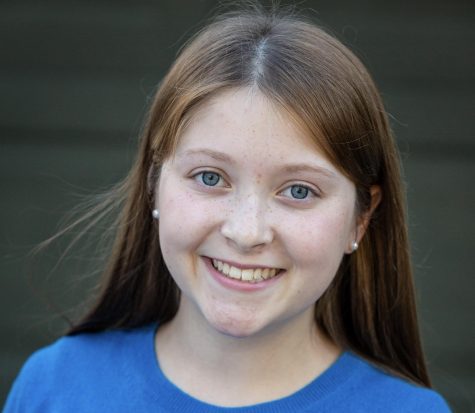 Steele Clevenger, Editor-in-Chief and Creative Director
Sarcastic. Artistic. Enthusiastic. These are three words Steele Clevenger would use to describe herself. A senior at Jesuit High School and a veteran journalism student, Steele loves to write about people and topical issues facing our local and global communities, draw comics, and educate through news. From a young age,
Steele has been interested in journalism, spending many an hour listening to her mom type articles for the OHSU "
Cementum
" on her com
puter, and being dragged to interviews with dental students.
When she was in eighth grade, Steele attended a once-weekly journalism class, running around the school on Friday afternoons to interview teachers and students. Using her experience in journalism and her passion for communication, Steele hopes to be a voice of positivity and curi
osity for Jesuit students during such unprecedented and uncertain times. In addition to writing, Steele enjoys badminton, knitting, cooking, and creating art. Visit her website at www.steelescomics.wordpress.com.