Sader Lights drive thru December 12th at 6pm
On Saturday December 12th Student Government will be holding "Sader Lights" on campus. Sader Lights is a collection of beautiful lights, similar to the Oregon Zoo's "Zoo Lights," that decorate the courtyard and Mary's Way.
Because of COVID-19 restrictions, Sader Lights will be a little different this year. Instead of lining Mary's Way, lights cover the Tennis Courts, The Flag Pole, Desmet parking lot, and all empty spaces in between. 
After being cleared and sanitized, students set to work decorating the campus. Senior Maiti Teklemariam explained how students were able to come on campus. 
"In Student Government, we have been working hard on this event for weeks to make this event student interactive and have an amazing final product," Teklemariam said. "To align with CDC guidelines, students were only allowed to be on campus for two hours and we could only have a small group. After we found a group of volunteers, we had them come to campus on separate days because of time constraints. After they were screened by a faculty member, they were free to decorate safely amoung their peers."
You will be able to drop off non-perishable foods for the Food Drive, collect your Food Drive shirt (if you qualify for one), get a candy cane from Santa Clarke and enjoy a beautiful path of Christmas lights. 
Thanks to the hard work of all the students that came and helped decorate, the Jesuit campus is beautiful. Come with your family and/or quarantine buddy on Saturday to experience the now drive through Sader Lights. The event starts at 6pm and runs till 8pm. 
Make sure to check them out and come back to Jesuit Chronicle website next week to see a fun video of the setup and event. 
About the Contributor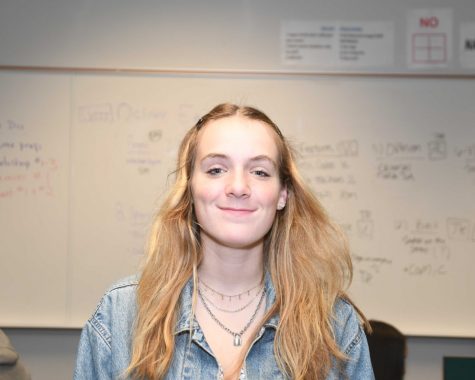 Gwynne Olson, Executive Editor-at-Large and Social Media Executive
Executive Editor-at-Large and Social Media Executive, Gwynne Olson uses writing and social media to inform, educate, and entertain. Beginning by writing mainly sports pieces, Gwynne dives into opinion pieces and news pieces as well as the occasional video,  humour article, and podcast. Gwynne hopes to continue to pursue journalism after graduating from Jesuit, wherever she may land. Though a journalist at heart, she also writes fictional pieces and poetry on the side.