MLK Live Streamed Assembly by Lucy Menendez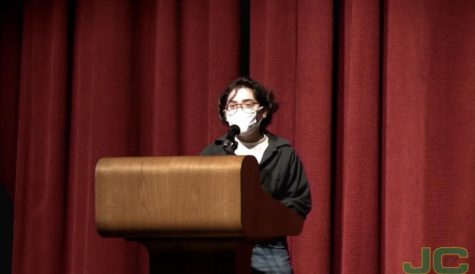 Jesuit held its annual Martin Luther King Jr. Assembly on January 27th to honor and celebrate MLK day. The assembly was held in the Moyer Theatre and live streamed to accommodate students during online learning.
This year, Jesuit has been posting assembly videos on Youtube so students can watch assemblies together during their digital homeroom periods. But Melissa Lowery, head of Jesuit's Diversity, Equity, and Inclusion office, wanted the student body to watch the video together. 
"I wanted to have some solidarity in our whole community, watching something at the same time, or being in space together at the same time. That was the purpose of doing it live and thank God it worked," Mrs. Lowery said. "To actually have it live and have the majority of the community able to do it together, is something we are not able to do during remote learning very often. We felt that being in the Moyer theatre, we had this connection of everyone being together." 
Mrs. Lowery's team had to diligently plan for the first ever live streamed assembly.
"We started planning for this assembly before Christmas break," Mrs. Lowery said. "We sent out an email in the earlier stages to the school asking students if they wanted to help and we had a signup sheet. We had a lot of students sign up to help and do a lot of the background research. We had a lot of readings in the assembly so we had to choose which ones we wanted to use." 
The assembly team held weekly meetings on Wednesdays and Fridays during lunch to organize the contents of the assembly. The team centered on a theme of human dignity and service to honor MLK. With that in mind, the assembly included multiple clips of King's inspiring speeches, student readings, fitting songs, and a powerful spoken word poem written by junior Alexandra Reynaud.
"Performing this poem to me meant voicing the opinions of peers who felt that they could not speak out about it in classrooms on their own," Alexandra Reynaud said. "I wanted to amplify what I had heard from others regarding these issues, but also I wanted to wake up, in a sense, other individuals at our school who did not think about LGBTQ+ issues or BIPOC issues because they thought it did not concern them. To me, it meant finally voicing something constantly in the back of my mind. In that, there is a kind of freedom."
After an inspiring summer fighting for the Black Lives Matter Movement, the assembly's theme of human dignity and service seemed more relevant than ever before. 
"This year was really impactful and I thought our assembly this year was really reflective of the year we've had," Mrs. Lowery said. "I think our assembly this year was a good transition into Black History Month and Social Justice Week, which is happening in March. We want to keep that theme of human dignity and service and begin getting specific about experiences." 
As an interactive piece of the assembly, the team organized a Mentimeter word cloud, a way for the audience to type in inspiring and topical words that would then appear on screen in the Moyer Theatre. Unfortunately, some students saw this as an opportunity to make a joke and proceeded to type inappropriate and irrelevant words that would be  displayed in front of the student body. 
"It was disappointing, but not surprising," Mrs. Lowery said. "It was really unfortunate because we don't know who it was and if it was one person or more than one person. You run the risk of something like that happening when doing a live Mentimeter activity. 
While disappointed in the result of the Mentimeter activity, Mrs. Lowery appreciated the experience in a more positive light. 
"The positive of that though, is that we all shared an experience together. We all witnessed it and saw it and we can all take from that and grow and be better. There are some positives when we all are sharing the same experience and witnessing that happening, it jolts us to say that's not okay. And in that piece, there is solidarity that makes us want to do better. The positive of the experience is that we all know that we have work to do." 
Ms. Casey helped conclude by speaking about the importance of service and how it tied into human dignity. The assembly ended with a performance from Jesuit's band and choir. 
There will be a Black Student Union brown bag on February 16th about Black History Month. 
Jesuit's Social Justice Week will occur the week of March 15th. This week will promote students leading their own workshops concerning social justice, identity, community building, and cultivating leadership and action.
About the Contributor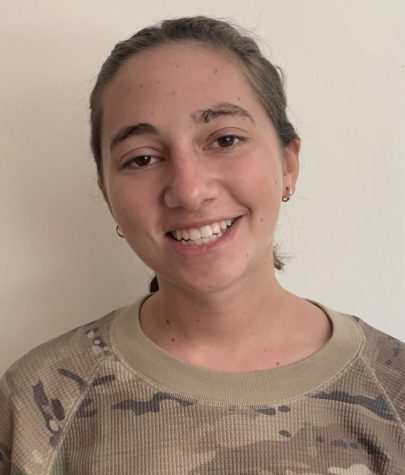 Lucy Menendez, Staff Writer
Lucy Menendez is a senior at Jesuit High School and first time journalism student. Lucy plays basketball at Jesuit and is involved in multiple clubs. Her favorite subject at Jesuit is English because she loves to read. She would even describe her perfect day to be spent curled up with a good book. Lucy loves to listen to music and is currently listening to Mac Miller, Jaden Smith and SZA. Lucy will dive into any conversation involving sports. Her favorite team is the Portland Trail Blazers. Lucy has two older sisters who have graduated from Jesuit and currently study at the University of Oregon. She loves to travel with her family. If it were spring break, summer, or even winter break, you could find the Menendez family in Captiva, Florida where they soak up the sun and spend time with family and friends. Lucy is ecstatic about her first year as a journalist and looks forward to writing articles for the Jesuit community.