Feature: Wenjun Hou Named Finalist in Regeneron Science Talent Search
Jesuit High School Senior, Wenjun Hou, was recently named a finalist for the 2021 Regeneron Science Talent Search, the oldest and most prestigious high school STEM competition in the United States.
Regeneron Pharmaceuticals teams up with the Society for Science to host the annual Science Talent Search (STS) competition, seeking the brightest high school seniors in the science, technology, engineering, and mathematics fields. The competition begins with over 1,500 highly qualified entrants, 300 of which are selected as Regeneron Scholars. Of the 300 Regeneron scholars, Wenjun Hou was selected as a top 40 finalist for his multi-year research inquiry about the Knapsack Problem. 
 Well known in the computer science field, the Knapsack Problem is about combinatorial optimization, Hou said. The problem centers around the principle of maximizing storage and efficiency with limited space and resources. In order to help explain the Knapsack Problem, Hou used the real-world example of companies needing to maximize their storage efficiency. 
"Let's take the example of a major company with hundreds of warehouses across the country," Hou said. "They have millions of products, each with a specific size, price, and desired use. Having a solution to the Knapsack Problem would help the company find the best combination of products to maximize efficiency."
Trivial solutions and a classical computing solution exist for the Knapsack Problem. However, these solutions require far too much time and cannot handle the demands for a larger input field. For these reasons, Wenjun Hou embarked on his research journey to find a better solution to the Knapsack Problem. 
Hou developed the first solution to the Knapsack Problem by utilizing quantum computing theory. Unlike the existing solutions, Hou's solution addresses every possibility of the Knapsack Problem and enables greater efficiency with quantum computing algorithms. 
As a top 40 finalist, Hou was awarded $25,000 in scholarship aid for his continued path of higher education. He is currently awaiting the results for the top 10 awards, which will be announced in mid-March. The top 10 finalists will receive significant scholarship aid along with research stipends for future projects.
While Hou is grateful for the awards and recognition, he reaffirms that his research pursuits are not for individual glory. 
"I don't do research for the awards and scholarships," Hou said. "I do it for science and to push the limits of human discovery."
Hou looks forward to a lifetime of intellectual discovery and more research projects. He strives to utilize his academic potential to contribute back to humanity, especially in situations when innovation is most needed. 
"The idea that people are still doing research and scientific discoveries during the difficult times of the pandemic gives me hope that humanity can still progress during significant setbacks," Hou said.
About the Contributor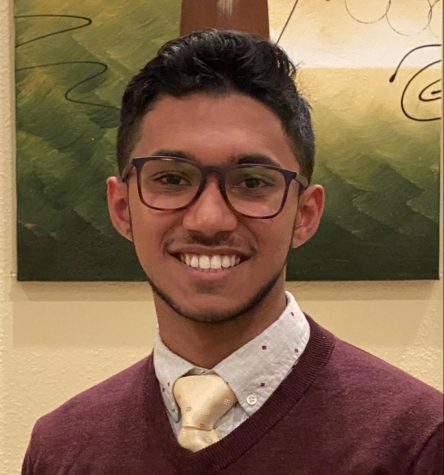 Reet Chatterjee, Editor
A senior at Jesuit High School,
Reet Chatterjee
strives to better humanity with his writing. His writing focuses include social justice, politics, reform, racial justice, education, and environmentalism. In addition to the Jesuit Chronicle, Reet is currently working as a content writer intern for Parlia
—a London based encyclopedia of opinion and perspective. His favorite media outlets are Vice, The Wall Street Journal, Parlia, Vox, and of course the Jesuit Chronicle. As a native Oregonian, Reet spends his free time enjoying the outdoors by hiking, skiing, mountain biking, and road cycling. Reet hopes to develop his English language and writings skill in college and ultimately pursue a career as a trial lawyer. He has made a commitment to work for reform within the United States criminal justice system.