Can We Have School Dances? Student Government's Plans for Hybrid
In-person school is back in session for some of the Jesuit student body as they return to classes on campus in a new hybrid format. In an important transition from fully virtual learning to classes on campus, Student Government gets ready to help however they can. 
When Jesuit was fully virtual, much of Student Government's efforts focused on building a sense of community among students, a goal that Student Government leader Dr. Exley says will continue to be their top priority.
"Our ultimate goal of trying to build a community amongst students remains the same, whether at home or in school," Exley said. "I think one thing we really need to think about is how we can create safe events that fall within the CDC guidelines, but at the same time, we don't want to forget about our students staying 100% virtual. We want to try to connect those two groups of students, and how [to] help build that community while making sure all [students'] voices are being heard."
Junior James Miller, a member of student government, speaks about how Student Government-run events will evolve as Jesuit transitions. 
"When school was fully online, Student Government would plan primarily virtual events or activities," Miller said. "And if we did plan something on campus, it would be on a day off or a weekend. Now that we're transitioning to hybrid, I think Student Government will be able to plan more activities on campus during and after school."
This past semester Student Government has been holding in-person events for students to attend. In the beginning of February, Jesuit seniors were able to come to an event at Mary's Way to grab a "Class of 2021" T-Shirt, drink some Jamba Juice and participate in a contest to win a $50 Amazon gift card. In addition, Student Government has been modifying events— that would normally be in-person—to be held online.
"We are super excited to continue brainstorming unique plans and ideas for our new schedule," sophomore representative Catie Dice said. "You can look forward to revamping old traditions, potentially in a modified way, as well as starting our own new traditions to move forward into the future with us as a school community."
Although some students may have high hopes for prom and other school dances, it is unlikely those events will occur due to safety concerns caused by COVID-19.
"We are working hard to get close to these community favorite events, however, our primary focus remains on the safety of everyone at Jesuit," Dice said. "We are continuing to think of creative ways to bring back in-person assemblies and as well as fun alternatives to large dances and party events. We cannot make any promises, but let's just say there is tons to look forward to!"
Student government is constantly brainstorming ways to modify past events for the student body and finding new and exciting ways to engage students. Dr. Exley spoke about possible events that could replace indoor dances, such as listening to a live band outside. 
"We're going to be looking for as many unique and fun ways to create events," Exley said. "Can we have a dance like we had in 2017, 2018, 2019? Of course not. But is there a way we can come up with a modified celebration, or some modified dance-like event? I think there are some possibilities if we're trying to think about coordinating something outside with a band, but what that looks like right now is unknown."
Right now, much of Student Government's focus is dedicated to helping students adapt to the hybrid model.
"I think our main focus is trying to better the hybrid schedule from a student's point of view," Miller said. "We have a meeting with the administration next week to voice our concerns and try to work out [problem areas]."
In addition to problem solving for hybrid students, Student Government is collaborating with Director of Diversity, Equity and Inclusion Ms. Lowrey and Ms. Cruz Jaimes in preparation for Social Justice Week. 
"Right now, [Student Government] is in this transitional phase where we're starting to come up with events," Exley said. "Now that we're back in school, now that we're in hybrid, we're shifting our attention to [a question of] what events can we do."
No matter what events are planned in the future, Student Government's goal remains focused on building community, not only in the student body as a whole, but in uniting the students who choose to stay fully virtual and the students who are attending classes on campus. 
Juniors and seniors transitioning into hybrid classes on campus.
About the Contributor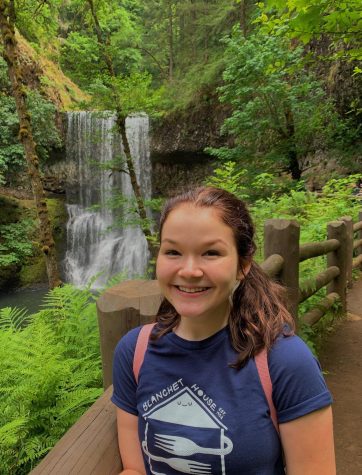 Chase Kerman, Staff Writer
Chase Kerman, a junior at Jesuit High School, is excited to explore Journalism and grow as a writer in her first year taking the class. At Jesuit, Chase is very involved in the drama program, the Jesuit Ambassadors and is also a representative for Student Government. In addition to performing at Jesuit, Chase spends time volunteering as a Student Ambassador at Blanchet House or goofing around at Northwest Children's Theater (her favorite place!) as an actor and member of the Interns NW program. She is very passionate about politics on a national and local level, social justice, and government. Chase hopes to shed some light on more controversial topics at Jesuit, and to inspire her peers to learn about current events because politics are cool!