Senior Jamie Turner is February's Artist of the Month
"I used to do art all the time with my grandma [when I was seven or eight]," senior Jamie Turner said of her earliest memories of art. "It started with knitting, and we made a lot of quilts, and, eventually, she gave me colored pencils and paints. I can remember my grandma and I doing art and [listening] to music and playing with her cats."
Turner took art classes and camps in middle school, however, never felt she was good enough to make it part of her future.
"It was always my favorite class, but for some reason I thought I had to be the most amazing artist to do art in high school, so I didn't submit a portfolio for the art class [at Jesuit]," Turner said.
As teacher of the Art Wheel elective, Sascha Manning discovered Turner's artistic abilities, and asked to join the advanced art program. 
"I'm super grateful for [Ms. Manning]," Turner said. "She's probably the reason I'm so into art now. I'm pretty sure I cried because I was excited [to be in the art program]."
As a member of the Art IV class now, Turner reflects on her experience in Jesuit's Art Program.
"I met some of my closest friends through art, and it's always been that class where I know I don't have to be nervous about what I say, and I can be 100% myself," Turner said. "The classes allowed me to go at my own pace, and I love that I can talk to my friends, and I feel really connected to my classmates."
Turner says her favorite medium to work with is acrylic paint, noting that it is a "good combination where [she] can be really precise but can also mix colors well." She draws inspiration from a wide range of topics: the female identity, her family identity, and her identity as a person.
"I really like using bright colors and squiggles and things that make a statement," Turner said. "When it comes to painting people, I'm more realistic, but I also like doing pieces that are more semi-realistic, kind of cartoon-y, and spunky."
Now for the big question: does Turner see a future in art?
"I actually kind of do [see a future in art]," Turner said." I see myself taking art classes through college, and maybe pursuing it as a minor. I would love to teach art to little kids or have a studio so I can keep it fun [instead of] for profit. My end [career] goal is to be an English professor."
Turner says her greatest achievement as an artist has been painting her "Integrated Artists" piece, an Art III assignment combining two artists's styles into one painting.
"For that piece, it was the first time I really sat down and decided what I wanted to do, and it came out exactly like I wanted it to," Turner said. "In the past, I tended to rush into things and get really excited, but for this one, I really paced myself."
Conversely, Turner's greatest challenge as an artist was becoming confident in her art style.
"I kind of hit like a slump, my sophomore year," Turner said. "I kind of got in my head and told myself 'you're not as good as any other people in your class,' and I had negative self talk. But after that, I feel like I bounced back, and now I'm more confident and have a more pronounced style."
Currently Turner is working on an avant garde fashion project in Art IV. She has been tasked with creating a wearable art piece using only cardboard, glue, and yarn. In addition to projects for school, Turner is the Creative Director of a non-profit organization called Student Tutor Students.
Turner's friends and fellow Art IV student seniors Nathan Hasbrook and Ella Jewell met Turner in Manning's Art I class freshman year.
"Jamie has a unique aptitude for symbolism, the way she paints and draws things that you wouldn't ever think about," Jewell said. "Her art is so impressive, and she creates it from such a passionate heart. As a person, she is so funny. I am never uncomfortable or unsure of how to act around Jamie, and it was this from the first day I met her. She explores world issues in her art, and her empathy and understanding of people definitely transfers into her pieces.
"Jamie definitely has pushed me to continue embracing my artistic style and follow what I enjoy doing. I personally struggle with finding the right idea to springboard my art with, and she always helps me settle on something that I can truly have fun with and be proud of," Hasbrook added. "She continually captures that in her own art, and it inspires me to use my own passions to create more meaningful artwork."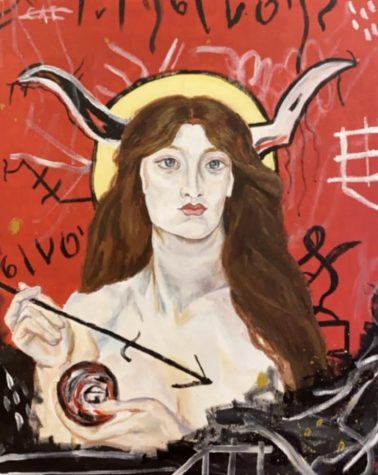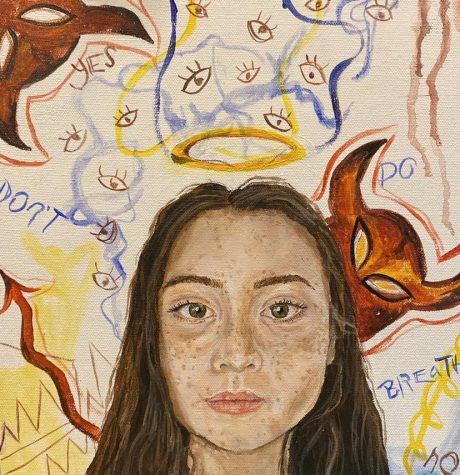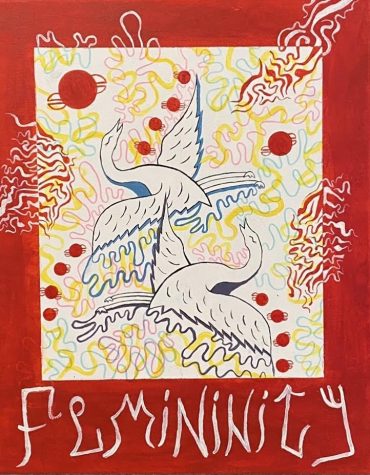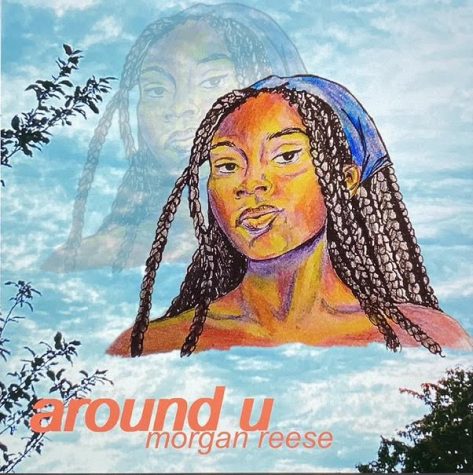 About the Contributor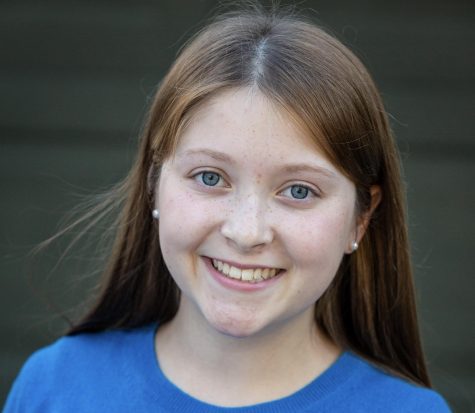 Steele Clevenger, Editor-in-Chief and Creative Director
Sarcastic. Artistic. Enthusiastic. These are three words Steele Clevenger would use to describe herself. A senior at Jesuit High School and a veteran journalism student, Steele loves to write about people and topical issues facing our local and global communities, draw comics, and educate through news. From a young age,
Steele has been interested in journalism, spending many an hour listening to her mom type articles for the OHSU "
Cementum
" on her com
puter, and being dragged to interviews with dental students.
When she was in eighth grade, Steele attended a once-weekly journalism class, running around the school on Friday afternoons to interview teachers and students. Using her experience in journalism and her passion for communication, Steele hopes to be a voice of positivity and curi
osity for Jesuit students during such unprecedented and uncertain times. In addition to writing, Steele enjoys badminton, knitting, cooking, and creating art. Visit her website at www.steelescomics.wordpress.com.