Teachers staying at home prepare for hybrid teaching
As Jesuit transitions into hybrid learning, a handful of teachers are staying at home, creating a unique learning environment within the classroom. Unable to be in-person with their students, these classrooms have incorporated Prefects, or those hired to help around the school.
    The at-home teachers log into Zoom and are projected onto the whiteboard by the Prefect in order for both the students on Zoom and the students in the classroom to have a full view of the teacher. This, as well as a camera facing the students in the classroom, has increased the amount of technology staff and faculty have learned to utilize. The increase in technology has required faculty and staff, even those staying at home, such as Theology teacher Dr. Danner, to train for the return to in-person learning.
    "We've received hybrid training [during the summer] which is basically what the classrooms are like right now, and then we had a couple of virtual trainings since then a few weeks ago," Dr. Danner said. "They gave some of that same training to the Prefects, so it's not really different for me at all from this perspective. IT's done a great job of making sure everything runs smoothly." 
    Along with the training that teachers experienced, the Prefects also received extensive instructions from the Jesuit faculty. Jen Beyrle, both a Prefect for Dr. Danner and a Jesuit alumni, heard about the Prefect position and immediately reached out to offer her assistance.
    "The training for the Prefect position consisted of lots of instruction from Jesuit faculty, reading material, and video lessons," Beyrle said. "There were a few technology bumps on the first day, but I feel like I have a pretty good handle on things now. I have been so impressed with the entire Jesuit staff and training program. They have worked so hard to be able to welcome students back to campus for in-person learning in a safe environment. Being back at Jesuit has reminded me of how special this community is here."
    While most teachers only have one Prefect Math teacher Mr. Reis has four different Prefects. With this drastic change in the format of the classroom, teachers needed to adjust accordingly to communicating with students and faculty through technology.
    "I was trying to be extra clear in talking [during class] because I knew it was coming out over the speakers in the classroom, but I was also still on Zoom," Mr. Reis said. "I was trying to be a little extra aware that there were kids in two different places."
    In addition to adjusting technicalities, such as volume and camera placement, teachers have also adjusted their curriculums slightly as the change to hybrid learning may take a moment to adapt to.
    "I've talked to a bunch of other [teachers] this week and we've all tried to decelerate our curriculum for at least the first week, maybe two weeks, to try to simplify [class] as much as possible as we try to figure out what works and what doesn't work in terms of connecting the online space to the in-person space," Dr. Danner said.
    In addition to alumni and other members of the community working as Prefects, members of the administration also hold Prefect positions. For example, Principal Paul Hogan is currently one of Mr. Reis' Prefects, sitting in for numerous math classes. 
    "I appreciate that the administration made the accommodation for certain teachers who needed it," Mr. Reis said. "[For example] Mr. Hogan is taking an hour out of his day to help me in class, so I really appreciate that."
    Although some teachers are unable to teach in-person, the sense of community within the school is still prevalent. Whether it is simply watching students filter into the classroom or watching students walking through the windows, even teachers staying at home feel the presence of unity and community.
    "There is this sort of return to community," Dr. Danner said. "Even though it's really hard to connect with the students when I'm up there on the screen and they're in class, just seeing them there and watching people through the windows pass by – I just know it means so much to them, and that's part of the connective tissue that makes the school what it is."
About the Contributor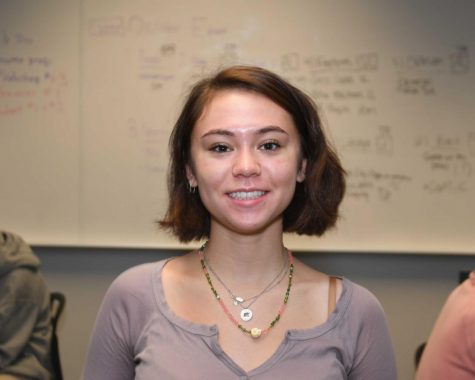 Scout Jacobs, Staff Writer
Scout Jacobs is a managing editor for the Jesuit Chronicles at Jesuit High School. As a senior in high school, this is her third year doing Journalism, and she loves to write. Journalism has been a primary passion of hers throughout highschool, and she hopes to continue this passion through college. Outside of school and writing, Scout enjoys reading, hanging out with friends, and listening to music. She is on the swim team at Jesuit, and has been swimming since she was a freshman. Born and raised in Portland, OR, Scout has an older brother who graduated Jesuit last year, who is now attending Seattle University. In her free time, she is usually watching a movie or spending time with her family at home or at fun destinations around Portland. Her favorite subject in school is English, and she has been taking French throughout her high school career in hopes of becoming fluent in the language. She loves the outdoors, and her favorite activity to do with friends is to go on a hike or go swimming. During the weekends and long breaks, Scout usually visits her family in Seattle, where most of her extended family lives. Both of her parents are architects, and she loves hearing about their work and the creativity they use to feel passionate about their work.