Jesuit Drama Presents "Girls in the Boat"!
Celebrate women's empowerment this International Women's Month by watching Girls in the Boat, presented by the Jesuit Drama Department.
 Girls In The Boat, by playwright Alice Austen, follows the history of female rowers from the 1950s to the current day and their struggles, personal stories, and victories throughout the sport.
The cast of Girls in The Boat includes 11 students—nine girls and two boys— each rehearsing and performing live on stage to a small audience of Jesuit Drama season subscribers. Other audience members tuned in from home to a live stream of the show. 
Girls in The Boat is based on a true story, weaving together stories from women rowers across the nation, and telling a story of what it truly means to overcome challenges and be a part of something bigger.
Junior Ellie Gianola played Girl 5, a sarcastic and determined rower that sits in the center of the boat. 
"Girls in the Boat is about the struggles women face in rowing," Gianola said. "But also in sports and society in general, and what [women rowers] had to overcome to be taken seriously. I think the most important takeaway from the show is that if you decide to do something, the only thing that can get in your way is yourself."
Each female cast member played a specific rower, with some characters made up of various women in history and some created with specific women in mind. Senior Olivia Hoffbeck, who played Girl 3, was excited for the audience to see how each character ends up in the same boat.
"I'm really excited for the audience to come on the rowing journey with us," Hoffbeck said. "Seeing how each girl comes from a different background, but they all end up in the boat together, and I'm really excited for the really powerful moments in the play."
For many of the actors, this is their first time telling someone else's story instead of a fictional character. Gianola believes that knowing that the character she's playing has experienced these moments and felt these feelings adds a whole other level to her portrayal of Girl 5.
"My favorite part of rehearsing the show has been learning about the real people behind the characters," Gianola said. "I think that when you get the chance to portray someone who actually existed or even some of the situations that real people encountered, it adds a level of importance and depth to the show and makes it about more than just telling the story."
With scenes written from events that actually happened in real life, audiences of Girls in the Boat witnessed a story about women's empowerment and the strength it takes to keep going despite physical and societal challenges. 
The show was rehearsed in-person six days a week for a couple of hours every day. Junior Denyse Gallardo, playing the Bow seat, describes how much fun she has bonding with her castmates as they prepare for the show.
"We have this tradition I kind of started where we warm-up for rehearsal by playing Just Dance," said Gallardo. "Originally, [our director] had us actually exercise to warm up for the show, but then I realized we'd get the same workout by playing Just Dance, and also it's just more fun. Someone requested to play the 'Rasputin' Just Dance on the third day of rehearsal, and we've played it every single rehearsal ever since. It's insane— we have the choreography memorized by now."
In addition to rehearsing and performing live, cast members of Girls in the Boat have had the chance to meet with several former rowers at Jesuit, such as French teacher Ms. Schmidt and math teacher Ms. Schick, as well as Zoom with several special guests, including playwright Alice Austen and Olympic Silver Medalist Kate Johnson.
"If I had to choose, one of the main themes in this show is perseverance," said Gallardo. "Our cast got to interview Kate Johnson, an Olympic rower, who's also a Jesuit alumnus. She said she posted a sign with a word on it on the ceiling of her bedroom right above her bed, so she'd see this word right after she woke up and right before she went to bed. Right after the Zoom call with Kate, Elaine asked us to choose a word that we'd want to think about and what we'd want to embody when focusing on this show. I chose perseverance."
Performing a production in-person is a rarity during the pandemic. Many actors are experiencing new upsides and downsides to performing during a pandemic. 
 "I'm a little nervous about performing to a virtual audience, just because I don't know how well it will translate on-screen," said Gianola. "This show is full of a lot of energy and intention, and that's usually easier for the live audience to pick up on than it is for the virtual [audience]."
Many audience members tuned in to a live stream of the show from home. About 100 friends and family members get to experience the show live each night. 
"To be honest, I don't really think of the virtual audience as virtual," said Gallardo. "Somehow, I still feel the energy from the people who stream the show, because one, it's easier to access the shows from home, and two, that means way more people can watch than on a regular show night."
For tickets to see Girls in the Boat on live stream, click here. To purchase tickets and become a season subscriber to see Girls in the Boat in-person, click here. 
About the Contributor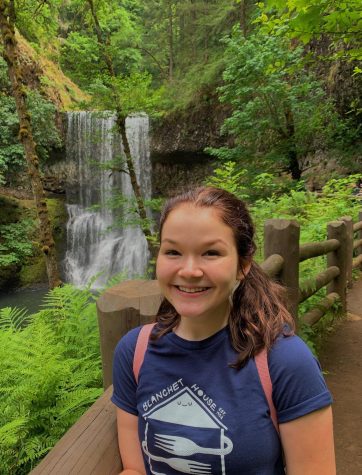 Chase Kerman, Staff Writer
Chase Kerman, a junior at Jesuit High School, is excited to explore Journalism and grow as a writer in her first year taking the class. At Jesuit, Chase is very involved in the drama program, the Jesuit Ambassadors and is also a representative for Student Government. In addition to performing at Jesuit, Chase spends time volunteering as a Student Ambassador at Blanchet House or goofing around at Northwest Children's Theater (her favorite place!) as an actor and member of the Interns NW program. She is very passionate about politics on a national and local level, social justice, and government. Chase hopes to shed some light on more controversial topics at Jesuit, and to inspire her peers to learn about current events because politics are cool!