The Return to Spring Sports
The shift from fall sports to spring sports occurred the first week of April. Sports such as soccer, volleyball, cross country and football wrapped up their seasons after navigating a couple of new difficulties.
"The biggest problem was the weather," said freshman football coach and math teacher Gary Rombach. "We usually practice on the grass which would be a complete mud-hole. We were always scrambling to find a place for freshman football to practice. Just that alone caused enough chaos."
Of course, fall sports had to comply with CDC protocols as well. 
"The protocols made it a lot harder for kids to get a workout in," coach Rombach explained. "Doing a workout with a mask is not easy."
Despite the challenges induced by the pandemic, fall sports teams managed to perform well. While there were no "state final" games, the women's volleyball team and soccer team won their versions of the championship, becoming 3-peat and 4-peat teams. 
The transition into spring sports was much easier than fall sports. For the most part, CDC guidelines remained similar regarding distancing and masks, but more spectators are able to attend matches and meets now. 
"Since our season started during the normal time, it has been nice," coach Rombach said. "We got to skip the cold parts of the season and jump right into the good part. But, it still is that much harder to practice while wearing masks."
However, there have been some big changes regarding track. 
"All the guidelines are the same mask wise and distancing wise," senior Paige Grant said. "The only change is now the OHA just released that you don't have to wear masks during competition, but still during practice, warm ups and cool downs."
Recently, a select number of the long distance runners competed in Olympia, Washington. 
"In Olympia we did not wear masks when we were racing, but did during warmup and cool down," Grant explained. 
With this new change in COVID-19 restrictions, the world of high school sports is on its way to how it used to be. By the time winter sports begin, hopefully new changes will be implemented and at some point go back to how they used to be pre-pandemic. 
About the Contributor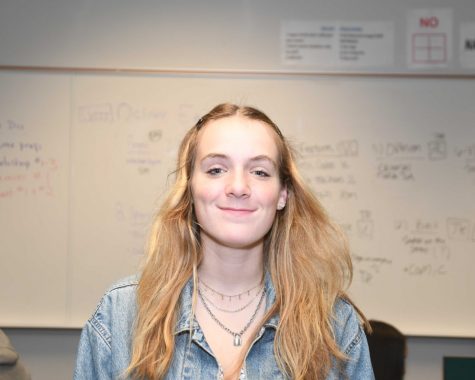 Gwynne Olson, Executive Editor-at-Large and Social Media Executive
Executive Editor-at-Large and Social Media Executive, Gwynne Olson uses writing and social media to inform, educate, and entertain. Beginning by writing mainly sports pieces, Gwynne dives into opinion pieces and news pieces as well as the occasional video,  humour article, and podcast. Gwynne hopes to continue to pursue journalism after graduating from Jesuit, wherever she may land. Though a journalist at heart, she also writes fictional pieces and poetry on the side.