How Seniors Feel About the Return to School
Thoughts About the Return 
Since Jesuit was shut down due to COVID-19, students have been eager for their return. What was thought to be an extra long spring break turned into months, and now it has been almost a year. As time went on, students saw memorable events cancelled continuously. Students missed out on sports seasons, club meetings, prom, and even encounters. As the seniors approach the end of high school with many of those events still up in the air, how excited are seniors to come back on campus?
"I was super excited when I heard we were going to return to in person classes," senior James Lang said. "I get to see my friends in classes and play my senior season for basketball. I did not think I was going to be able to do either of those."
Seeing friends and playing sports has been a big incentive to get seniors excited to return to school. 
Around this time of year is when many second semester seniors experience senioritis. Senioritis is shown by a lack of motivation or decrease in performance near the end of their education. While being back on campus and seeing peers is exciting, is it worth waking up extra early to attend school? To attend classes where you are distanced from your classmates and are not allowed to eat in the cafeteria?
Senior Jack Naughton shared his thoughts prior to the return to school. 
"I think it'll be interesting to see how students handle going back to school," Naughton said. "I personally think some aspects of how we are going back are not very enticing. I am bummed that for my senior year I cannot sit at a lunch table with all my friends and only a few are on my cohort days." 
Second semester for seniors used to be full of excitement but it is now full of restrictions. Instead of attending dances, going on retreats and taking in the last days of classes with your friends, masks, distance, and division is required. 
Senior Amanda Kerr shares similar views about returning to school. 
"At first I was a little hesitant because we are so close to graduating so going back seemed a little bittersweet," Kerr explained. "Since I have already heard back from most of my schools I feel pretty done with high school."
Many seniors had essentially said their farewells to their high school experience after spending a whole semester of their senior year online. Even when receiving word around Christmas time that there was a chance we would return, seniors still weren't expecting the return to be definite. However, once plans to return were put in motion, opinions were quickly shifted. 
"I feel like it'll be good to see my friends one last time before we all leave," Kerr said. 
Seeing friends in classes before college was a common incentive to get seniors to be excited about returning to school. Many students have not seen their peers for almost a year. For some seniors, the idea of sitting in class next to their friends is enough. 
Upon returning to school, though very exciting, it was difficult for some second semester seniors to talk through the doors. Returning to the routine of waking up early to drive to a full day of school induced senioritis. 
"I never thought senioritis was a real thing till now," senior Maddy Koleno said. "It is very much a real thing and it is hitting very hard right now."
Senioritis made the excitement of returning to school short-lived for seniors. For students like Koleno and Kerr who already know where they are going to college, returning to in person classes is just another added stress. 
Insights from Completely Remote Students 
While many students are returning, some students have opted out of going to school completely. For whatever personal reasons they have, many seniors will be completing their senior year from home. 
Senior Aliyah Rameriez shared her thoughts on not returning to school. 
"Well, when the news came out that we were most likely going into a hybrid schedule my friends and I were all really surprised," Rameriez said. "I felt like it was just too soon and it didn't make sense to try and go back so soon."
Since the next stage in returning to school is hybrid-learning, many events will not be held this year for safety reasons. Because of this, many seniors believe returning to school is unnecessary. 
"It actually makes me sad to think about going to school because it just would not  be the same as it was before March of last year," Rameriez said. "I do not really feel like I am missing out on anything. I have made peace with the fact that I will not have a 'normal' senior year a long time ago."
Since this senior year will never be normal compared to previous years, seniors question if returning is worth it. Without having even the smallest senior perk of exclusive parking in Cronin lot, some seniors would rather sleep in and attend their classes through zoom. 
Do Students Feel Safe?
Even though many seniors are returning, some remain slightly hesitant. Many seniors have chosen to return to be with their classmates but have recognized that interactions will be much more limited. Since going to school guarantees more exposure, Naughton explains reservations to returning to school that are likely widespread. 
"I do feel safe coming back, and I feel as though Jesuit has taken more than necessary precautions to ensure the safety of their students, which is good," Naughton said. "I did have some reservations going back to school because my grandma likes to come visit and have dinner with us every so often, and by going back to school, I only increase the risk of contracting and spreading COVID."
There is a big risk that students must take into consideration when deciding to return to school. Being around lots of more people introduces more opportunity to catch the virus. Though Jesuit trusts their students to limit their contact, follow CDC regulations, and be safe, some students are still skeptical. I 
"The only thing I do worry about sometimes is the other students because I know some of them are not very careful and come to school anyways," Kerr explained. 
This is a worry that is not contained in only the senior class but stretches through all grade levels. The precautions put in place definitely make the return to easier and safer, but they will only work if students are compliant. 
The Consensus 
So, how do seniors feel about returning to school? The consensus is split. Some students are excited to see their peers while others believe a return is not worth it. 
About the Contributor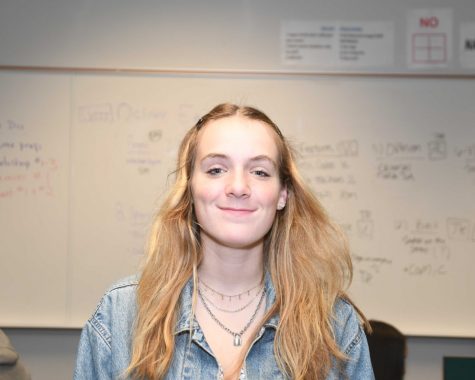 Gwynne Olson, Executive Editor-at-Large and Social Media Executive
Executive Editor-at-Large and Social Media Executive, Gwynne Olson uses writing and social media to inform, educate, and entertain. Beginning by writing mainly sports pieces, Gwynne dives into opinion pieces and news pieces as well as the occasional video,  humour article, and podcast. Gwynne hopes to continue to pursue journalism after graduating from Jesuit, wherever she may land. Though a journalist at heart, she also writes fictional pieces and poetry on the side.