New Faculty Spotlight: Mr. Jack Foesch, Campus monitor
A member of the class of 2017, campus monitor Jack Foesch is currently undertaking his first few weeks as a Jesuit campus monitor. After graduating from the University of Oregon last spring, Jack returned to Portland and was hired to perform a variety of tasks, such as parking enforcement, check-ins, and more. 
"It's almost like coming home," Foesch said. He is excited to connect and talk with students and staff alike after spending multiple years at college. "Being in a fun work environment is important to me, and I think this will be just that."
He can most often be found in the visitor check-in box near Knight Lobby, or at the booth near the tennis court parking lots. 
Full Interview Transcript
(Edited lightly for length and content) 
How long have you been working as a campus monitor?
This is my second week. I just graduated from the University of Oregon in the spring. I graduated from Jesuit in 2017, so it's a great spot to be and I've enjoyed it so far."
You were a member of the class of 2017, what brought you back to Jesuit?
After college, I was trying to figure out exactly what I was going to do. It's almost like coming home. It's an opportunity to be in a good spot with a great community, and also to give back to everyone who has given me so much."
As a Campus Monitor, what duties and responsibilities do you have?
I'll be helping all the students who need to check-in and out, as well as parking. I will also be checking off-campus privileges for students who are able to leave. Really, I'll just be a friendly face for anyone who needs anything. I'm here to help you figure out where to go and who to talk to.
What excites you about working at Jesuit?
A lot. I think that being back around all the sporting events and going to those will be fun. Also, interacting with students and staff, because everyone is really welcoming. It's always good to talk to everybody. Being in a fun work environment is important to me, and I think this will be just that.
What is something the community should know about you?
That's a tough one. I'm open to learning. If anybody has anything to say, I'm here. I want to know about each student and each staff member. I'm always here to talk, so throw me whatever.
What is the best piece of advice you've ever received? 
As cliche as it is, if it doesn't upset you in an hour, it's probably not worth getting upset about. I think that it's really easy to get upset in the moment and to do stuff you might regret. I believe in knowing that everything is what it is, and in taking things with a grain of salt. From a young age, my dad taught me that everything happens for a reason and everything will work out. That's probably the best piece of advice I've received. It's helped me in a lot of situations.
About the Contributor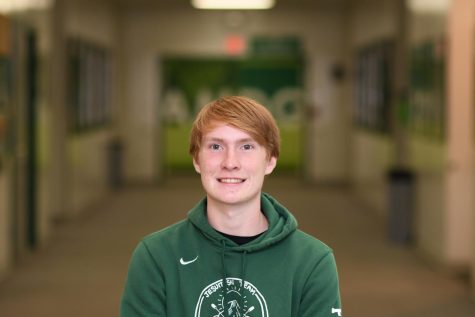 Mac Flanagan, Editor & Social Media
Mac Flanagan is a senior at Jesuit High School. He is a first-year Journalism student and hopes to learn more about the field. Mac has enjoyed writing throughout his life and knew he wanted to pursue it further by the beginning of middle school. He is a second-year Broadcast Journalism student, and an active member of Jesuit's student-run sports broadcasting station, JCTV. After enjoying the Broadcast class, he decided he wanted to expand to Journalism as well. He participates in the Jesuit Ski Team and loves spending time on the slopes with friends. Outside of school, Mac enjoys outdoor activities such as skiing and backpacking. He has one dog named Maggie. He is a fan of the Portland Trailblazers and follows the NBA closely. He is also an amateur landscape photographer and enjoys shooting in scenic places around the Pacific Northwest. His favorite news sources are the Oregonian and Bleacher Report. Mac hopes to contribute writing about Jesuit athletics and outdoor recreation around Portland.