New Faculty Spotlight: Mr. Russell Fiorella, Theology Teacher
Hired only a week before faculty meetings began, Mr. Russell Fiorella joins our school community as a theology teacher. He'll be teaching Hebrew and Christian Scripture as well as Problems of faith.
Attending Jesuit schools throughout his education has shaped his view on education. Some of these Jesuit institutions include Canisius High School and Canisius College in Buffalo, New York, as well as Boston College. 
Growing up on a Jesuit education, Mr. Fiorella continued his mission in Catholic education through educating at multiple Jesuit schools around the country and even abroad. Mr. Fiorella is excited to work at his third Jesuit institution as it embodies his core values of community and relationships.
"After being here for only a few weeks, it is clear that Jesuit lives out those values in unique ways. I was impressed by the choice of students to gather for mass—it's something I've never seen before," Fiorella said.
Full Interview Transcript: (edited lightly for length and content)
How long have you been in teaching? 
"This is my sixth year teaching, all at Jesuit schools."
Where have you taught prior to Jesuit?
"I was at St. Peter's prep for 5 years, which is an all boys Jesuit high school in Jersey City, New Jersey, which is known as the sixth borough of Manhattan. I also spent 4 months teaching at a Jesuit school in Barcelona." 
What classes will you teach this year?
"2 sections of the sophomore Hebrew and Christian Scripture course and 3 sections problems of faith with juniors and seniors."
What excites you about teaching at Jesuit?
"When I was thinking about making a change at St. Peter's, I knew that I wanted to stay in the Jesuit Network, with schools that emphasized its Catholicity and its community and valued relationships. After being here for only a few weeks, it is clear that Jesuit lives out those values in unique ways. I was impressed by the choice of students to gather for mass—it's something I've never seen before at the other Jesuit institutions I've taught at. My colleagues have also been very supportive and clearly are driven in the Jesuit mission of education."
What is something the community should know about you?
"I am a product of Jesuit education. I went to Canisius High School and Canisius College, which are both Jesuit schools in Buffalo, New York. I also went to Boston College, another Jesuit institution. I'm very passionate about the Jesuit mission and I care a lot about students and their education. 
What is the best piece of advice you've ever received? 
"That's an easy question. I've received so many pieces of advice, because I've made so many mistakes, but something that has helped me a lot in my discernment is a piece of advice from my mother, Mary, and that's recognizing that change is a process, it's not an end. If we focus on the product, or end result, we tend to lose sight of the importance of the process. 
About the Contributor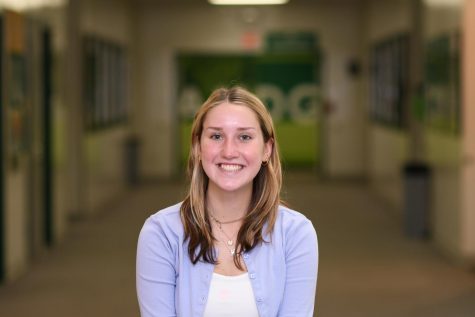 Noelle Furnanz, Editor
Noelle is a senior taking journalism for the first time. She plays soccer year-round while engaging in other activities including Social Justice Union, DEI planning, the Jesuit ambassador program, and mock trial. As a leader of Social Justice Union, Noelle enjoys spreading awareness on social justice issues and providing students with tools to get involved in change. She uses her passion for social justice to help coordinate events through the DEI office, including planning assemblies and community engagement. She is also passionate about mock trial to help her future career goals and learn more about the legal system. Following that path, she plans to study criminal justice and possibly attend law school. At school she enjoys humanities courses including History and English. Outside of her extracurriculars, Noelle loves to enjoy the outdoors with friends and family by going on hikes, swimming, and running. She loves living in the Pacific Northwest as it provides great opportunities to get outdoors. She also enjoys listening to a variety of musical genres including R&B, psychedelic rock, and alternative from artists such as Still Woozy, SZA, the Beatles, Jack Johnson, and the Wallows.