Officer Haugen
Jesuit now has a dedicated Beaverton police officer on campus, Officer Haugen.
 Jesuit has always had a Beaverton police officer assigned to Jesuit, but this year the Beaverton police department had enough police officer to allow Jesuit to have their own officer.
Officer Haugen has been a School Resource Officer for four months and Jesuit is the first high school where he has worked.
"Prior to becoming a police officer I was a middle school special ed teacher and I got to know the school resource officer," Officer Haugen said. "I went on some ride alongs and I thought, 'this is a fun job.'"
While Officer Haugen is at Jesuit to protect, it's natural that some students have anxiety when they see Police. Sophomore Asher Pelaez says in public he feels "nervous" when seeing a Police officer. 
When in dangerous situations, it can be nice to have a police officer to protect faculty and students. Having a police officer around can also make students and faculty feel more comfortable and relaxed. 
"Having a police officer on Jesuits campus makes me feel more comfortable and safe when there is something or someone that is dangerous on campus," said sophomore John Holman. 
Officer Haugen doesn't want the students to be scared to him in any way. He wants all the students to come talk to him, most of the time he has the Hi-Chews candy with him.
 "I don't want a presence of someone with a uniform to cause anxiety", Chief Security Officer Mrs. Kent says.
Mrs. Kent says he wants to "be the police officer that comes up and shakes your hand and says, 'How's your day?'"   Officer Haugen works
Tuesday through Friday and tries to come to Jesuit everyday that he works. The maximum time for an officer to work at a school is six years. Both Jesuit's administration and Officer Haugen want him to be here for all six years so he can get to know the traditions at Jesuit and connect with the students.  
During the day, Officer Haugen is normally roaming around the school, in the lunchroom or the security office in the Knight Lobby. If you ever need anything from Officer Haugen his email is [email protected],
or you can get in contact with Mrs. Kent to find Officer Haugen.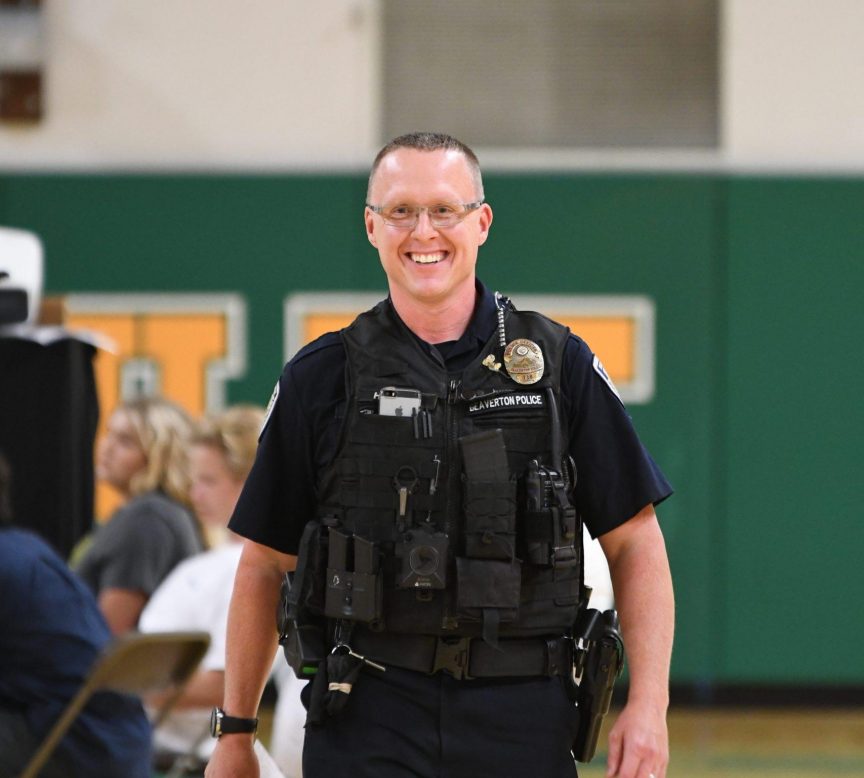 Courtesy Jesuit Photography Class
About the Contributor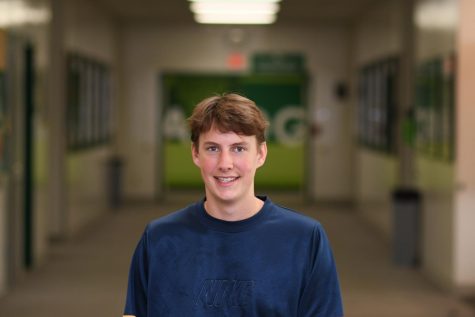 JJ Gray, Managing Editor
JJ Gray is a senior and this will be his third year as  journalism student. He is excited to be in the class and have a great time. In JJ's free time, he reads about sports and listens to many different sports podcasts and radio shows. JJ loves listening to the Ringer Podcast Network every night. He also enjoys talking about and debating sports topics with his family and friends. JJ plays football and he skis at Jesuit high school. JJ is also very into the sneaker and shoe world. He loves to hike and be in the outdoors in his free time. JJ has a cat named Kendrick Lamar and a dog named Reggie and he loves to play with them. JJ has an older sister who graduated from high school last year and was in the journalism class at Jesuit. One of JJ's favorite things to do is travel, his favorite place he ever visited is Amsterdam. JJ loves to read, write and listen to podcasts because they help him take his mind off other things.