What We Know About SAT and ACT Testing This College Admissions Season
Due to Covid-19, the world of education has shifted, especially for college admissions application requirements. The biggest change being standardized testing. Last year, since tests could not happen because of social distancing guidelines, standardized testing was halted, leaving students and educators in the dark about testing protocols.  Many colleges and universities, including ivy league colleges, are not requiring students to take standardized tests. 
What do these new policies mean in terms of testing?
College advisor, Mr. Peter Johnson, offered some tips, insights, and facts about standardized testing for this year. 
"Test optional came about during the COVID-era when colleges realized that testing was not broadly available to college-bound juniors and seniors," Mr. Johnson said. "This is not just a COVID response, but i became more pervasive because of the lack of testing opportunities. Colleges embraced the idea of a more holistic admissions view without standardized tests, giving students the choice to submit scores or not."
The Oregon public universities have continued to be test-optional or test-blind, meaning universities will not factor test scores into the decision process regardless of if a student submits scores. 
"We know that current juniors and sophomores who are preparing for college, especially in Oregon public universities, might not have to worry about testing,"Mr. Johnson said. "Other colleges are taking a year-by-year approach."
For the graduating class of 2022, it's known that the test-optional policies will continue, but for younger students, there is a lack of clarity on how long this period of optional testing will continue. 
"Because of the lack of clarity on how long this test-optional period is going to last, we encourage juniors to prepare, in the case that scholarships or their schools may require a score," Mr. Johnson said. "For the class of 2023, it is a proactive approach to prepare for the test." 
Mr. Johnson encourages the class of 2022 to speak with advisors and parents about whether to submit scores. If students are applying to extremely selective schools, standardized tests may help to distinguish students.
"For the most part, schools are removing standardized testing from their scholarship decisions," Mr. Johnson said. 
While tests may be optional, the brief period of at-home testing has ended, as there is more accessibility to testing. Mr. Johnson explains that optional testing policies are here to stay. Test scores can aid in the decision process, especially in schools with large applicant pools. 
He offered some words of advice for students who will take an ACT or SAT in the near future:
"I would advise, if you are going to take the test, prepare," Mr. Johnson said. "Using the free resources to prepare including Khan Academy for SAT and the ACT offers some free resources as well. Jesuit also teaches a few prep classes. It helps students to get familiar with kinds of questions and also the time limit. Taking a practice test can also be helpful."
Sources:
About the Contributor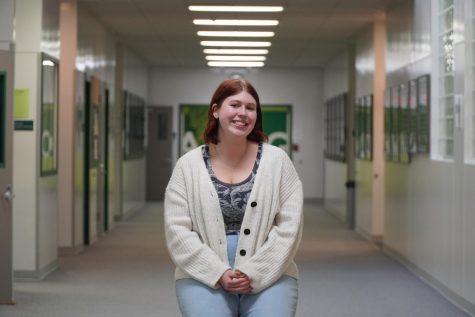 Allie Ruden, Editor in Chief
Allie Ruden is a senior at Jesuit High School and a second-year journalism student. Allie was born in Portland, Oregon, and is an only child. She has a labradoodle named Daisy who loves to nap and sunbathe.  In Allie's free time she loves to read, cook, and listen to all kinds of music. She loves to explore Portland with her friends. Her favorite places to eat in Portland are Bamboo Sushi, JoLa Cafe, and Grassa (highly recommended). Allie enjoys going to the beach, especially Manzanita and Lincoln City, and traveling all around Bend.  She loves writing and her favorite subjects in school are Journalism, English, and Spanish. Allie is interested in writing articles about music, pop culture, and the students and issues of the Jesuit community. She is excited to be able to write about what she is passionate about and delve into issues important to her. Allie is thrilled to be writing for
The Jesuit Chronicle
this year and is hoping to meet some new faces!