Student Spotlight: Avni Sharma
Avni Sharma, junior at Jesuit High School, runs a unique art business, creating and selling custom Renaissance acrylic paintings on Etsy during the Summer months to anyone looking for a unique painting.
She found that her hobby could bring joy to others in a time of isolation. She discovered that she could turn her personal hobby into something constructive and productive, that also helped her grow as an artist.
"I used art for relaxation purposes especially during COVID," Sharma said. "I thought, 'how could I share this art with others?' 'How could I have others partake in the beauty that I see through the art I recreate?' So I started selling my own art to people."
Avni finds that her art serves an important purpose in her life: it helps her unwind from the stress of school and life.  
"It is a fun way to relax, and even before I started my business, I found myself going to my paints when I was stressed or when I needed a break that was also constructive," Sharma said.
She creates masterful renaissance recreations and sells them online. She observed a lack of authenticity in the mass produced paintings and prints and thinks she can forge a unique solution. 
"There are a whole lot of recreations and print outs of the same things," Sharma said. "Back in the 70s and 80s there was this huge craze about replicating art for mass production," Sharma said. "Van Gogh was a common example of that, which is why many people have paper printed copies of a Warhol or Rembrandt, which doesn't  have the authenticity or the personal touch of the real painting."
Finding  that she could shift the textures and composition to form a more unique image for customers, Avni found a unique way of creating her art. 
"Imagine having a painting that has the essence, style, and feel of a Picasso, but the colors and textures are decided by you. It's the perfect marriage of art that's both novel and classic, because the textures, the composition, and the strokes are completely different from what a picture conveys," Sharma said. 
She discovered her passion in the fusion of technology and art in new and unique ways that challenge her creativity. Avni has experimented throughout the past year, trying out different techniques such as animation, digital art,  and comics for The Jesuit Chronicle. 
"I think something interesting to delve into would be fusing the art element with animation or some kind of way to combine art with technology, "Sharma said. "I could take a still-life painting, such as brugel's 'landscape with the fall of Icarus', and make it into an animated depiction of the story the artists wanted to portray with that piece."
She discussed how personal accomplishment and pride in her work are of more importance than accolades. Avni finds the real excitement in the learning and growth that occurs when she is happy with what she has created.
"When people think of success, they are mostly results oriented, and their success is defined by the number of accolades," Sharma said. "For me, it's putting in my best and knowing that I created something of the highest quality possible, and that's an achievement. Especially with my art, it's not as much about money or sales or spreading the word, as it is developing my own technique and that takes time."
She received a request to recreate an image from an unknown artist. The image had hands latticed over one another. Sharma was given custom directions to shift the composition of the painting. 
"They requested a deeper color composition so the skin tone would be darker with no background." Sharma said. "I thought that was really unique because there are so many art styles that involve changing backgrounds and color, and if you buy a mass produced picture of it, it's not really your own."
Finding joy in the fusion of technology and art is one of Sharma's greatest passions. She hopes to continue fuelling her passion for creating beautiful art.
Sharma's Etsy shop is open May-August for custom orders and her art is featured on her Instagram page, @Vermeers_Protege.
About the Contributors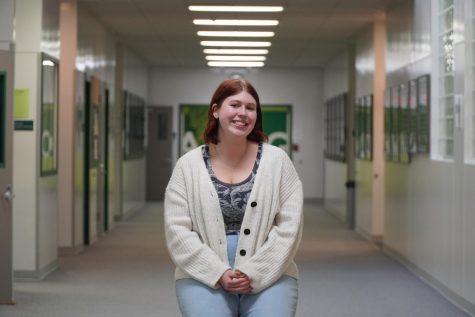 Allie Ruden, Editor in Chief
Allie Ruden is a senior at Jesuit High School and a second-year journalism student. Allie was born in Portland, Oregon, and is an only child. She has a labradoodle named Daisy who loves to nap and sunbathe.  In Allie's free time she loves to read, cook, and listen to all kinds of music. She loves to explore Portland with her friends. Her favorite places to eat in Portland are Bamboo Sushi, JoLa Cafe, and Grassa (highly recommended). Allie enjoys going to the beach, especially Manzanita and Lincoln City, and traveling all around Bend.  She loves writing and her favorite subjects in school are Journalism, English, and Spanish. Allie is interested in writing articles about music, pop culture, and the students and issues of the Jesuit community. She is excited to be able to write about what she is passionate about and delve into issues important to her. Allie is thrilled to be writing for
The Jesuit Chronicle
this year and is hoping to meet some new faces!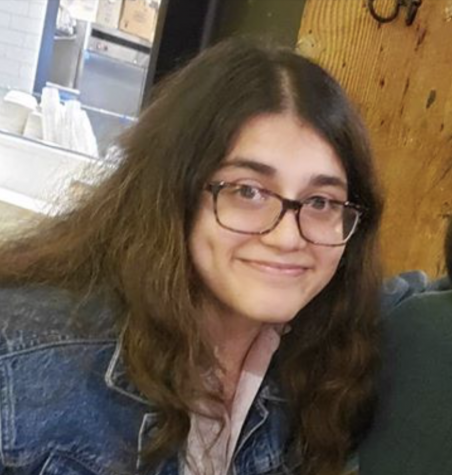 Avni Sharma, Staff Writer
Avni Sharma is a current sophomore at Jesuit High School. She enjoys writing about a wide variety of topics, from music reviews to current politics. Though this is her first year writing for the Jesuit Chronicle, Avni has managed several class newspapers and has blogged about classical music and music theory in the past. As a child, Avni read magazines and spare copies of The Wall Street Journal before entering her Nancy Drew and Harry Potter phase. Today, Avni frequently reads the WSJ and is passionate about reading to learn. In her spare time, Avni loves to paint, draw cartoons, play tennis, and manage her science-focused YouTube channel, "The Breakdown".
Link to Avni's Youtube Channel: https://www.youtube.com/channel/UC7WsYGppgUztsS_ZeSWcgCw