Education in a "New Normal": How are Teachers Adapting to In-Person Learning?
After more than a year of dropped Zoom calls and blank screens, students and teachers were relieved and excited to be back in-person. While in-person learning has increased both a sense of community and students' accessibility to learning, it has also proven to be a stressful and difficult transition. 
Math teacher Laura Schick describes her appreciation for the challenges of in-person learning and her ability to be back with her students. 
"The first difference I'm observing from last year back to our new normal is how much more personally fulfilling I find it to be in person with my students and how much more fun and exciting it is," Schick said.
English teacher René Villareal similarly felt an appreciation for being able to teach in person and noted that the sense of community at Jesuit has drastically increased even in the few short weeks school has been in session. He stressed the importance of in-person learning, especially in building community within the freshman class. 
"Although we've only been in person for three weeks, [the freshman] act like they have known me and each other for two years," Villareal said. "They act like they've known each other for two years. And being on zoom last year, it took a lot of effort to get to that place."
Teachers also noted how the year of online learning allowed them to use more creative teaching styles and learn new technological skills, skills they are now able to implement into their current curriculum. 
Mr. Villareal is just one example of this, implementing a new app, Nearpod, into his daily classes. Students have responded positively to this change, saying that Nearpod is more interactive and engaging. 
"I personally like Nearpod because I am able to follow along with what we're doing," junior Alessandra Savarese said. "Mr. Villareal also puts in interactive activities like responses or games with multiple choice questions." 
While teachers noted their appreciation for in-person learning, they also acknowledged the difficulties the transition has posed. One difficulty has been the adjustment from a block schedule where classes only met twice a week for 80 minutes to the cascading schedule where classes meet four times a week for 50-55 minutes. 
This schedule change has required teachers to alter their lesson plans in order to accommodate for the shorter periods, expanding the number of days teachers must spend preparing for classes. 
"I was surprised at how challenging it was for me to adjust," Schick said. "A 50 minute period feels like it goes by in a flash and so I've had to realize that I'm planning too much for 50 minutes. Just getting used to the pacing of that again has been a challenge."
Teachers are not the only ones struggling with the added workload and the stress of the return to in-person learning and a cascading schedule. Students are similarly feeling overwhelmed and overworked. 
"I've had a pretty hard time adjusting to [in-person learning] because with six periods comes six classes of homework and many teachers seem to be giving the same amount or more homework than they did last year," junior Tessa Randall said. "It's hard to go from having two days to do your homework to having just one." 
Acknowledging how challenging and stressful this transition has been for many students, teachers, like Mr. Villareal, have been offering additional flexibility and grace in their policies in attempts to relieve some of that stress and empathize with their struggles. 
"I've shown some grace and flexibility in multiple moments with my students because I keep saying to myself, 'Man! This is a frantic world we are living in now and it's not easy for anybody'," Villareal said. 
Not only are teachers responding to student struggles with additional flexibility, they are also being prompted to question: How has Jesuit been protecting students' mental well-being during this challenging transition? 
"I think we could do better in terms of being sure that we're safeguarding not only our academic and professional lives, but also our personal, mental, spiritual and psychological wellness," Villareal said. "I don't think it has to be either one or the other." 
About the Contributor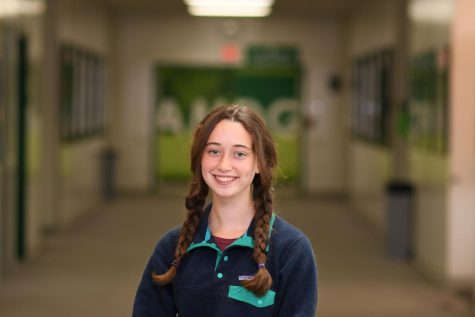 Clarinne Kirk, Editor
Clarinne Kirk is a senior at Jesuit High School who is very excited to grow as a writer in her first year of journalism. Clarinne believes journalism fosters community and understanding and fights against ignorance and biases. During the pandemic, Clarinne read
The New York Times
on a regular basis and gained a new appreciation for the importance of well informed and topical news. This appreciation fueled a desire for her to similarly inform her community while developing her writing abilities. Clarinne loves spending time outdoors and is very passionate about protecting the environment through sustainable actions and climate justice. During her time at the
Jesuit Chronicle
, Clarinne hopes to educate her peers about climate change and sustainable actions we can take both in our Jesuit community and in the greater Portland-Metro area. At Jesuit, Clarinne competes in cross country and track, is a student ambassador, and is a member of the school's Green Team. Outside of school, Clarinne enjoys spending time hiking, running, and playing with her two dogs, Bailee and Hazy. Additionally, Clarinne also spends her free time baking, reading, and taking pictures of Oregon's beautiful scenery.