How do you feel? Mental Health at Jesuit
With mental health awareness on the rise, Jesuit joins the cause. 
As of fall 2019, Oregon public schools had taken the lead on mental health issues, and other states, such as Illinois, are now starting to catch on. Now, as in-person school is picking up, and World Mental Health Day has recently passed (October 10), the question arises: What is the stance on mental health at Jesuit, and how is it making students feel?
A "Mental Health Day", can be divided into 2 main categories: missing school for the sake of your own wellbeing, or a school-wide activity around self-care, stress, or emotions.
Diving deep into the idea of mental health-related absences, Principal of Jesuit High School Paul Hogan shares his thoughts on whether a mental health issue counts as an excused absence.
"It does, as long as the parent calls in and excuses their child. We don't explicitly distinguish between physical, mental, emotional, or other health issues," Hogan said.
Additionally, he approves of the idea of community-wide mental health activities.
"I think we undervalue the importance of rest and of mental health," Hogan said. "I've been talking to my AP senior English class every day for the last week or two about sleep and relaxation, and about trying to manage their stress and anxiety connected especially to college applications." 
He explains the administration's efforts to alleviate stress and their goals for the year.
"We built in break, Flex, and late-start Tuesdays, but still, too many people [at JHS] are going a million miles an hour," Hogan said. "We created Flex partly to reduce the confusion of so many assembly schedules, but also because students were sometimes feeling stressed because they couldn't see a teacher for help because they're supposed to be at practice, or rehearsal. We're trying to build mental health awareness into the schedule this school year."
Junior Noah O'Mahony has witnessed firsthand the value of prioritizing mental health and identifying the seriousness of the issue.
"In the past year with Covid, it became startlingly clear how important it is for us to look over mental health," O'Mahony said. "It's not as if when it's allowed, kids are going to start taking more mental health days. Kids are already taking a mental health day whether they know it is allowed or not, but they will say that they're sick. My personal opinion on it is that, right now, people already take mental health days but just aren't calling them mental health days. We could go over why they're taking a mental health day, and help them solve the problem, rooting it out at its source."
Senior Sam Myerson agrees and expresses that, in his own experience of taking a day of absence, it did not feel as important as other types of absences.
"I've done it before. In the first weeks of school, I woke up and I was just like 'no', and I took one of my sick days for it, so it kind of felt like wasted time," Myerson said. "I felt like it could have been used for—I don't want to say an 'actual' reason—but a more serious reason for missing school."
Senior Angie Cao sees students ignoring their own mental health out of social influence.
"Mental health is the number one thing that's affecting teenagers these days, and there's usually some stigma around mental health, that it's bad, or something to be ashamed of, but I don't think it should be," Cao said.
Junior Malanea McDonald notices this when students do not have the time or energy to assess their own mental wellbeing and prioritize education to the point of additional stress.
"I feel like self-care could be beneficial for a lot of people, even if they didn't realize they needed it," McDonald said.
To sophomore Julia Spuck, there is a fine line, with the invisibility of mental health, between taking care of the self and taking advantage of a break from school. 
"Define mental health reasons: Something like anxiety? Or something like, "I'm feeling lazy and tired and I don't feel like going today"? If it's serious, like anxiety or a severe panic attack, then yes, I agree," Spuck said.
Junior Noah O'Mahony believes this can be addressed by holding one's self accountable.
"There's always the idea of 'what if kids abuse it?'" O'Mahony said. "That will be up to them, between the kid and their counselor. That's a bridge we should cross when we come to it."
Freshman Keegan DeMerell is excited about more mental-health oriented activities, especially those resembling Mental Health Awareness club's Self-Care Friday.
"I think that would be nice for some students to figure out how they're doing and take a break," DeMerell said. "It can be a condition you're working on and need to fix. You should be able to focus and get your grades in check."
Sophomore Julia Spuck is grateful for all the work Mental Health Awareness club does at Jesuit, but she sees the importance of broadening self-care activities beyond the realm of a club.
"I know that we have a club, but not everyone's in it, and not everyone can go," Spuck said. "I feel like everyone needs to take time for themselves because, especially at Jesuit, work will pile up, and you feel so overwhelmed and you don't have time to actually do things for yourself."
About the Contributor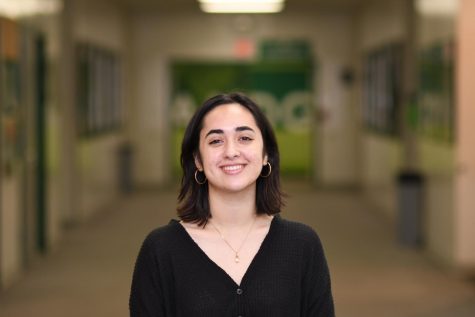 Bella Klucevek, Staff Writer
Bella Klucevek is a senior at Jesuit High School and a first-year writer for the Jesuit Chronicle. She loves to write, and she is excited to highlight the beauty of life at Jesuit and bring light to issues that affect the greater community. She is heavily involved with activities in the Jesuit community, participating in Choir, the Jesuit Ambassadors, Setons, and singing at Mass. In addition to her performances at school, Bella spends her time singing with Pacific Youth Choir, performing solos for competitions, and even an interview on All Classical Portland Radio. A passionate volunteer in her community, she teaches choral music and art to elementary students after school. Bella believes that giving back is important, and that it can inspire others to make a difference. She believes the arts are an excellent way to bring people together, especially the art of writing. Her passion for journalism began her 8th grade year, when she wrote for her middle school's newspaper in a weekly journalism class. Bella is excited to be writing for the Chronicle, and she hopes to bring joy to the lives of her readers while also sparking conversation about Jesuit life and current events.