Ignatian Family Teach-In for Justice: A Recap
Over the past week, Jesuit students and faculty participated in the Ignatian Family Teach-In for Justice: an annual, national conference held by Ignatian Solidarity Network. In a typical year, the conference is held in Washington, D.C., but both the 2020 and 2021 Teach-Ins were presented virtually due to Covid-19 restrictions.
A diverse group of faculty and students of all grades joined the senior leaders in watching the video presentations asynchronously, and they met at Jesuit on Saturday for a watch party, viewing the keynote presentation in Clark Library and discussing the content afterwards.
The Teach-In focuses on specific issues in social justice and advocacy work, specifically climate, migration, and racial justice. Ignatian Solidarity Network invites a number of guest speakers, including this year's keynote speakers: Norma Pimentel, M.J., and James Martin, S. J., and Jesuit senior and Teach-In leader Elina Deshpande.
Deshpande spoke about her transition into a Catholic high school, her involvement with Campus Ministry, and her own struggles with faith being raised Hindu at a Catholic school.
"It's nice to be able to add my own angle to the Teach-In," Deshpande said. "I didn't speak as much about social justice as I did about religion, and I liked being able to share that perspective. It was interesting to lead others through this process. I like how we can find unity in the messages we share with each other."
About the Writer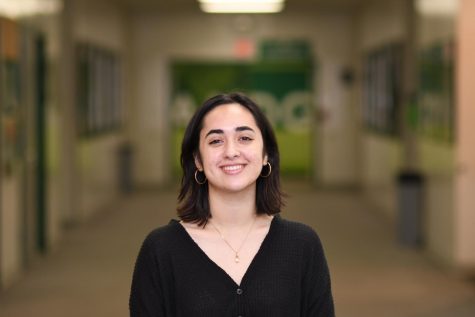 Bella Klucevek, Staff Writer
Bella Klucevek is a senior at Jesuit High School and a first-year writer for the Jesuit Chronicle. She loves to write, and she is excited to highlight the beauty of life at Jesuit and bring light to issues that affect the greater community. She is heavily involved with activities in the Jesuit community, participating in Choir, the Jesuit Ambassadors, Setons, and singing at Mass. In addition to her performances at school, Bella spends her time singing with Pacific Youth Choir, performing solos for competitions, and even an interview on All Classical Portland Radio. A passionate volunteer in her community, she teaches choral music and art to elementary students after school. Bella believes that giving back is important, and that it can inspire others to make a difference. She believes the arts are an excellent way to bring people together, especially the art of writing. Her passion for journalism began her 8th grade year, when she wrote for her middle school's newspaper in a weekly journalism class. Bella is excited to be writing for the Chronicle, and she hopes to bring joy to the lives of her readers while also sparking conversation about Jesuit life and current events.