My Crocs Journey: A Lesson in Self-Discovery, Style, and Sport Mode
Early October, with the first month of school under my belt, I began to feel a hunger for change in my life. The need for something extraordinary, especially apparent as the monotony of school and the overwhelming flood of college applications I was experiencing permeated every aspect of my life.
I knew I needed to make a change, but where would I start? I had no idea what kind of excitement I needed, I only knew I needed something different. Fortunately for me, the answer to my wonderings came in the form of senior Ellie Gianola, who bounded into school one fateful October day, her feet adorned with bright teal crocs.
Immediately, I was intrigued. What hold could these hole-pocked footwear have on Ellie, a self described "croc enthusiast" that made her so joyful? Could her croc euphoria be the answer to my dull senior existence? And who were crocs for? Could I even wear them?
"My crocs give me so much confidence and joy," Gianola said. "Sometimes, when I'm having a bad day, and I'm moping around in my regular shoes that have no holes, I remember that I am a proud Croc owner and at any point in time I can come downstairs, slap on my Crocs, and Croc-odile my way to any form of happiness that I so desire. Crocs make everything better."
Enough for me! By the end of the day, having thoroughly explored the entirety of the Crocs website, I placed an order for the Classic Clog in the color Orchid, a bright lavender.
The afternoon my crocs arrived was a momentous occasion. As I slid my feet into the pliable rubber soles, I felt a great sense of peace wash over me, filling the Croc shaped hole that had resided in my heart.
I spent the first weekend with my crocs exploring the sunny beaches of San Diego enjoying both the comfort they brought to my feet and the functionality they provided as an exceptional beach and water shoe. However, as my weekend drew to a close, I was filled with nervous anticipation at the thought of finally debuting my Crocs in the halls of Jesuit High School.
It is no secret that for as many Croc aficionados there are in the world, there are also many Croc haters. In 2011, website ihatecrocs.com was created by a group of people "dedicated to the elimination of Crocs and those who think that their excuses for wearing them are viable."
Obviously as Crocs made their resurgence, so would anti-Croc sentiment. If I came face-to-face with a patron of ihatecrocs.com, would I be spat on in the halls, or thrown into a locker and my Crocs ripped away from me?
Furthermore, as I was deliberating my decision to wear my Crocs, I received intel from junior Brynn Ensminger, whose mom works for Crocs. Even though her family ties to the brand were strong, Brynn admitted to being apprehensive about the shoes.
"Nobody in my family necessarily loves how Crocs look," Ensminger said. "We all think they're kind of ugly looking. We joke about Crocs because when we were little my mom actually wouldn't let us wear them because she thought they were too ugly. So, it's a little ironic that she works there now."
Regardless of my fears, I decided to follow through with my plan to debut my Crocs at school on the advice of junior and avid Croc wearer Alex Payne.
"I wear my Crocs anywhere and everywhere I can," Payne said. "People tell me they like my Crocs a lot, except sometimes people tell me they look too big for my feet, but I think that's just how Crocs look."
When I revealed my Crocs to the masses back at school, I was overwhelmed by the outpouring of love and support I received for them. People told me they loved the color, I received several requests to perform "sport mode" demonstrations, and even agreed to my friend, senior Theron Abel's request to wear them around for sixth period because he loved them that much. 
Despite my initial concerns, my first school day with my Crocs was a smashing success. For too long, I was a bystander in the world of Crocs, but I stepped into the Croc-light, and you can too. If you make your Crocs your own, anyone can partake in the beautiful world of Crocs.
"My Crocs are filled with love, as anyone from my dad, to my mom, to my brother, to my dog have put their feet in my crocs at some point in time," Ellie Gianola said. "So I would say my Crocs are a communal symbol of joy and I would recommend them to anyone, especially people of importance. Politicians, queens, celebrities, but also for your average Joe. Anyone and everyone can wear Crocs."
About the Contributor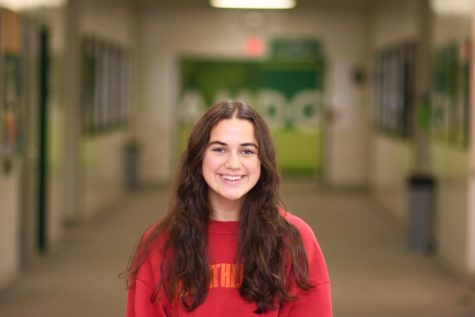 Adriana Bobenrieth, Editor
Embarking on her first year in journalism, Jesuit senior Adriana Bobenrieth is super excited to take Jesuit by storm. As a heavily involved member in all things Jesuit theatre, Adriana is ecstatic to be covering the goings on of the school's drama program this school year. In addition to arts and theatre coverage, Adriana is interested in exploring some of the less talked about aspects of Jesuit student life, and is hoping to connect students by covering their shared experiences. She also hopes to write about topics such as current events, politics, and opinion pieces. Beyond the Moyer stage, you can often find Adriana working her job at a local Portland smoothie shop, paddle boarding, surfing, playing guitar, or trying the latest salt and straw flavors with her friends. A few of Adriana's current favorite salt and straw flavors include Birthday Cake & Blackberries, Maple & Bacon Streusel, and Smile: Words and Pictures. At home, Adriana consumes an ungodly amount of survivor, experiments with new healthy recipes in her kitchen, and loves to play with her labradoodle Dobby. She is stoked to be exploring her passions more deeply and sharing them with others through journalism this year.