Demanding Homework Workload: Helpful or Harmful?
Waking up early in order to attend Jesuit high school, junior Carson Ruggiero drives an hour to get to class before the bell rings at 8 am. He, along with all students at Jesuit, attends six 55 minute classes before the final bell rings at 2:45 pm.
With sports practice or the gym after school, an hour-long commute, time with his family, dinner, and the Jesuit average of at least 2 hours of homework per day, Carson may not get to bed until well after 10 pm. 
Many students at Jesuit find themselves in similar situations when it comes to completing their homework.
"Whenever I have a lot of homework and sports on the same day, I will either be up until one or two in the morning doing my work or I won't be able to finish it on time," sophomore Flynn Foley said. "I feel like I have to sacrifice a lot of things I enjoy doing in order to get somewhat decent grades. I barely play video games with  my friends now because I have to deal with the stress caused by Jesuit's assignments."
Foley and Ruggiero are just two of the 1,280 students attending Jesuit high school who face the challenge of balancing school with life outside of school. 
When extracurricular activities, family life, self-care, and sleep are factored into the equation, the majority of students have trouble finding time to get everything done.
Only adding to their struggle, in the past year, students faced the transition from virtual and hybrid learning to fully in-person school. With this shift came the return of extracurriculars such as sports and theater, making students' lives noticeably busier. 
In fact, according to a school-wide survey sent to the student body by The Jesuit Chronicle on October 4, 2021, 74.9% of students that responded felt overwhelmed by their homework load at Jesuit.
Even so, 70.4% of the 382 students who responded to the survey stated that although they dislike homework, they find it necessary to learning. 
When asked to elaborate, however, many students admitted, necessary as it may be, the amount of homework they are assigned at Jesuit is exceedingly difficult to balance with their lives outside the classroom.
"It's a race for me to finish all my homework before the due date," Foley said. "I didn't play a fall sport because I knew my homework load would be so heavy. If I was playing a fall sport, I would be a 1.0 GPA student."
Foley is not alone. Students expressed their battle to manage their homework load calling it, "unattainable", "excessive", "absurd", "ridiculous", "overwhelming", and "inordinate".
But what makes Jesuit's homework load so demanding?
"The issue is, there is both homework load and studying," Ruggiero said. "So, even if it's only thirty minutes for a class, there's seven classes. That's a lot of time that you're putting into homework, plus sports, if you go to the gym, family, dinner, and sleep."
With the ever increasing pressure from parents, teachers, and colleges to participate in numerous extracurriculars, enroll in the hardest courses, and be present at home, high schoolers such as Foley and Ruggiero feel there just is not enough time in the day to get everything done, let alone have a social life or any sort of "me-time".
Add in the stress of coming back to in-person classes, and students' feel more overwhelmed than ever.
"As we are jumping back into 'traditional learning', I'm finding that the conversation of students' mental health is being buried," junior Holland Boecker said. "Jesuit stresses the importance of being men and women for others, however, that may mean putting the student's mental health over copious amounts of homework."
Many students agree with Boecker, feeling that in an attempt to shift back to school as it was prior to COVID-19, the effect of quarantine on students has been dismissed.
78.7% of the 382 students who responded to the school-wide survey answered they have significantly more homework now than they did during online and hybrid learning.
In fact, 67% of the students stated they have a minimum of 2 hours of homework each night.
Those students emphasized the challenge of transitioning back to the typical in-person bell schedule. 
This year, students have six periods each day, with their seventh class rotating into the schedule for different periods on each day of the week. For instance, students have periods one through six on Monday, but on Wednesday will attend periods one through three, period seven, and then periods five and six.
During online and hybrid learning, on the other hand, students had A and B days, with four classes on Tuesdays and Thursdays and three classes on Wednesdays and Fridays. Mondays were used as a virtual check in, with each class having twenty-five minutes of meeting time through zoom.
"Last year, I got used to having at least two days to finish all my homework so it's been hard to transition to having to turn in homework the next day," said senior Amanda Yee.
So what can Jesuit students do to ease the struggle of balancing fully in-person learning, homework, and outside life?
"I sort through my homework and try to do my assignments in order of importance," freshman Isabel Veloso said. "So, if I have something due tomorrow, I'll do that first. Or if I have a big test to study for, I'll do that before I do something a little bit easier that's due later in the week." 
Other students offer advice such as creating a schedule at the beginning of the week which organizes homework from each class, extracurriculars, and other events. Students may also consider starting homework assignments when they receive them, even if they aren't due for a couple weeks to get a head start.
Homework Survey Raw Results (382 Total Responses):
Question 1: What is your grade level?
9: 81 responses

10: 88 responses

11: 122 responses

12: 91 responses
Question 2: On average, how many hours do you spend on homework each week?
0-1 hour: 20 responses

1-2 hours: 106 responses

2-3 hours: 183 responses

4 or more hours: 73 responses
Question 3: To you, homework is…
Well worth it-it helps with learning: 8 responses

Necessary and I see the purpose most of the time: 87 responses

Necessary, but I don't enjoy it: 182 responses

Busy work-a waste of time: 105 responses
Question 4: How do you feel about your current homework load (1 – not a problem, 4 – overwhelming)?
1: 14 responses

2: 82 responses

3: 171 responses

4: 115 responses
Question 5: In which course do you spend the most time on homework?
Math: 148 responses

Science: 85 responses

English: 74 responses

History: 60 responses

Electives: 10 responses

Language: 5 responses
Question 6: In which course do you spend the LEAST time on homework?
Math: 13 responses

Science: 19 responses

English: 17 responses

History: 26 responses

Electives: 159 responses

Language: 39 responses

Health / PE: 109 responses
Question 7: When do you generally complete your homework?
Mornings before school: 10 responses

During school: 10 responses

Right after school: 30 responses

In the evening (5-8pm): 178 responses

Late at night (after 8pm): 154 responses
Question 8: During online and hybrid school, how did your homework load compare to now?
I had less: 294 responses

I had more: 49 responses

It was the same: 33 responses

I did not have homework: 6 responses
About the Contributor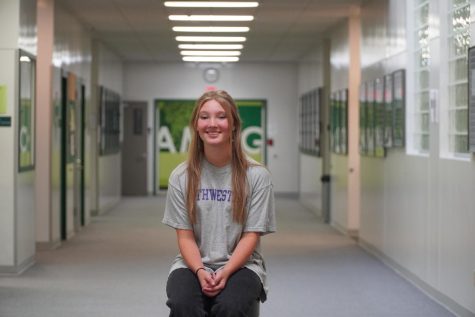 Kelsey Jones, Editor in Chief
A senior at Jesuit High School, Kelsey Jones is a writer and editor for
The Jesuit Chronicle
. She
is excited to pursue her love for writing and news through her involvement in media studies this
year. Although this is her second year participating in Jesuit's media program, Kelsey first
discovered her passion for journalism working as a writer and editor for her middle school's
newspaper,
The Panther Press
. Since then, she has
continued to cultivate her love for writing
through Jesuit's English program as well as writing for fun in her free time. Her writing focuses
on current events and issues, social justice, education, sports, and the arts. Outside of the
classroom, Kelsey is an enthusiastic sports fan as well as an avid reader. She enjoys playing
lacrosse, watching movies, and spending time with her friends, family, and dog.