Homecoming Sports Preview
Friday Night Lights vs Sunset October 29
When: Friday October 29, 7PM
Where: Cronin Field, Jesuit High School
On JCTV's YouTube? YES
Massive playoff implications for the Jesuit Crusaders and Sunset Apollos, as Jesuit looks to secure a high seed. While the Green and Gold have already established themselves as Metro League champions, they will want to end the regular season and enter playoffs on a high. 
"We want to end the regular season on a good note and a good feeling knowing no matter the outcome that we did our best and tried our best" senior linebacker and wide receiver Tyree Blake said. 
Friday's matchup will be the first homecoming game in over two years for the Crusaders due to the COVID pandemic. 
"The goal of the team this Friday is to have fun. It's the first time in 2 years and for some of us, it's the last. We are all excited to play and ready to beat Sunset!" Blake added. 
Men's Soccer Playoffs: Round of 32 vs #31 Roseburg 
When: Saturday, October 30 2pm
Where: Jesuit High School, Cronin Field
On JCTV's YouTube? YES
The Crusaders have unfinished business and will look to start a deep playoff run on Saturday versus #31 ranked Roseburg (7-5-2). 
The Round of 32 matchup comes just hours before Jesuit students gather at school for their homecoming dance. 
"It doesn't matter because we have to be more focused on the game," junior Drew Pederson said.
The Jesuit Crusaders are riding their own wave into playoffs having finished unbeaten in Metro League play for the third year in a row. This display of immense form is a definitive product of the fantastic individual form by Pederson and senior Spencer Carle. The pair combined for 13 and 7 assists. 
"I'm a bit nervous because for a lot of us it's our first playoffs, but excited to see how we do," Pederson explained. 
This will be the first playoff experience for many members of the team with only the 4 senior captains on the team when the Crusaders made it to the quarter finals, falling to Summit from Bend, this years OSAA #1 team going into postseason. 
Women's Soccer Playoffs: Round of 32 vs #32 Central Catholic
When: Saturday, October 30 2pm
Where: Jesuit High School, Cronin Field
On JCTV's YouTube? YES
The Crusaders, who after falling to Beaverton in their first Metro League game, finished league play undefeated and reclaimed the overall #1 seed. 
"Claiming that spot took a lot of team effort and motivation, so I'm proud of the team since it wasn't easy," senior midfielder Taylor Krueger said.
Jesuit, who has scored 50 goals and only conceded 8 across the season will look to keep that form going to challenge for a state championship. They have the potential to face a couple of teams on their side of the bracket who have given them troubles in #5 Beaverton, #7 Lincoln and #20 Lakeridge. 
"We are ready and excited to play any team that we face since it's always more exciting and rewarding to beat a higher ranked team," Krueger added. 
Krueger, a captain on the team, has been a force to be reckoned with, notching 13 goals and 6 assists. She will look to lead the Crusaders to a 3rd state championship in her career. 
Volleyball Playoffs Round of 16 vs #14 West Salem
When: Saturday, October 30 4pm
Where: Jesuit High School, Knight Gym
On JCTV's YouTube? YES
After winning their Round of 32 game convincingly over the Tualatin Timberwolves, Jesuit turns their attention to the #14 West Salem Titans (18-6). 
"We are focusing on starting strong, being consistent and running plays," senior Libero Maisie Alexander said. 
The Crusaders, who only dropped an impressive 1 of 37 sets during league play, has faced adversity in their last two tournaments of the regular season. Their foe? None other than statewide #1 seed West Linn. This begs the question, how will the Crusaders be ready for stiffer competition in playoffs?
"I do feel like we are ready for stiffer competition we are taking it one day at a time and focusing on one game at a time," Alexander explained.
About the Writer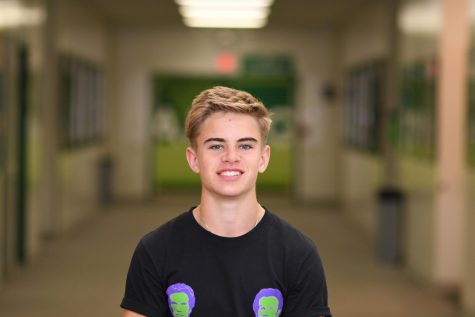 Spencer Carle, Staff Writer
Spencer Carle is a first year writer for the Jesuit Chronicle. As a member of the class of 2022, Spencer decided to take Journalism primarily because of his uncle Neil, who studied journalism at the University of Oregon and is now an anchor on the late night show: SportCenter on ESPN. Spencer has a true passion for sports, especially soccer, and has committed to play collegiate la at the D1 level at Gonzaga University. One of his essential inspirations for sports journalism is watching early morning soccer analysts on NBC and Sky Sports. His first experience with journalism was as a junior taking the Broadcast Journalism class, where he learnt how to commentate live sports, conduct interviews and display videography skills. This year, Spencer hopes to learn the fundamentals of journalism, and primarily focus on covering the school's Varsity games and pursue stories tied with the sports programs. In addition to writing about sports this year, Spencer would love to write about problems students face at Jesuit, mental health, food and fashion. Outside of the classroom, Spencer is one of the captains for the men's soccer team, a cook, an avid traveler and loves to spend time with his friends and family. A fun fact about him is that he lived in London and Amsterdam between ages six to ten.