Soccer Season Recap
November 29, 2021
At the end of fall sports, both men's and women's soccer teams finished a successful season. Both teams fought hard to win Metro League and qualify for playoffs. Men's soccer combined for 49 goals and ranked #2 in the 6A OSAA division, while women's soccer scored 57 and ranked #1 in the 6A OSAA division.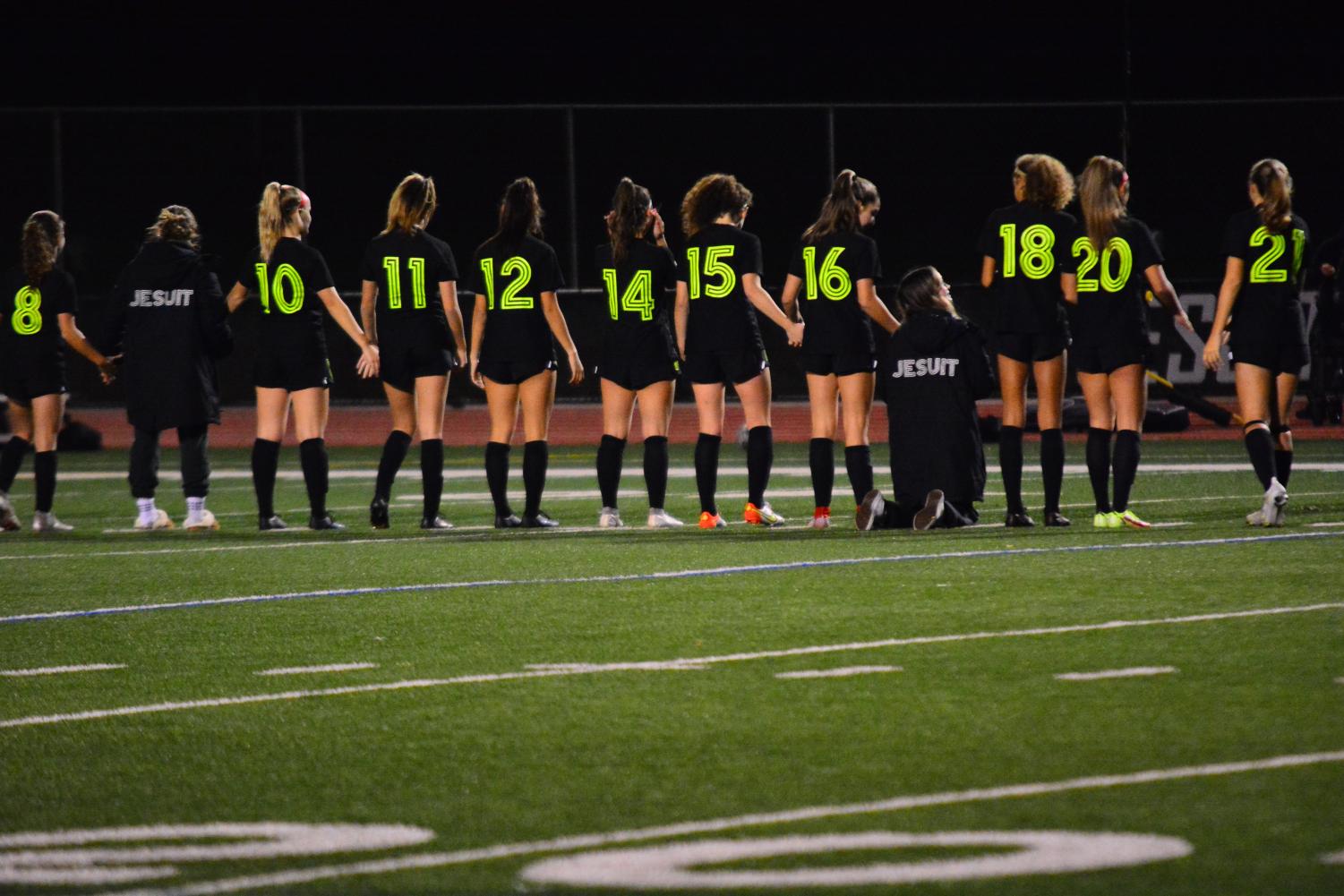 Women's Varsity Soccer
After dominating the 6A division over the past four years, Jesuit returned to fight for yet another state title. Coming off a shortened season due to the pandemic, it was clear that the team was ready to get back from where they left off. 
"It was exciting," head coach Steve Fennah said. "Usually at tryouts I talk about being aggressive and working hard. This year, I said that we were blessed that we got to play."  
Players also shared Fennah's enthusiasm about having a full season. 
"After COVID, it's been so great to have a normal season," junior Aoife Gish said. "To be able to do fun things as a team, have pre game routines, and wear jerseys at school on gameday."
This year, there was an increased amount of freshmen on the roster. With 9 freshmen, this was a younger women's team than Jesuit had put out in previous years. 
Even with a younger squad, the Crusaders propelled themselves to a 7-game win streak, scoring 26 and only conceding 2. Their seventh game was a hard battle against Lakeridge, resulting in a last minute penalty to snatch a win.
"We have a fairly young team, so our main focus was to show what Jesuit is all about to the players," Gish said. "At the beginning of the season, we were able to do just that."
As the team began the Metro League, their first test was against undefeated Beaverton. The Crusaders conceded three goals, two in the first half, and were only able to grab one back in a 3-1 loss. This game ended Jesuit's five-year unbeaten streak of 76 games. 
Although it was a devastating loss, the team managed to find their feet and win the rest of their Metro League games. They finished with 11 wins, 1 loss, heading into the postseason. Two seniors, Taylor Krueger and Naomi Alvarez, were influential in grinding out wins.
"They were instrumental in providing goals and leadership," Fennah said. "But it was also an all around contribution from throughout the team."
When playoffs began, Jesuit had their eyes set on yet another state champion trophy. They set the tone in their first game, winning 5-0 against Central Catholic. In the second round, they faced a strong Forest Grove team. Coach Steve Fennah had high expectations of the opponents going into the game.
"We knew they were a good team," Fennah said. "We also knew we were going to be inexperienced in these situations with a young squad." 
The game ended with an unfortunate loss in overtime, the Crusaders falling to the Vikings 3-2. They ended the season with 13 wins and 2 losses. 
Coach Fennah will look to prepare for the future and fight for another championship next season. 
"Many of the freshmen and sophomores got a lot of time," Fennah said. "The future looks bright, and you always hope that they keep developing and improving for the coming years."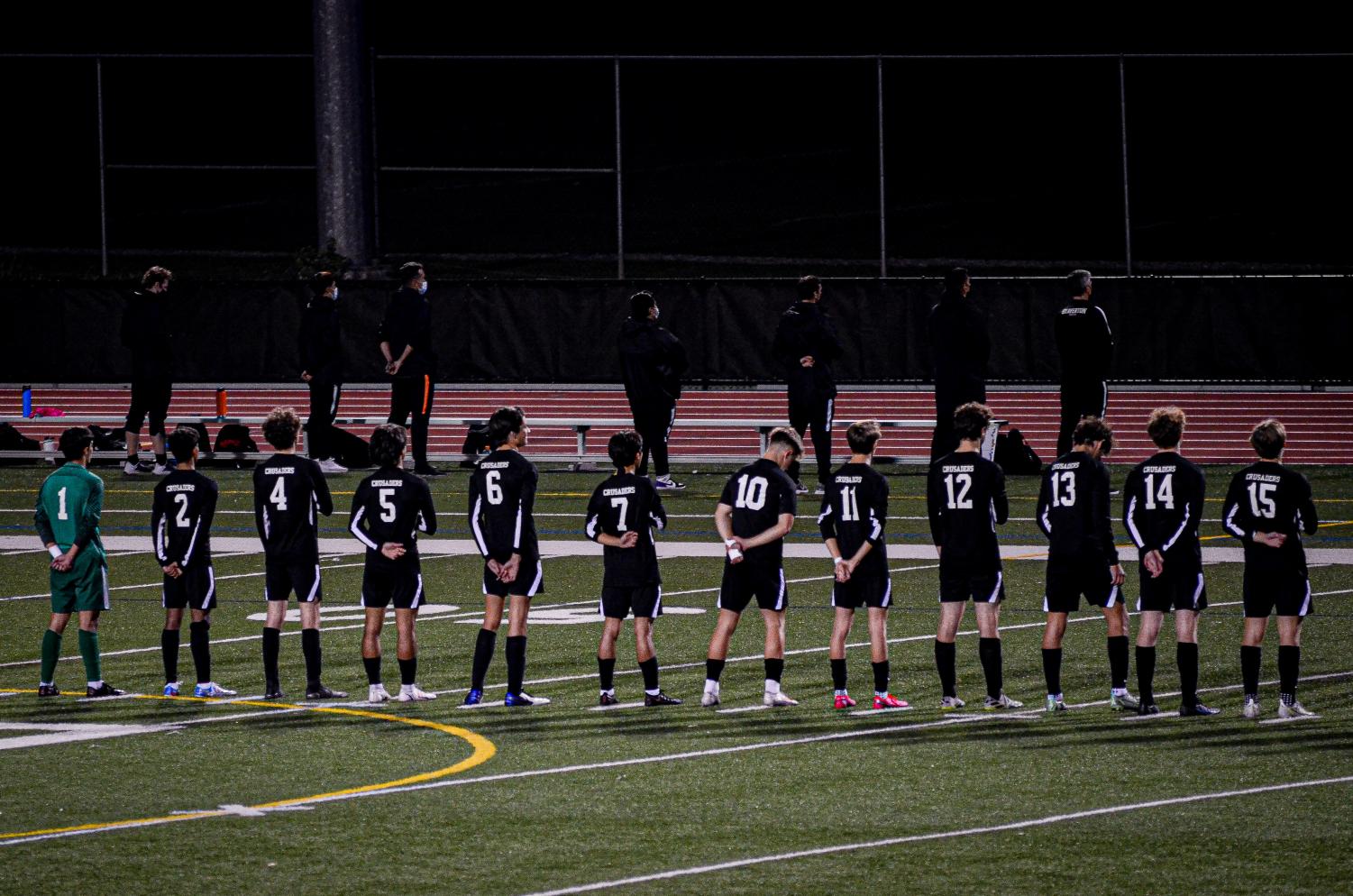 Men's Varsity Soccer
After a season of restrictions, men's varsity soccer returned for a full season. The Crusaders wanted a deep run into the playoffs since winning their last state championship in 2018. Coach Skipper reflected on his excitement to have a full season. 
"As fun as last season was, it was nice to play for something," Skipper said. "This year we played for each other and a state championship."
Although the Crusaders were ready to get back on the field, the team took some time to adjust with its newest players. In the first eight games, they had three losses, falling to Summit, Franklin, and La Salle Prep. Yet, they kept a strong mentality to persevere and view the losses as a learning experience. 
"We took the games with us," senior Spencer Carle said. "It helped us build for better results, and put a chip on our shoulder." 
Coach Skipper also reflected on the start of the season for his team. 
"It always takes a while to figure out who plays where, who fits in where," Skipper said. "But it also takes time to build team chemistry. I wasn't too concerned about the early losses, because I knew it was a good group of kids, and that they would bounce back."
These losses proved to help the team, as they went undefeated in the Metro League. At the end of the regular season, their record improved to 11-3. Multiple players were critical in maintaining their winning form. 
Top scorer junior Drew Pedersen was arguably the Crusader's most important attacking player, scoring 19 goals. He was also nominated as the Metro Player of the Year. In close games, he was often the man to score critical go ahead goals. 
"Drew was really special, he's one of my favorite players I've ever played with," Carle said. "I feel that our connection was really good this year."
Seniors such as Landon Azevedo and Luc Insley were also attacking players that helped lead the team with their playmaking. On defense, Brady McClellan held the backline together and provided leadership. 
"Brady at the back was really an anchor for us," Carle said. "He didn't let people get in behind very easily."
As playoffs began, Jesuit were favorites as they finished first in Metro League. They won their first three playoff games, scoring 13 goals, and conceding none. Their best display was against #7 ranked Lincoln, winning 4-0 on Cronin Field. 
In the semifinals, they faced #6 ranked West Linn. Although Jesuit dominated for most of the game, West Linn grabbed a 1-0 win to stun the home crowd. It was a heartbreaking way to end the season for the Crusaders, after such strong performances in the playoffs. 
Coach Skipper looks to next season as another opportunity. 
"There are some really good players on JV this year that can step up next year," Skipper said. "I'm not guaranteeing anything, but I'm really looking forward to next season."