Student Spotlight: Vladimir Mamchik
You may know junior Vladimir Mamchik from around campus. You may have collaborated with him on an assignment, competed with him during mock trial, and/or shared a laugh with him during biology class. But, did you know he is the youngest person to be accepted into the American Academy of Optometry?
For the past few years, Mamchik has been researching the development of color blindness and possible methods to correct color deficiency. He has created a novel method to help solve this problem.
"It's essentially a method to correct it from the outside. In plain terms, it's a new illumination system and source," Mamchick said.
Mamchik is color blind himself, which inspired him to dive into this type of research. He has been doing research with color since sixth grade and has gone to numerous scientific competitions and fairs with his findings.
"Last year, I went to the International Science and Engineering Fair and got third place.  2 years ago, I was the youngest person to be accepted to the American Academy of Optometry. This year, I went to Boston for a week to present at the Academy, and my research was selected as one of the top ten most newsworthy research of 2021 of the Academy," Mamchik said.
Mamchik's outstanding achievements in his research are something he wishes will help him pursue a career in this field throughout his future.
"I'm looking to go into neuroscience. My research has given me a lot of incredible connections, especially with some professors on the East Coast,"  Mamchik said.
Mamchik's interests don't stop there. When he's not working on his research, he dives into a different world— mock trial. 
"While my research is a pretty big part of my free time, I work on mock trial really regularly, which is something that I love", Mamchik said.
Mock trial coach Dr. Exley has worked with Mamchik in mock trial and the classroom during Speech and Debate class.
"Vladimir is a super hard worker, and super passionate about anything that he's a part of, whether that's chess club, mock trial, speech and debate, or his research. His passion is clear to anyone who meets him and that's really exciting for me to see as a teacher," Exley said.
Mamchik wants students to know the importance of tenacity and hope throughout any challenges.
"My biggest advice to students who want to pursue something they're passionate about, whatever that may be, is that even if something doesn't work, just keep believing in yourself and working towards it," Mamchik said. 
About the Contributor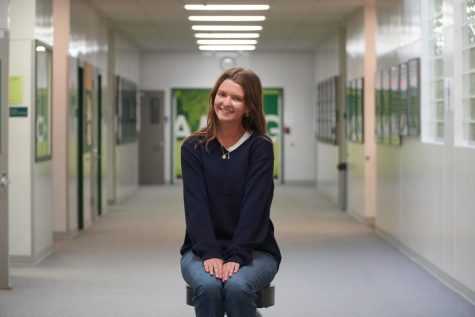 Lauren Herrick, Editor in Chief
Senior Lauren Herrick is a returning student from Journalism and a member of the editorial
board this year. Lauren enjoys producing feature and opinion pieces, collaborating with the team
to lead the development of the online and print paper, and enhancing her passion for the craft of
journalism through incorporating technology such as podcasts— check out the Sader Scoop,
which she co-founded and edits. When she's not writing, you can find her reading the
Wall
Street Journal
or listening to NYT's The Daily. Outside
of journalism, Lauren enjoys practicing
yoga, part-time baristing at a local cafe, spending time exploring Oregon with her friends, and
listening to a lot of country music. She's excited to help lead the Jesuit media program and
explore topics more in depth during her second year of the program.