Teachers Find Letters of Recommendation Rewarding Despite COVID Challenges
Winter at Jesuit not only brings the festivities of the holidays, but also the stress and anticipation of college applications. In addition to stressing seniors, this process also impacts teachers who can become overwhelmed by letter of recommendation requests. 
Letters of recommendation are letters written by teachers that give colleges a more personal look at applicants. The current letter-writing process includes students requesting letters from the teachers of their choosing at the beginning of senior year. The student must then file an official request with the college counseling office that sends official requests to the teachers digitally. 
Letters of recommendation play a crucial role in highlighting the individuality of applicants. In extremely selective colleges, they can be a large distinguishing factor between applicants with similar credentials, according to college advisor Peter Johnson. 
"There is great value, on behalf of the college admissions world, of the teacher's voice to try and distinguish the student's presence in that classroom or subject area and within the school community," Johnson said. "Now in the current test-optional environment, there is even further importance for the teachers to provide another perspective in the absence of standardized testing."
Standardized testing requirements are not the only way COVID has impacted the letter of recommendation process; after online learning, the distribution of requests for letters across Jesuit faculty increased. Typically, seniors tend to ask their core subject junior teachers to write a recommendation, leaving English, math, and science teachers who have junior classes to bear the brunt of requests. 
With online school, however, students' ability to connect to teachers was impaired and many had to go back to their sophomore teachers or teachers of non-core subjects in order to find a teacher who knows them well. 
"We weren't surprised when seniors started talking to sophomore teachers or teachers that they had earlier in their high school careers but maintained connections with through athletic teams or clubs," Johnson said. 
Despite this increase in distribution, some teachers still feel a higher spread of requests among faculty of varying subjects could help relieve some teachers who end up overwhelmed with a large number of requests. 
"I think that [a higher distribution of letters among teachers] would make a lot of teachers' lives easier," English teacher Timothy Sprehe said. "If I knew that they were spread out… I think it would be a little more equitable." 
Even with stress among highly requested teachers, the consensus remains that students should be able to ask the teacher who knows them best and who will write the letter best suited for their application. However, with a lack of face-to-face connection during junior year, finding teachers with personal connections to students has proven challenging. 
To combat a lack of personal connection, many teachers, including English teacher Konrad Reinhardt, have been giving students surveys that provide more information about the individual and their goals in college. This allows teachers to tailor the recommendation to the college or program the student is applying to. 
"I ask the students to fill out a survey in advance so I can look through their eyes about how they see themselves in class," Reinhardt said. "That will marry up what I'm saying with how they present themselves to colleges." 
Others, like Mr. Sprehe, have been consulting the student's previous teachers to get more information on the individual and be able to see how the student has grown. 
"A lot of us have been going back to their junior teachers and asking them about what their writing was like last year and if there was any improvement throughout the year," Sprehe said. "It has involved more time and involvement between each other, talking to other teachers."
Even with the added time it takes to gather additional information, teachers are committed to writing the letter that will best set up their students for future success. In addition to a job requisite, teachers also see letters of recommendation as an opportunity to give back to their students who commit extensive time and effort in their classes. 
"I do like writing them because I get to know my students, so it's nice to be able to talk about why I think that they're great," Sprehe said.  
Mr. Reinhardt shared similar sentiments regarding letter-writing.
"I feel honored that they feel that they [the students] had a good enough experience in my class and trust that I will say something positive about them, and I get to be able to reflect on the previous year and be part of them deciding what their next steps of life will be," Reinhardt said. "So, I do find it rewarding."
About the Contributor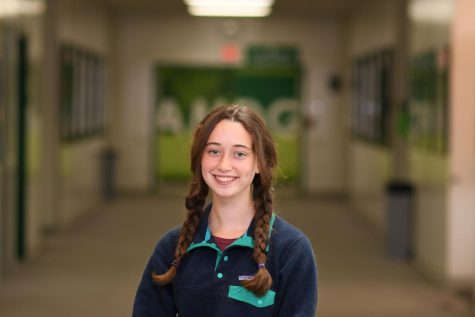 Clarinne Kirk, Editor
Clarinne Kirk is a senior at Jesuit High School who is very excited to grow as a writer in her first year of journalism. Clarinne believes journalism fosters community and understanding and fights against ignorance and biases. During the pandemic, Clarinne read
The New York Times
on a regular basis and gained a new appreciation for the importance of well informed and topical news. This appreciation fueled a desire for her to similarly inform her community while developing her writing abilities. Clarinne loves spending time outdoors and is very passionate about protecting the environment through sustainable actions and climate justice. During her time at the
Jesuit Chronicle
, Clarinne hopes to educate her peers about climate change and sustainable actions we can take both in our Jesuit community and in the greater Portland-Metro area. At Jesuit, Clarinne competes in cross country and track, is a student ambassador, and is a member of the school's Green Team. Outside of school, Clarinne enjoys spending time hiking, running, and playing with her two dogs, Bailee and Hazy. Additionally, Clarinne also spends her free time baking, reading, and taking pictures of Oregon's beautiful scenery.