Congestion, Collisions, and Headaches: Poor parking design in the Cronin Lot
Jesuit High School's Cronin Lot is crippled by a poor parking design that causes congestion and accidents, primarily during pickup and dropoff times in the morning and after school. 
Largely utilized by seniors, parents, visitors and a select amount of faculty, Cronin receives a high amount of usage throughout the week. It also serves as the parking area for athletic events such as football and soccer games. 
The tightly packed nature of parking spots in Cronin combined with the large volume of vehicles, especially before and after school hours, inevitably leads to collisions. Security director Mrs. Cathe Kent spoke to the Jesuit Chronicle about accidents on school property. 
"In one week I had four and it's been really a problem this year," Kent said. "We've had so many fender benders. Nothing major, but significant. Some people sustained significant damage to their car just because of how tight the spaces are." 
The lot comprises about 300 spaces, the majority being dedicated to student parking. The sizes of the spaces vary, however. Depending on the section of the lot, spaces can fit anything from small compacts up to large SUVs and trucks. When spaces are assigned to students, vehicle size is the primary consideration. 
"When I got my first spot, I knew it was going to be a very difficult one to park in," senior Anton Baricevic said. "I requested to switch and now it's much better. The one thing about it, though, is that I am holding up traffic as I am pulling in and backing out of my spot. I'm not sure how you would solve that problem."
Traffic and congestion is a persistent issue in Cronin. It usually reaches its peak in the afternoon after school ends at 2:45. All three lanes in the parking lot merge abruptly before intersecting Beaverton Hillsdale Highway and becoming SW White Pine Lane. This means that pickup flow is forced to combine with student traffic in a very condensed area. 
"I drive a Subaru Outback," senior Stuart Ames said. "Sometimes when I back out, I get stuck. The traffic is extremely annoying when I have to get to work on time."
Many eastbound vehicles also have to cross the other lane in order to reach the left turn, adding another layer of complexity. Bus charters and school buses frequently block the left lane, which slows traffic flow and forces vehicles into a bottleneck. 
Additionally, the numbering in Cronin does not count up in a continuous, uniform manner. For example, in the far row facing Beaverton-Hillsdale Highway, the space immediately to the left of 189 is labeled 204. Furthermore, some of the paint has faded to the point where it is unreadable. 
"This was all done before I came here. It's been here for at least eight years. As you can see, the numbers are not consecutive," Kent said. 
The school has plans to standardize the sizes of spaces in Cronin next year and redesignate a select handful of staff spots in order to meet changing demand. This will most notably eliminate the very tight spaces in the front of the lot. 
"They're putting renumbering in the budget. They actually were going to renumber last year, but because of COVID-19 and the pandemic, they couldn't get the paint. It was one of those products that was back ordered," Kent said. 
About the Contributor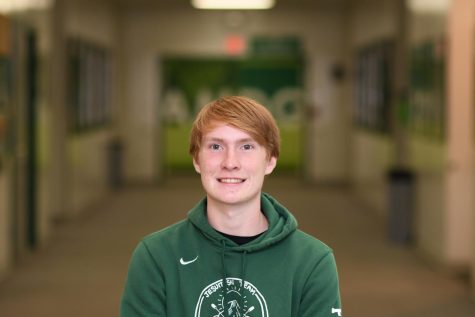 Mac Flanagan, Editor & Social Media
Mac Flanagan is a senior at Jesuit High School. He is a first-year Journalism student and hopes to learn more about the field. Mac has enjoyed writing throughout his life and knew he wanted to pursue it further by the beginning of middle school. He is a second-year Broadcast Journalism student, and an active member of Jesuit's student-run sports broadcasting station, JCTV. After enjoying the Broadcast class, he decided he wanted to expand to Journalism as well. He participates in the Jesuit Ski Team and loves spending time on the slopes with friends. Outside of school, Mac enjoys outdoor activities such as skiing and backpacking. He has one dog named Maggie. He is a fan of the Portland Trailblazers and follows the NBA closely. He is also an amateur landscape photographer and enjoys shooting in scenic places around the Pacific Northwest. His favorite news sources are the Oregonian and Bleacher Report. Mac hopes to contribute writing about Jesuit athletics and outdoor recreation around Portland.