Food Drive Preview
As the last month of the year approaches, people begin to gear up for the holidays and put up Christmas decorations. For Jesuit, it means something much more. The Food Drive is one of the largest events in the community, which many students and faculty participate in. This year, it will be the 53rd annual Food Drive that Jesuit has held. 
The Food Drive starts on December 2nd with an all school assembly and ends December 16th when the food is delivered. In 1969, the first food drive was held and helped around 40 families with $350 raised. In 2019, the Food Drive fed nearly 400 families, a large rise from earlier years. 
In every first period class, students will be able to donate canned foods. There will be a competition among classes to see who can donate the most. Canvassing for food donations will still be allowed, which is when students go from door-to-door asking for donations. The main promotion this year will be door tags. Students can do this by going around their neighborhood and leaving tags explaining what the food drive is, then picking up the food the following day. 
Andrea Casey, who directs the food drive, spoke about the undeniable impact it offers. 
"One main goal is to serve local families in need who are experiencing food insecurity," Casey said. "Also, we want to invite students into service, and get them involved. This can be done through canvassing or donating, but also doing behind the scenes work such as driving or shopping."
Ms. Casey also talked about the importance of the Food Drive in such a turbulent time.
"There is a great need, especially with the pandemic," Casey said. "Locally, about one in four families have experienced food insecurity and needed food assistance." 
Although Jesuit was able to have a food drive last year, the student body was not allowed to come together collectively due to restrictions. This year will be different from others as both freshmen and sophomores have never experienced an in-person food drive. 
"We are going to rely on the leadership of juniors and seniors who experienced the traditional Jesuit food drive two years ago to be role models," Casey said. 
There are preferred items that can be donated to the food drive. Peanut butter, tuna, pasta, and canned meats are a few examples of high protein foods that are requested to be donated. It is also encouraged to scour through cabinets to find high quality canned foods that may have been stored away. 
On December 2nd, the Food Drive will have an all school assembly to get the event started. If students are not comfortable to attend due to COVID concerns, they will be able to watch a livestream in the Moyer Theater. For fourteen days, the school will try to accumulate as many canned foods as possible. Let's get ready to start donating Jesuit!
About the Writer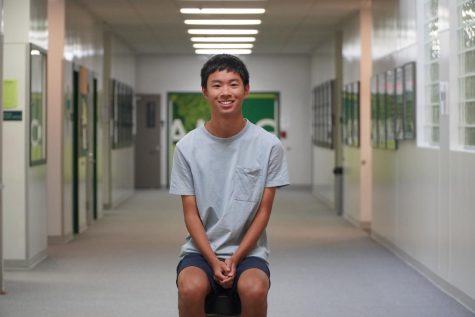 Justin Bian, Sports Executive & Editorial Board Member
Justin Bian is a senior at Jesuit High School and the Sports Executive for the Jesuit Chronicle. He has played soccer for eleven years, and piano for ten. Along with those hobbies, he likes to visit new places around Portland with his family on the weekends. Justin got interested in Journalism because of his older sister, Andrea, who was a staff writer a few years ago. Although his older sister's experience was a great motivator, the main reason he decided to join Journalism was because of his passion for sports. This year, he hopes to cover a variety of sports and write short stories about the games. He also looks to interview players, coaches, and fans, so that the Jesuit community can get insights on the sports teams. Justin would also like to pursue other forms of media, such as broadcasting and podcasts. He aims to bring relevant news around the Jesuit community based on current events on and off campus. At the end of the year, he hopes to have published many articles and have created lasting relationships with classmates and teachers.