Student Spotlight: Karli Lonnquist
Jesuit senior Karli Lonnquist is a playwright, actress, baker, and student who finds that support, balance, and kindness are critical. 
She found that baking during the pandemic was a good use of her time, in addition to her other activities. Her instagram functions as a shop for her baked goods.
Lonnquist is involved in many activities that she finds incredibly rewarding. One of which is taking time for herself. 
"I plan time for myself in my day, even if it's just ten minutes, to do some self-focused activities like going on a walk or listening to music," Lonnquist said. 
Karli is skilled at managing her many passions and putting in an effort to pursue those passions.Whether it is playwriting, performing, producing, or singing, Karli is always doing something. She hopes to continue her love for theatre in the future.
"I am looking into majoring in theatre and that my dream job would be to start my own theatre company, that specializes in creating theatre with and for people with disabilities," Lonnquist said. 
She finds that her service work is also incredibly rewarding as is theatre, and a possible job in her future could combine the two. 
"I do a lot of service with people who have disabilities and also continuing my love for playwriting and learning from people in the industry is something that I am interested in." 
Her playwriting focuses on obscure, innovative, and surrealist topics and inspiration comes in many forms for Karli, including her life. 
"I take a lot of things from my life, and I also do a lot of research on random places," Lonnquist said. "I do a lot of work where I will create 10 characters, make them as weird as possible, then try and make something small out of that, and usually larger pieces stem from that kind of work."
Writing, acting, and producing her one-person play was one of the most fulfilling experiences in her career. She enjoyed being able to participate in all aspects of the production and it gave her hope as an artist for her future. 
Karli has worked closely with theatre director Elaine Closer. Closer called Karli "an original," "effervescent," and a "stand-out." Closer finds Lonnquist to be a joyful and unique presence in her program. 
"Last year, I had the opportunity to write my own one-person play, which was then professionally produced through the Young Professionals Company at Oregon Children's Theatre, and I also had the privilege of performing it," Lonnquist said. "It was workshopped and there was a dramaturg and it was really cool. It was the most prolific, productive, and hopeful experience for me as an artist."
Senior Adrianna Bobenrieth has worked in productions with Lonnquist and is a close friend of hers. 
She has one of the most brilliant creative minds I've ever encountered, she also has an incredible gift for empathy and connecting with people," Bobenreith said. "She has an incredible work ethic, but she also has an uncanny ability to balance her work and social lives and inspires me to find more balance in my own life."
Aside from the myriad of activities Karli participates in, values her friendships greatly. Especially as school gets more stressful, her friends support her in incredible ways. 
"I think that the best thing that my friends do is listen to me," Lonnquist said. "I, of course, return the favor by listening to them and I think that what makes the best kinds of connections and relationships, are people who are willing to hear one another and just exist in the present moment."
Karli offers advice to her classmates who are also involved in lots of activities, and find that life is very busy. She advises that being gentle with oneself is incredibly important. 
"If you have passion for something and you really care a lot, that can be overwhelming because there are a lot of emotions coming at you from different sides," Lonnquist said. "The best thing you can do for yourself is to acknowledge those emotions and allow them to be there without allowing yourself to be completely inundated with them." 
You can purchase baked goods from Karli on instagram @kjscakery and see her in Jesuit drama productions.
About the Contributor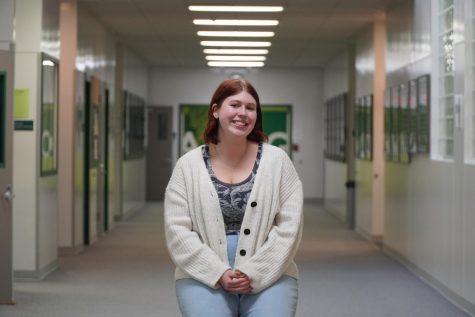 Allie Ruden, Editor in Chief
Allie Ruden is a senior at Jesuit High School and a second-year journalism student. Allie was born in Portland, Oregon, and is an only child. She has a labradoodle named Daisy who loves to nap and sunbathe.  In Allie's free time she loves to read, cook, and listen to all kinds of music. She loves to explore Portland with her friends. Her favorite places to eat in Portland are Bamboo Sushi, JoLa Cafe, and Grassa (highly recommended). Allie enjoys going to the beach, especially Manzanita and Lincoln City, and traveling all around Bend.  She loves writing and her favorite subjects in school are Journalism, English, and Spanish. Allie is interested in writing articles about music, pop culture, and the students and issues of the Jesuit community. She is excited to be able to write about what she is passionate about and delve into issues important to her. Allie is thrilled to be writing for
The Jesuit Chronicle
this year and is hoping to meet some new faces!