Lights and Carols and Hot Chocolate, Oh My!
Do you enjoy listening to Christmas carols while drinking customized hot chocolate? Do you like to build your Christmas Spirit surrounded by friends and festive decorations? 
If you answered yes to any or all of these questions, Sader Lights is where you need to be on Friday, December 10th, from 5:00-7:30 p.m. 
Happening during Jesuit's men and women's double-header basketball games, Sader Lights will feature a hot chocolate bar, performances from Jesuit's choir, and fun Christmas decorations. 
Sophomore and student government representative Sabatino Stacchi helped plan the event.
"We have lots of lights left over from Christmas in years past, so we took inventory of what lights we already had," Stacchi said. "We are decorating all throughout freshman, sophomore, junior, and senior hall, as well as the tree and outside, so we decided to order some more lights. We then planned how we wanted to decorate, centered around our tree."
The Jesuit Christmas tree will be the star of Sader Lights. On Wednesday, December 1st, Student Government representatives, including senior Chase Kerman, ventured out to Furlow Farms in Hillsboro to find the perfect tree for the school.
"We had just walked away from some other trees when we saw this one in the distance," Kerman said. "At first we all thought the tree was way too big, but this is Jesuit; Age Quod Agis applies to everything, so if you're going to find a Christmas tree, you better find a good one." 
While Sader Lights is a fun way to get into the Christmas Spirit, junior student government representative Caitlin Thomas wants to emphasize that Sader Lights is a fundraiser for Jesuit's Annual Food Drive.
"To get into the basketball games, and also Sader Lights, you can either give 2 dollars or 2 cans of food," Thomas said. "All of the donations are going towards the Food Drive. It also just helps build the Christmas Spirit and promotes people to get involved in the Food Drive."
Remember to show up on Friday, December 10th, to support our basketball teams, to get into the Christmas Spirit, and to contribute to the Food Drive!
About the Contributor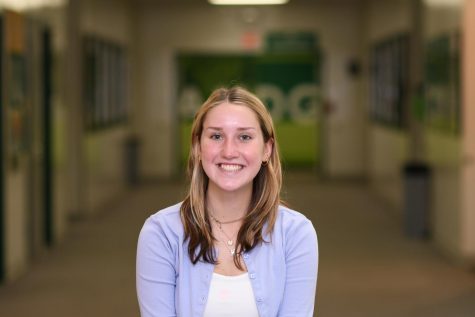 Noelle Furnanz, Editor
Noelle is a senior taking journalism for the first time. She plays soccer year-round while engaging in other activities including Social Justice Union, DEI planning, the Jesuit ambassador program, and mock trial. As a leader of Social Justice Union, Noelle enjoys spreading awareness on social justice issues and providing students with tools to get involved in change. She uses her passion for social justice to help coordinate events through the DEI office, including planning assemblies and community engagement. She is also passionate about mock trial to help her future career goals and learn more about the legal system. Following that path, she plans to study criminal justice and possibly attend law school. At school she enjoys humanities courses including History and English. Outside of her extracurriculars, Noelle loves to enjoy the outdoors with friends and family by going on hikes, swimming, and running. She loves living in the Pacific Northwest as it provides great opportunities to get outdoors. She also enjoys listening to a variety of musical genres including R&B, psychedelic rock, and alternative from artists such as Still Woozy, SZA, the Beatles, Jack Johnson, and the Wallows.