Flex Talks Recap
This year, a notable change to the bell schedule has been the addition of  flex periods and subsequent flex talks. So far, there have been 2 Peer2Peer flex talks hosted in the moyer theatre and black box as well as club meetings and guest speakers.
An upcoming flex talk is hosted by Mr. Greg Van Pelt in the Black Box. This talk will be about Catholic tradition in business ethics. This event happened on the 30th.
Topic selection is managed by DEI and student leaders.
"The topics are picked by Elina, Michael, Montez and I, and we can pick topics that challenge and start conversations for students," senior Jenny Duan said.
The first Peer2Peer talk was on language of ally ship in the Moyer theatre. Club leaders were asked to talk about solidarity and marginalized voices. 
"We try to find people who accurately depict the topics and have experience," Duan said, "For reflection on service we picked a veteran. But for the language of ally ship we picked club leaders."
The second Peer2Peer talk was a reflection on service. In the black box there was a panel of veterans and teachers who are veterans. They discussed the American flag, ways to serve, and what it means to serve.
Other flex talks have included counseling resources, the immigrant story, KBI Border Immersion, and coping with stress.
Counseling resources' meeting was about college planning, graduation, DEI, and other resources. It was split up into multiple sections and locations depending on grade level.
The immigrant story by Emmmanuel Turaturanye was hosted in the Moyer Theatre. Turanturanye discussed his experience with racism being from Rwanda. An important piece to Turaturanye and Rawnda's history is the genocide of the Tutsi which Turaturanye is a part of.
KBI border immersion discussed how the border immersion was different this year, how it usually worked, and plans for the future. This applies to students at Jesuit as this is a popular choice for service projects and has partnered with Jesuit.
The "Coping with Stress" meeting was mandatory for juniors in the Moyer Theatre. A psychiatrist discussed the effects and how to deal with stress in a high school setting. During the meeting, the unique stresses of high school, how to cope, and what is healthy was discussed.
Other all school meetings include the October 28 Homecoming Assembly.
About the Contributor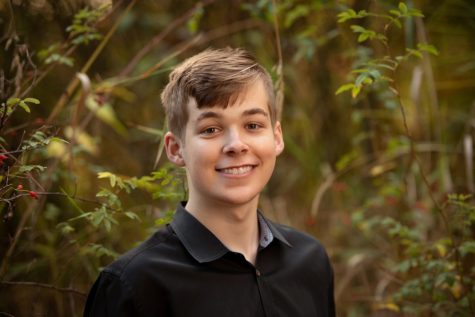 Matthew Heinsen, Staff Writer
Matthew Heinsen
is a senior at Jesuit High School. At Jesuit, Matthew enjoys math, science, and media courses. This year he is taking Advanced Media Production and Yearbook. As far as co curriculars go, Matthew is involved in NHS as an officer this year. As an officer, he helps coordinate NHS events and updates his group on upcoming events. Outside of school, Matthew works as a lifeguard. Matthew's favorite sports to watch are basketball and swimming. His favorite basketball teams are the Portland Trail Blazers and Sacramento Kings. Matthew likes to volunteer for Blanchet House and the Oregon Food bank. In his free time Matthew enjoys paddle boarding, swimming, and hanging out with friends. Matthew has been involved in journalism since a young age. This is Matthew's second year on the journalism program at Jesuit, though he wrote for his local magazine. When Matthew worked with "Cedar Mill Living", he wrote about local athletes and brainstormed with the other writers. During his experience there, Matthew learned how to conduct interviews and work with his team. Matthew wanted to be involved in the Advanced Media Production course to have a broader skill set and to keep people at Jesuit in the loop about events on campus.