Journalism's Christmas Cookie Competition: The Winning Recipe
1. Marathi Sattiraju's "Classic Christmas Sugar Cookies"
Cookies
3/4 cup

(170g) unsalted butter, slightly softened to room temperature

3/4 cup

(

150g

) granulated sugar

1

large egg*

2 teaspoons

pure vanilla extract

1/2 teaspoon

almond extract (optional, but makes the flavor outstanding)

2

and 1/4 cups (

281g

) all-purpose flour (spoon and leveled)

1/2 teaspoon

baking powder

1/4 teaspoon

salt
Easy Icing
1

and 1/2 cups (

180g

) confectioners' sugar

1/4 teaspoon

pure vanilla extract (omit and replace with water for stark white icing)
 1 teaspoon light corn syrup*

2

–

2.5

 Tablespoons (30-38ml) room temperature water
pinch salt*
---
Instructions
Make sure you have allotted enough time (and enough counter space!) to make these cookies. The cookie dough needs to chill, the cookies need to cool completely, and the icing needs 24 hours to completely harden. If enjoying right away and hardened icing isn't a concern, you'll only need about 4 hours to make these.
In a large bowl using a handheld or stand mixer fitted with the paddle attachment, beat the butter until creamed and smooth – about 1 minute. Add the sugar and beat on high speed until light and fluffy, about 3 or 4 minutes. Scrape down the sides and bottom of the bowl as needed. Add the egg, vanilla, and almond extract and beat on high until fully combine, about 2 minutes. Scrape down the sides and bottom of the bowl as needed.
Whisk the flour, baking powder, and salt together in a medium bowl. Turn the mixer down to low and add about half of the flour mixture, beating until just barely combined. Add the rest of the flour and continue mixing until just combined. If the dough still seems too soft, you can add 1 Tablespoon more flour until it is a better consistency for rolling.
Divide the dough into 2 equal parts. Roll each portion out onto a piece of parchment to about 1/4″ thickness. Stack the pieces (with paper) onto a baking sheet, cover lightly, and refrigerate for at least 1-2 hours and up to 2 days. Chilling is mandatory.
Once chilled, preheat oven to 350°F (177°C). Line 2-3 large baking sheets with parchment paper or a silicone baking mat. The amount of batches will depend on how large/small you cut your cookies. Remove one of the dough pieces from the refrigerator and using a cookie cutter, cut in shapes. Transfer the cut cookie dough to the prepared baking sheet. Re-roll the remaining dough and continue cutting until all is used.
Bake for 10-12 minutes, until very lightly colored on top and around the edges. Make sure you rotate the baking sheet halfway through bake time. Allow to cool on baking sheet for 5 minutes, then transfer to a wire rack to cool completely before icing. No need to cover the cookies as the cookies cool.
For the icing, whisk the confectioners' sugar, vanilla, corn syrup, and 2 Tablespoons of water together in a medium bowl. It will be very thick. If you lift the whisk and let the icing drizzle back into the bowl, the ribbon of icing will hold shape for a few seconds before melting back into the icing. That is when you know it's the right consistency and ready to use. If it's too thick (sometimes it is), whisk in 1/2 extra Tablespoon of water. If desired, add gel food coloring. You can pour some icing into different bowls if using multiple colors. If not decorating right away, cover the icing tightly and keep in the refrigerator for up to 2 days.
Decorate the cooled cookies however you'd like. Squeeze bottles make decorating so easy.
Let icing dry/set: Feel free to enjoy cookies before icing completely dries. Icing dries in 24 hours. No need to cover the decorated cookies as you wait for the icing to set. If it's helpful, decorate the cookies directly on a baking sheet so you can stick the entire baking sheet in the refrigerator to help slightly speed up the icing setting. Once the icing has dried, these cookies are great for gifting or for sending.
Cover and store decorated cookies for up to 5 days at room temperature or up to 10 days in the refrigerator.
About the Contributors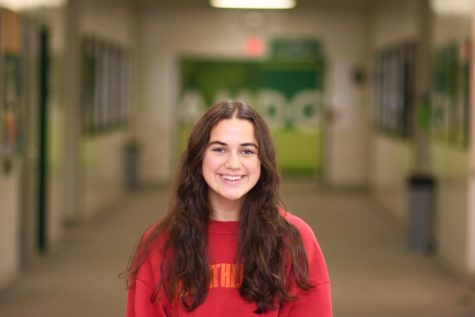 Adriana Bobenrieth, Editor
Embarking on her first year in journalism, Jesuit senior Adriana Bobenrieth is super excited to take Jesuit by storm. As a heavily involved member in all things Jesuit theatre, Adriana is ecstatic to be covering the goings on of the school's drama program this school year. In addition to arts and theatre coverage, Adriana is interested in exploring some of the less talked about aspects of Jesuit student life, and is hoping to connect students by covering their shared experiences. She also hopes to write about topics such as current events, politics, and opinion pieces. Beyond the Moyer stage, you can often find Adriana working her job at a local Portland smoothie shop, paddle boarding, surfing, playing guitar, or trying the latest salt and straw flavors with her friends. A few of Adriana's current favorite salt and straw flavors include Birthday Cake & Blackberries, Maple & Bacon Streusel, and Smile: Words and Pictures. At home, Adriana consumes an ungodly amount of survivor, experiments with new healthy recipes in her kitchen, and loves to play with her labradoodle Dobby. She is stoked to be exploring her passions more deeply and sharing them with others through journalism this year.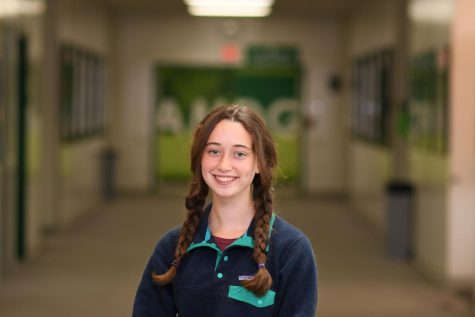 Clarinne Kirk, Editor
Clarinne Kirk is a senior at Jesuit High School who is very excited to grow as a writer in her first year of journalism. Clarinne believes journalism fosters community and understanding and fights against ignorance and biases. During the pandemic, Clarinne read
The New York Times
on a regular basis and gained a new appreciation for the importance of well informed and topical news. This appreciation fueled a desire for her to similarly inform her community while developing her writing abilities. Clarinne loves spending time outdoors and is very passionate about protecting the environment through sustainable actions and climate justice. During her time at the
Jesuit Chronicle
, Clarinne hopes to educate her peers about climate change and sustainable actions we can take both in our Jesuit community and in the greater Portland-Metro area. At Jesuit, Clarinne competes in cross country and track, is a student ambassador, and is a member of the school's Green Team. Outside of school, Clarinne enjoys spending time hiking, running, and playing with her two dogs, Bailee and Hazy. Additionally, Clarinne also spends her free time baking, reading, and taking pictures of Oregon's beautiful scenery.