Football Season Recap
The football season at Jesuit High School had everything. Determination and discipline was on full display all season as the Crusaders had to grind out several wins. Emotions were constantly being tested in adrenaline-fueled contests such as the ones versus Westview and Lake Oswego, and as per Jesuit school tradition, expectation remained high for a team that underperformed in spring, going 2-3. 
"The main goal was to improve better than we did during the spring season. We wanted to prove to ourselves that we are better then we were during Covid," senior captain Tyree Blake stated. 
Improve they did, but they would have to wait until week two after being handled by the preseason #2 West Linn Lions. A lot of work would have to go into the season if they wanted to rebound and set the course right. 
"We knew that this season was going to be all of the hard work and no easy ones. I think it shaped us to achieve our goal by improving every day because we wanted to prove to everyone that we weren't the same team as we were in the spring," Blake added. 
They would be tested once again in week 4 against the wrath of the Westview Wildcats, who boast the top player in Oregon, 4-star wide receiver Darrius Clemons. The game was going horribly to say the least as the Wildcats accelerated to a 21-0 first quarter lead. Just before the half, senior linebacker Johnny Miller returned an interception 90 yards for a pick-six closing the deficit to 21-14 at half. The Crusaders kept that momentum as Matthew Rincon returned the second half kickoff 93 yards to the house to tie the game. Next up was Matthew's brother, senior running back Michael Rincon, who carried them to an excruciatingly tight 44-42 home win with four touchdowns and 173 rushing yards. 
"We knew we were a team that had great character and a team that wouldn't quit and that exemplified our belief in ourselves that we're gonna battle from the beginning of a game to the end of the game," head coach Ken Potter said of the contest. 
Soon after, the Crusaders blew out the Sunset Apollos, a momentous game for Coach Potter who moved to the second winningest coach in Oregon high school history. 
"Those kind of records are more school records than individual," coach Potter  said. 
Fast forward to the quarterfinals of the state playoffs. Jesuit had qualified for the playoffs in the nine-seed even though they only had one loss. The Crusaders blitzed the Liberty Falcons in round one winning by a stunning score of 62-6. They were then tested away from home at #8 Clackamas coming away victorious behind a couple late interceptions from First-Team All League Tyree Blake and Garret Speer.
The Saders were now matched up against top seeded Lake Oswego, a sure conqueror. The thrilling game finished 56-49 as Jesuit managed to pull of the unthinkable upset away from home. 
"I think we deeply got overlooked because no one believed in us.  Each week in the playoffs so-called experts made their predictions on who was going to win and we were always the underdogs," Blake explained. 
This set the stage for a semifinal Holy War versus arch-rivals and #3 Central Catholic at Hillsboro Stadium. 
Things were looking bright for the Crusaders as Michael Rincon caught a short pass from sophomore Jacob Hutchinson and sprinted 73 yards for a touchdown on just the third play of the game. 
Jesuit continued to show poise and courage in the 3rd quarter. Facing fourth-and-2 in Ram territory, down 14-7 the offense called a flea-flicker play which Hutchinson completed to tight end Spencer McKelligon, tying the score at 14 with just over seven minutes left in the quarter. 
The Rams then went on a 21-0 run, gaining a 35-14 advantage with 6:29 left in the semi final. The Crusaders stayed level headed and kept playing their game as Junior Noah Staley broke through a hole and ran for 45 yards to the end zone with 5:17 remaining. 
Jesuit then lined up for an onside kick which was recovered by kicker Kadyn Butcher after a throttling hit from senior Ansel Balmer. What happened next was simply extraordinary. Hutchinson threw another 49 yards into double-coverage to a flying Tyree Blake who cut the lead to 35-28 with four-and-a-half to go. 
The Crusaders were able to stop the Rams the red zone. This would give Hutchinson and the Jesuit offense a little over a two minute drill to tie the game up. Central Catholic's Jordan King had other ideas and erased the idea of comeback from Jesuit minds with a spectacular interception, sealing the game. 
"Immediately following the game, were disappointed we are not playing another week, disappointed we had opportunities that we didn't follow through and make come true and so there's a lot of disappointments immediately following the game," coach Potter said. 
"I'm sad to see  season end but I am very proud of the team even against adversity and people not believing in us we still shocked the whole state on making it to the semi's," Blake said. 
Certainly a season to be proud of. A team that truly came together for a common goal, fighting off great teams, persevering through many adversities and just falling short. 
"I look back and love the way we competed but we also always feel like wed like to have one more chance," coach Ken Potter finished. 
About the Contributor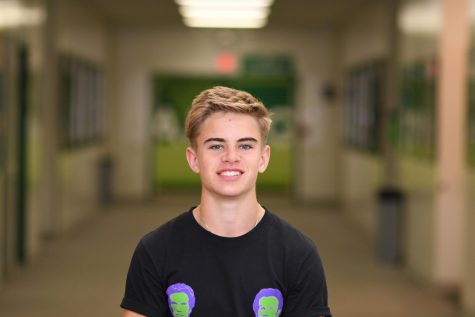 Spencer Carle, Staff Writer
Spencer Carle is a first year writer for the Jesuit Chronicle. As a member of the class of 2022, Spencer decided to take Journalism primarily because of his uncle Neil, who studied journalism at the University of Oregon and is now an anchor on the late night show: SportCenter on ESPN. Spencer has a true passion for sports, especially soccer, and has committed to play collegiate la at the D1 level at Gonzaga University. One of his essential inspirations for sports journalism is watching early morning soccer analysts on NBC and Sky Sports. His first experience with journalism was as a junior taking the Broadcast Journalism class, where he learnt how to commentate live sports, conduct interviews and display videography skills. This year, Spencer hopes to learn the fundamentals of journalism, and primarily focus on covering the school's Varsity games and pursue stories tied with the sports programs. In addition to writing about sports this year, Spencer would love to write about problems students face at Jesuit, mental health, food and fashion. Outside of the classroom, Spencer is one of the captains for the men's soccer team, a cook, an avid traveler and loves to spend time with his friends and family. A fun fact about him is that he lived in London and Amsterdam between ages six to ten.