True to the Sandwich? Togo's Review
Two years ago, when I was a freshman, upperclassmen would tell me about working with Mrs. DeKlotz and the delicious Togo sandwiches she serves to her volunteers. I had heard about the sandwiches on multiple occasions but never made it down Beaverton Hillsdale Highway to Togo's to try one for myself. Since we were away from Jesuit in remote learning for almost two years, I decided the tradition of eating Togo's sandwiches needs to be carried on and so, after three years, I made my move and finally had my first Togo's sandwich.
I ordered the Hot Pastrami which was, as the name suggests, a hot sandwich with mustard and a large portion of delicious pastrami. Many of the sandwiches on Togo's menu are also served Togo's style which means they include lettuce, tomato, red onions, pickles, and pepperoncinis. I decided to order the sandwich without tomatoes or pickles to ensure that I could really taste the essence of the sandwich.
When I removed the wrapping, I was thoroughly impressed with the amount of pastrami to condiment ratio I received. With every bite, I was reaffirmed that the pastrami was the star of the show, but I could not survive without the refreshing lettuce, the sharp flavor of the red onion, and a distinct flavor specific to mustard. I would order this sandwich again. 
I walked down to Togo's after school a week later to try out a few other menu options.
This time, I ordered the hot buffalo chicken sandwich and a brownie. I ordered this sandwich because I felt it had high "boom or bust" potential. The sandwich contains chicken with melted pepper jack, drizzled with Frank's hot sauce and ranch dressing and served Togo's style. Again, I opted against tomatoes and pickles.

I was worried about the hot sauce drenching the bread and making it soggy. Then, I thought, with the hot sauce in the bread, it wouldn't combine well with the chicken and the ranch leading the flavor to be all over the place. However, my concerns melted away once I took my first bite. It tasted like a wonderful buffalo wing inside two pieces of bread. Once again the lettuce and red onion were refreshing to the meatiness of the chicken and offered a welcome balance.
One aspect that I always look for in my sandwich is bread choice. Many sandwiches can fall into the trap of having either a bun that overshadows the sandwich or a bun that is too thin and falls apart. I felt that the bread at Togo's is strong, serving its purpose of encasing the fillings yet still adding its own ripe wheat taste of sandwich bread that is a necessity. The bread was also springy with a mild crumb which enhanced the texture of the bread and made the sandwich feel complete.
Not only would I eat this $9 sandwich again but I plan to go back soon and order it again.
Finally, the brownie. Personally, I like my brownies a little bit more crisp. I've always been a corner piece brownie kind-of-guy and will take off points for a brownie that isn't a crunchier corner bite of wonder. The brownie at Togo's had a crumble on the top accompanied by the chocolate bits which was good but I thought the chocolate could be thicker which would have added to the texture. I felt that the taste was solid and had a nice but not too overpowering chocolate presence.
When speaking with the employee who made my second sandwich, I asked him if a lot of Jesuit students came into the shop.
"I don't see students here that often but I know they eat our sandwiches," the employee said. "Sometimes we get to go orders [Mrs. DeKlotz] and we kind of know if it's going to Jesuit or not. We definitely didn't see many students last year so the orders that we have had this year have been a little less than usual."
If you'd like to try out Togo's sandwiches for yourself, it is well worth the 10 minute walk from Jesuit, at 9920 S.W. Beaverton Hillsdale Hwy. Beaverton, OR 97005. Or you can volunteer to help Mrs. DeKlotz.
About the Writer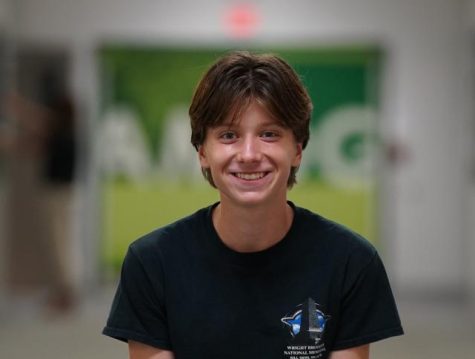 Gus Clevenger, Staff Writer
The power of storytelling is used to inspire and make people think more deeply and thoughtfully
about what was presented to them. To Gus Clevenger, a senior at Jesuit high school,
storytelling is at the forefront of his life, through seeking out new adventures and finding creative
ways to describe the world around him. As a young kid, Gus was surrounded with art and
writing and never saw himself doing much of anything else. Through listening to his dad make
up crazy stories about made up characters, to walking around OHSU and sitting through
interviews of dental students with his mom, storytelling was always there. This will be Gus's
second year as an editor and writer for the Jesuit Chronicle. In his first year as a Journalism
Student, he learned the fundamentals of Indesign as well as explored topics ranging from the
Jesuit administrative policies to food writing. Gus enjoys writing opinions , sharing different
perspectives, and connecting people through stories. He hopes to continue discovering what he
loves to write about as well as continue to put passion into his work to connect the Jesuit
community through stories and discussion. In his free time, Gus enjoys running, cooking,
drawing, going on long walks, and being with family.