More Than Just a Double-Tap: Instagram's Impact on its Young Female Users
Instagram and other social media sites have had a long-standing reputation of harmful impacts on women and their self-image. A recent study by the New York Times reinforces this idea and proves the effect of Instagram on its users: poor body image and worsened mental health. The crux of the problem is identified in an opinion piece by New York Times writer Lindsay Crouse.
"For girls in America, taking in content that seems intended to make you hate your body is an adolescent rite of passage," Crouse said in the article. "The medium changes but the ritual stays the same."
As stated by Crouse, the celebrities, information, and friends and family are all randomly placed on the feed, giving no way for an Instagram user to filter them out. This means that young female-identifying users who simply want to stay up to date on their personal lives will be unable to avoid the harmful message of unrealistic body standards throughout the app.
" The body positivity movement may have helped, but girls still internalize the message that part of their success in life will rest upon their ability to be admired for their appearance," Crouse says. "Instagram measures and gamifies that — creating a virtual high school cafeteria as global as the "explore" button, one that's peopled by countless unreal bodies. ​​ (Adults aren't exempt —they are more likely to consider plastic surgery if they frequently use image-heavy social media platforms like Instagram.)"
With these new studies being released, we asked: How do the female-identifying population of the Jesuit student body feel about social media?
A survey was sent out, and over 150 female-identifying students gave their responses.
94.8% of respondents currently use Instagram, and the few that have deleted or stopped using it tended to say it was either harmful for their mental health or simply a waste of time.
50.3% of respondents believe Instagram's effect on their mental health is negative overall, and 53.5% of respondents believe using Instagram worsens their self-image.
The most commonly used social media in addition to Instagram is Snapchat, with a large majority of 87.7% of respondents using both.
Whether answering "slightly" or "very" negative, 67.8% believe other social media sites can have a negative impact overall. 
Jesuit students, even those who use social media, seem to be aware of its potential negative effects.
About the Contributor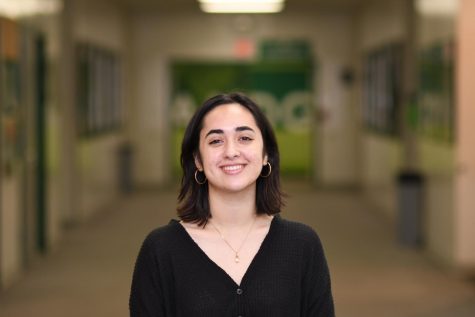 Bella Klucevek, Staff Writer
Bella Klucevek is a senior at Jesuit High School and a first-year writer for the Jesuit Chronicle. She loves to write, and she is excited to highlight the beauty of life at Jesuit and bring light to issues that affect the greater community. She is heavily involved with activities in the Jesuit community, participating in Choir, the Jesuit Ambassadors, Setons, and singing at Mass. In addition to her performances at school, Bella spends her time singing with Pacific Youth Choir, performing solos for competitions, and even an interview on All Classical Portland Radio. A passionate volunteer in her community, she teaches choral music and art to elementary students after school. Bella believes that giving back is important, and that it can inspire others to make a difference. She believes the arts are an excellent way to bring people together, especially the art of writing. Her passion for journalism began her 8th grade year, when she wrote for her middle school's newspaper in a weekly journalism class. Bella is excited to be writing for the Chronicle, and she hopes to bring joy to the lives of her readers while also sparking conversation about Jesuit life and current events.