The Process and Production of All Together Now.
During the week of November 12th-15th, students, faculty, and alumni performed the musical review All Together Now in tandem with over 2,500 theaters, all performing the same show, on the same days.
The show is a musical review, with no central storyline, instead displaying a series of songs and dances.
"It's a lot of songs pulled from a lot of different musicals, all pulled together to tell a story. This is our celebration of theater coming back, and a live theater experience," actress and sophomore Isabel Diab said.
The process that started All Together Now was the shows auditions, which ran from September 14th to September 15th. The auditions were open call, where anyone could sign up to participate in them.
"We have an open call audition, on the first day we invite everybody who's interested in auditioning to participate in a group audition, because ensemble is very important to us, it's the core of everything we do. We like to see how people work together as a group. So, on the open call we taught a dance combination, we taught a musical piece, some movement pieces, and we tried to do as much group activity as we could. On the second day we had optional solo auditions, and people could sign up to sing a two minute song of their choice to give us an idea of their vocal range, and where they might fit. It also shows us if they have a little bit of gumption, to do a solo by yourself, it takes a little courage. So, some of those people who did that were some of our solos," said drama director Elaine Kloser.
Rehearsals ran from September 22nd to November 11th, with a total of 39 rehearsals lasting an average of 3 hours each.
"[Rehearsals] are really fun. Typically, we'll all show up, sit in the seats of the theater, and then we will do a warmup, which is either a movement or vocal warmup. And, depending on what we're doing that day, we'll either go to the choir room to work on our music, or we'll stay on stage to work on dance routines. Sometimes we'll do a combination of the two, especially for this show," said senior and actress Karli Lonnquist.
On Tuesday, November 9th, the cast and crew of All Together Now performed a preview during flex period, showcasing some of the dance and music they had been practicing, as well as giving two tickets to the performance to a lucky member of the audience.
The performance took place on November 12th-14th, with one show a day. All Together Now is Jesuit's first show since the school's shutdown that's been allowed to be open to a large, in person audience. The show was also live streamed, allowing viewers to watch either in person, or at home.
About the Contributor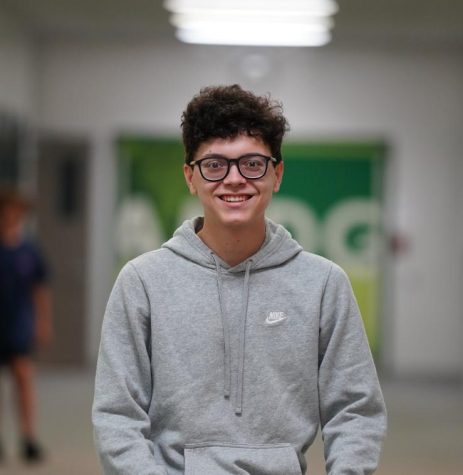 David Reynaud, Staff Writer
A senior at Jesuit High School,
David Reynaud
strives to document the overlooked students at Jesuit. His writing focuses on history, drama, and more. In addition to working at the Jesuit Chronicle, is a member of Jesuit's Chess Team. His favorite media outlets are
Vice, The New York Times, Vox, and the Jesuit Chronicle
. David spends his free time reading, playing games with friends, and listening to podcasts. David hopes to improve his writing skills, and major in Education at University of Oregon, and pursue a career in teaching.