Jesuit's New Guide Dog
Guide dog paws his way into our hearts
For the next ten months, Jesuit will have a new member on campus, a yellow lab named Neutrino.
Neutrino is a five-month old puppy, training to be a guide dog by Martha Cope, the athletic secretary.
"I did this years ago with my oldest daughter and we raised eight puppies," Cope said. "She went to school here, so her whole junior year she brought her dog to school."
Neutrino will be with Cope until he is about 14-16 months, after which he will then train to become a certified guide dog.
"[Neutrino] will go to the guide dog school in Boring, Oregon and get more formal training and that's where they will determine if he actually becomes a guide dog," Cope said. "Only about 50% of the puppies who start out make it as guide dogs because it is really hard."
Neutrino has been on campus most days.
"It works out well in my position because I don't have any responsibilities for students, especially when he was little I had to take him out a lot, and if I was in a classroom obviously that wouldn't work out very well," Cope said. "There are a lot of teachers at other schools that do this, but they usually have someone else start the puppy, is what it's called, until it's old enough to be taken to school."
Raising a guide dog is similar to raising a regular puppy.
"One of the other parts is that we go on outings with the group to different things that we wouldn't otherwise do," Cope said. "Like we went to the Saturday Night market and took the MAX there, because they have to know how to go on a MAX transit bus. So he's been on a MAX train, he's been on a bus, he'll hopefully go on an airplane. So socializing them and just exposing him to all kinds of things, he goes to restaurants with me, he can go anywhere."
Jesuit is not new to the idea of having dogs on campus before.
"We actually have had therapy dogs on campus on a couple of occasions," principal Paul Hogan said. "We did it a couple times during exams in January and once when he had a death on campus, we had a number of therapy dogs."
As of now, there are no dogs that are at Jesuit full time, whether that is therapy dogs, guide dogs, or security dogs.
"What we decided is that there are some people allergic to dogs or some people that are scared of dogs even if they're super friendly," Hogan said. "We decided on an unwritten policy a number of years ago, to allow dogs on leashes outdoors at ball games, particularly at baseball or softball, as long as they are on a leash and not barking or pooping on campus, that type of stuff."
Neutrino is on campus for the rest of the year and then will leave in July or August. Make sure you say hi when you have the chance.
About the Writer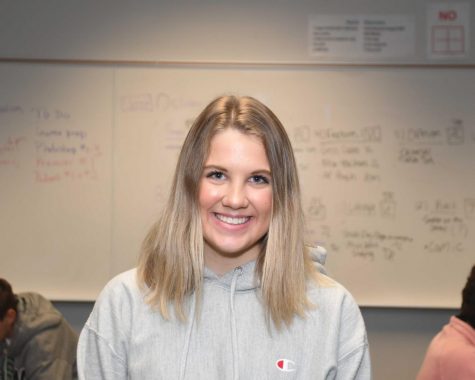 Annie Landgraf, Alumni 2019-2020
Annie Landgraf is a managing editor for journalism. She was born in Lake Oswego, Oregon and went to Lake Oswego schools her whole life before entering Jesuit. She is the youngest out of 3 older siblings who have all graduated from Jesuit. She is a junior and has been apart of the journalism class for a year. Annie's passion for journalism started at a very young age when her older sister was an editor for journalism at Jesuit. She also had another sister who was apart of journalism. Going into high school, Annie wanted to always join journalism and be apart of the newspaper. Annie as a freshman was on the cross country team and as a sophomore she was part of green team and was a jv ambassador. This year as a junior, she is an ambassador and involved in campus ministry. Last year in journalism, Annie would write mostly news, sports, or arts articles. Her favorite part about journalism is being able to get to know the faculty and staff at Jesuit through her interviews for articles. She hopes as an editor she can be a leader in the class and someone that people can go to for help whenever they need it in class.