Library Director Mr. Lum Retires After 40 years of Teaching
After 19 years teaching at Jesuit, Mr. Gregory Lum retired on January 28.
Although Mr. Lum had many considerations going into his decision to retire, he highlighted his family and interests as key factors. "Part of my time will be spent on the coast being near my parents who are getting older. I will be able to be with them for a few days a week and still live in the Portland area on the weekends," Mr. Lum said.
Mr. Lum talked about how he wanted to continue to be connected to Portland as he likes his church, yard, and the friendships he has built here.
Outside of being the library director, Mr. Lum has been a co-coordinator for many encounters and an assistant in running student government for 14 years.
Among all these programs Mr. Lum was most proud of making reading enjoyable for students.
"I remember sharing a book with a junior who loved it and shared that this was the first non-assigned book he had read. And then I shared that with the author and the author wrote to the student," Mr. Lum said.
Before Jesuit, Mr. Lum taught at other schools starting as a 5th grade teacher in Scappoose where one of his students was math teacher Mr. Hildreth.
Mr. Lum has also taught in Tennessee, Central Oregon, Astoria, and worked as an adjunct instructor at Portland State and George Fox University. Mr. Lum has spent ten years in the classroom and thirty years in a school library. His hardest job was teaching kindergarten.
Mr. Lum's work in the library has been a consistent resource for students, particularly for research guides and as a place to study.
"The resource guide allowed me to access the information I needed especially for a chemistry project. Overall the library is a place you can get help with all of your classes and literary needs," said junior Gerardo Reyes-Gonzalez.
While Mr. Lum's impact as an educator will continue to influence Jesuit, following his retirement on January 28, current library assistant Ms. Dickinson will be here for an additional two days a week. Mrs. Fitzpatrik-Bjorn will also take a more predominant role. One other librarian, Mr. Campillo, will also be a part of the library as Jesuit adjusts.
About the Writer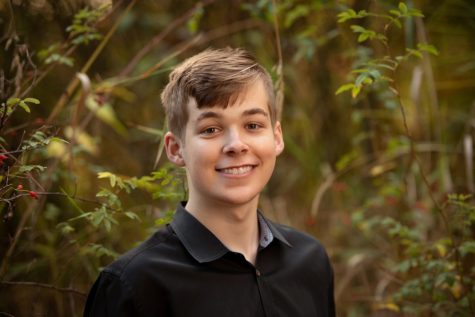 Matthew Heinsen, Staff Writer
Matthew Heinsen
is a senior at Jesuit High School. At Jesuit, Matthew enjoys math, science, and media courses. This year he is taking Advanced Media Production and Yearbook. As far as co curriculars go, Matthew is involved in NHS as an officer this year. As an officer, he helps coordinate NHS events and updates his group on upcoming events. Outside of school, Matthew works as a lifeguard. Matthew's favorite sports to watch are basketball and swimming. His favorite basketball teams are the Portland Trail Blazers and Sacramento Kings. Matthew likes to volunteer for Blanchet House and the Oregon Food bank. In his free time Matthew enjoys paddle boarding, swimming, and hanging out with friends. Matthew has been involved in journalism since a young age. This is Matthew's second year on the journalism program at Jesuit, though he wrote for his local magazine. When Matthew worked with "Cedar Mill Living", he wrote about local athletes and brainstormed with the other writers. During his experience there, Matthew learned how to conduct interviews and work with his team. Matthew wanted to be involved in the Advanced Media Production course to have a broader skill set and to keep people at Jesuit in the loop about events on campus.