Athlete Spotlight: Dev Udata
Dev Udata, a key swimmer and leader for the Jesuit Men's Swim Team, has led the team to a strong start to the season. 
Being an integral swimmer from last season, he comes into his senior year as team captain. 
"It's been heck of a roller coaster," said Udata. "There is a lot to learn in a short amount of time. At the start of the season I had to work with the coaches and distribute apparel. I have also reached out to swimmers that have had trouble fitting in. I'm trying to be a natural leader on the team and I enjoy it a lot." 
The Jesuit men's swim team has had meets against several Metro League teams including Beaverton, Aloha, Westview and Southridge. 
Udata spoke on the team's improvement and recent meets.
"We have won our first two meets and several swimmers have progressed exponentially, which is great to see," Udata said. 
Udata and the swim team have high hopes going into districts.
"I am excited to go into districts and state," says Udata. "We have one more swim meet before the district meet which will hopefully cement our confidence since we will be swimming against our biggest competitor, Sunset." 
Along with Udata's excellent swimming, he is also an exemplary student. 
Udata described the difficult balance between school and extracurriculars. 
"Semester one of senior year was extremely stressful because I needed to balance my extracurriculars, college applications, school, swimming, social life and studying for finals," Udata added.
As much as senior year of semester one was stressful, Udata pushed through and excelled. 
"Even though I was really busy, I felt that it [school] went by quickly and I learned a lot about myself while reflecting back on my high school experience through writing my college essays," Udata added. 
"Dev is an awesome student to have in class," Mrs. Malia Bernards, AP Macroeconomics teacher said. "He's a great student. He gets his work done and always contributes to conversations in class."
Udata is also excited for his future plans. 
"I have gotten into a couple of colleges but I am waiting for numerous decisions to come out," said Udata. "When it comes to swimming I am not committing anywhere but I probably will find a way to swim intramural or club because I love the water." 
Wherever Udata lands for college next year, he will bring his extraordinary skills into college that he has developed during his time at Jesuit and continue excelling as a student and a swimmer. 
About the Contributor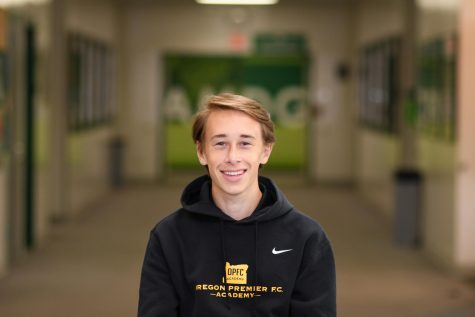 Henry Hess, Staff Writer
Hello my name is Henry Hess. I am a senior at Jesuit High School. I was born in Boston, Massachusetts and have lived in Portland for 15 years now. I have played soccer since I was 2 years old and the sport is still my passion today. I play on the varsity team here at Jesuit and play for a club team called Oregon Premier Football Club. In my free time, I like to make and watch films, ski and travel with my family. I am an intern for my dad's company, Jumpturn Consulting. I live with my dad, John, my mom, Jennifer, my sister, Adelaide, and my black lab, Gordie. My sister is a freshman at Northwest Academy. I am taking Journalism this year to improve my writing skills and write and research about current events and sports.