CJ McCollum's Legacy
On June 27, 2013, CJ McCollum was selected by the Portland Trail Blazers as the No. 10 overall pick in the NBA Draft. After playing four years in college for the Lehigh Mountain Hawks, he was the first player to be selected as a draft pick from the university. For nearly the next decade, he would pair with Damian Lillard to become one of the greatest backcourts in Blazers history. 
McCollum first picked up attention from college scouts in high school. He played basketball throughout his four years at GlenOak High School. As a freshman, he was only 5'2, but grew significantly into his junior and senior year. Most notably, he averaged 29.3 points-per-game during his senior season. He would end up scoring 1405 points in his high school career, and was named Gatorade Ohio Player of the year. 
McCollum would then go on to college to play for Lehigh University, a private research school. In his first season, he averaged 19.1 points, 5 rebounds, and shot 45.9 percent from the field. His production would only increase as the years went on, leading the Mountain Hawks to their first ever NCAA Division I Tournament win in 2012. 
When the 2013 NBA Draft arrived, McCollum was taken by the Trail Blazers and signed a rookie contract. He first played in the NBA Summer League, and averaged 21 points and 4 rebounds. After having to sit out the first six weeks of the regular season due to a foot injury, he finally made his debut on January 8, 2014. He scored 4 points and had 2 rebounds in a 110-94 Blazers win against the Orlando Magic.
McCollum increased his scoring as his shooting improved. With his partnership with Lillard, he steadily averaged 19.1 points-per-game and 3.1 assists from 2014 to 2019. McCollum's career-high points in his Blazers tenure came against the Chicago Bulls in 2018, where he scored 50 points, with 28 coming from the first quarter. You can find his highlights from that game here.
His best playoff performance came against the Denver Nuggets in the 2018-19 season. In Game 3, he equaled his playoff career-high with 41 points in an enthralling quadruple overtime win. McCollum continued his clutch performances throughout the series, and was the deciding factor in Game 7. He helped lead the Blazers to the Western Conference Finals for the first time since 2000. 
McCollum's highest points-per game was in the 2020-21 Covid season. He managed to average 23.1 points through the 47 games that he played. 
Before the trade, McCollum was the Blazers' primary scorer as Lillard got injured early in January. Portland has been underwhelming this year, currently with a record of 23-34 as of February 12. This may be one of the reasons the franchise was looking for trade options. Blazers GM Joe Cronin explained the main purpose of trades before the deadline.
"Cap flexibility," Cronin said. "The opportunity to clean our books up a little and just create more opportunities for this coming week and beyond, through the draft and free agency."
On February 8, 2022, McCollum was traded to the New Orleans Pelicans. After spending nine years with the Blazers, there is no doubt that he left a long-lasting impact on Portland. He consistently worked hard to improve, and gave it his all every game. There is no doubt that he will go down as one of the best guards in Trail Blazers history. 
Thank you, CJ.
About the Contributor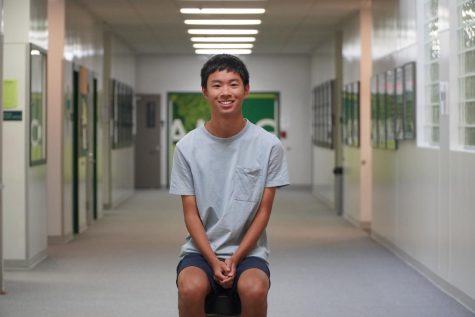 Justin Bian, Sports Executive & Editorial Board Member
Justin Bian is a senior at Jesuit High School and the Sports Executive for the Jesuit Chronicle. He has played soccer for eleven years, and piano for ten. Along with those hobbies, he likes to visit new places around Portland with his family on the weekends. Justin got interested in Journalism because of his older sister, Andrea, who was a staff writer a few years ago. Although his older sister's experience was a great motivator, the main reason he decided to join Journalism was because of his passion for sports. This year, he hopes to cover a variety of sports and write short stories about the games. He also looks to interview players, coaches, and fans, so that the Jesuit community can get insights on the sports teams. Justin would also like to pursue other forms of media, such as broadcasting and podcasts. He aims to bring relevant news around the Jesuit community based on current events on and off campus. At the end of the year, he hopes to have published many articles and have created lasting relationships with classmates and teachers.