Student Spotlight: Jacob Nenow
Junior Jacob Nenow is a nationally ranked cross-country athlete, placing 19th nationally in the Garmin Running Lane Cross Country Championships. Not only is he an accomplished athlete, but he is academically inclined as he takes Jesuit's most advanced math classes.
While he may be accomplished, it's not without hard work and struggle. Motivation also used to be a struggle for Nenow, who found it difficult to continue running. Nenow also used to play chess, which similarly takes motivation. 
"With running, freshman year I struggled with motivation to keep going, and seeing how it paid off kept me going," Nenow said. 
Nenow pursues many rigorous avenues such as math, piano, and cross country which have taught him the importance of discipline and practice. 
"When I was growing up, I did piano competitions that required the same amount of dedication that I am able to use for running," Nenow said. "It is a balance."
Nenow's routine requires intent focus in order to keep a workload manageable.
"I practice, and I go home and basically work until 9:30 and then relax," Nenow said. "I try to be disciplined by not taking a lot of breaks before that."
Nenow's cross country teammate Gus Clevenger  has run with Nenow since freshman year and is proud of his growth. 
"Jacob has been a great friend," Clevanger said. "Coming in freshman year, I didn't really know a lot about him, but he really proved himself to be an indispensable member of our team. He has not just a passion for running, but a passion for his piano, his math, and chess, and just to see him embrace all the things he loves, and work as hard as he does, is extraordinarily impressive."
Math continues to be incredibly important to Jacob as he is in discrete math and topology and analysis. 
"Right now,  I am planning to major in math and if I can, I'm going to try to get onto a D1 cross country team," Nenow said. 
Nenow has been inspired by many in his life who have exhibited similar passions as him. 
"My dad inspires me because he was a  successful runner," Nenow said. "And Dr. Gorman, he is really inspiring too."
Looking into the future Nenow hopes to continue running at Jesuit and to live out Jesuit's mission. 
"Me, Gus Clevanger, and junior Josh Augustine will be the captains," Nenow said. Hopefully we will be able to win the state championship next year. Serving God and others is my long-term goal."
This year, Nenow individually placed 19th in the Garmin Running Lane Cross Country Championships and Jesuit's cross country team won the State Championship, and placed 3rd nationally. He aspires to continue his career in college.
About the Writer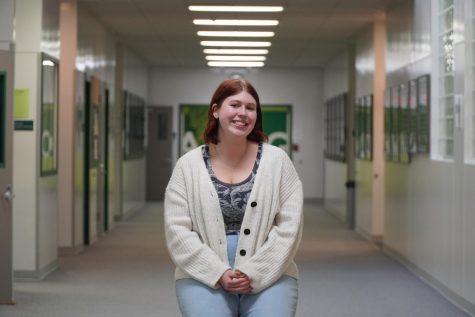 Allie Ruden, Editor in Chief
Allie Ruden is a senior at Jesuit High School and a second-year journalism student. Allie was born in Portland, Oregon, and is an only child. She has a labradoodle named Daisy who loves to nap and sunbathe.  In Allie's free time she loves to read, cook, and listen to all kinds of music. She loves to explore Portland with her friends. Her favorite places to eat in Portland are Bamboo Sushi, JoLa Cafe, and Grassa (highly recommended). Allie enjoys going to the beach, especially Manzanita and Lincoln City, and traveling all around Bend.  She loves writing and her favorite subjects in school are Journalism, English, and Spanish. Allie is interested in writing articles about music, pop culture, and the students and issues of the Jesuit community. She is excited to be able to write about what she is passionate about and delve into issues important to her. Allie is thrilled to be writing for
The Jesuit Chronicle
this year and is hoping to meet some new faces!