Student Spotlight: Trino and Freely Cope
Picture this– you're sitting in English class, stressing about the junior paper. You long for comfort in what seems like a constant state of chaos. Thankfully, you have a friend right next to you to keep you company– a labrador is at your feet.
Neutrino (Trino) and Freely Cope have become staples of the Jesuit community. These furry friends can be seen walking around campus, sitting in the Dieringer Office, or participating in class by being "checked out." Since Trino and Freely have had such an impact on the Jesuit community, it's time to answer questions such as where they came from, why they are here, and how Neutrino got his name!
Before Neutrino and Freely came to Jesuit, they were working to become guide dogs under the guidance of athletic secretary Martha Cope.
"When I got Neutrino as a puppy, he was a guide dog puppy in training," Cope said. "I got him in June of 2019, when he was about 8 weeks old. Just before he went to training, I knew that I was going to want another dog, so I let the people in my Guide Dog group know that if they had any puppies that were going through a "career change", I would be interested. I learned Freely was available, so I got to go pick her up. Both of the dogs made it all the way through the guide dog program and both did really well. Freely almost passed, and Neutrino did pass the whole program".
Unfortunately, unprecedented illnesses prevented the dogs from continuing their careers as potential guide dogs.
"During her training, Freely developed a random rash for the fourth time, so the committee determined that it was a chronic condition and therefore she was unfit to be a guide dog," Cope said. "After Trino passed training, he and a few other dogs were staying together and developed a respiratory illness. Once Trino recovered, he still occasionally coughed and was uncomfortable with a typical harness guide dogs often use, and guide dogs can't cough that often."
Although they didn't continue as guide dogs, Freely and Trino share an eqaully admirable title as certified Dove Lewis therapy dogs.
"This therapy dog program actually only uses career changed dogs or retired guide dogs," Cope said. "They have found that over the years, these dogs are just the best for the program. Freely and I both went through training at Dove Lewis as a therapy dog and therapy dog handler. The training was a lot of work, but important. A lot of 'gigs' therapy dogs go to are sensitive situations, and it's crucial for them to be educated on how to treat these situations."
Trino and Freely are the best of friends, but they actually have very different personalities.
"Freely is totally chill," Cope said. "I have never even heard her bark, except a little bit when she's dreaming. She likes to play, but when she's done, she's done. "Neutrino is an absolute goofball. He has a ton of energy. He's a really sweet dog, and the cuddler out of the two– he loves human contact."
The names of the dogs were not chosen by Mrs. Cope, but by the Guide Dogs for the Blind program/organization at birth.
"Guide dog puppies are named by the Guide Dogs for the Blind," Cope said. "Every litter that is born in each month is named with the same letter of the alphabet, starting with January and 'A'. The committee decides what the dogs from that litter are going to be named. They only reuse names sometimes, but not too often."
When Mrs. Cope introduced the dogs to the administration, former Principal Paul Hogan instantly wanted them to be a part of the Jesuit community.
"I was given permission to have guide dogs here," Cope said. "When I had Freely certified as a therapy dog, I approached former principal Mr. Hogan, who is familiar with the Dove Lewis program, about her certification. His response was, 'Oh, she's gonna be here every day, right?"
The intention of having the service dogs at Jesuit, as Mrs. Cope describes, is to bring joy to our community.
"I hope they just make kids and adults happy and that they make Jesuit an even more welcoming place," Cope said. "I also hope that kids and adults learn about the Dove Lewis and guide dog programs too and maybe get inspired to get involved!"
To "check out" Trino or Freely for a class period, check with your teacher, and then email Mrs. Cope or stop by her office.
About the Contributor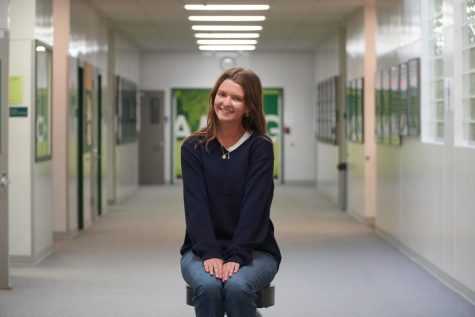 Lauren Herrick, Editor in Chief
Senior Lauren Herrick is a returning student from Journalism and a member of the editorial
board this year. Lauren enjoys producing feature and opinion pieces, collaborating with the team
to lead the development of the online and print paper, and enhancing her passion for the craft of
journalism through incorporating technology such as podcasts— check out the Sader Scoop, 
which she co-founded and edits. When she's not writing, you can find her reading the
Wall
Street Journal
or listening to NYT's The Daily. Outside
of journalism, Lauren enjoys practicing
yoga, part-time baristing at a local cafe, spending time exploring Oregon with her friends, and
listening to a lot of country music. She's excited to help lead the Jesuit media program and
explore topics more in depth during her second year of the program.