What You Need To Know About Senior Selectives
Seniors who are not taking AP Literature are given the opportunity to choose between 4 semester-long classes designed around specific topics. For the upcoming school year, the options are Mythical Magic Meets Modern Meaning, Dystopias and Utopias, Reading/Writing/Design, and Diversity of Female Voices. 
During the 2020-2021 school year there were 8 Selectives to choose from; however, to simplify forecasting and make selection more manageable the classes were condensed into 4 options. 
"The feedback we got is that it felt overwhelming to only be able to choose 2 out of 8," English Department Chair Amanda Case said. 
The Senior Selectives were created as an alternative to a traditional English IV class so students can choose what they are interested in and teachers teach according to their own interests and expertise. 
"We wanted to modernize the curriculum and wanted to make sure we were staying excited and passionate about what we were teaching, so we built the selectives around topics we knew we were interested in while making them more applicable than some of the former things that we have been teaching," Case said. 
Students have appreciated being allowed to choose the focus of the classes they take and enjoyed having a shorter period of focus on a specific subject. 
"I feel like there's not enough time for me to get fully bored with the subject so I can still enjoy the subject because it's relatively new," senior Oliver Chapin said.
Additionally, the Selectives have become popular with students who might not have seen topics such as women's literature at the main focus of a class before. It gives them an opportunity to analyze these subjects for perhaps the first time in an academic setting. 
"We are allowed to discuss topics that usually we wouldn't be allowed to discuss," senior Sophia Lupo said. 
For students who are ready to forecast for their Selectives, they should rank their top two choices in PowerSchool. Many students will end up in their top choices so students should not avoid the Selectives out of fear of getting placed in a class they do not like. 
"It's possible that they will get a different one just based on their schedule and what classes and periods are open but I would say probably 90% of students will get to go into their first or second choices" Case said. 
For the students who do not end up in one of their top choices, all the Selectives are also all designed to be interesting and relatable to all students so they can be assured they will get something from the class. 
About the Contributor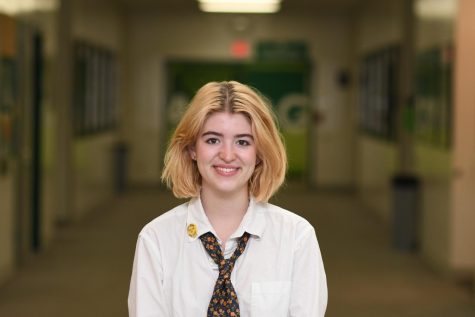 Astrid Foster, Staff Writer
Astrid Foster is a Senior at Jesuit high school. While this is her first year taking journalism, she is excited to learn. Aside from journalism, she has been dancing in some capacity since she was 5 years old. Right now she dances ballet at Open Space Dance. She is also part of the Jesuit Green Team and a Students Demand Action Leader. These mean many of her influences come from sustainability, social justice, and politics. In her free time she enjoys reading both the news and for slightly less serious moods other books as well. On the side she enjoys fashion, and showing up to events in brightly colored outfits. Through working on the newspaper, Astrid hopes to learn more about what goes into creating a newspaper and to engage the Jesuit community in meaningful conversations around important issues.