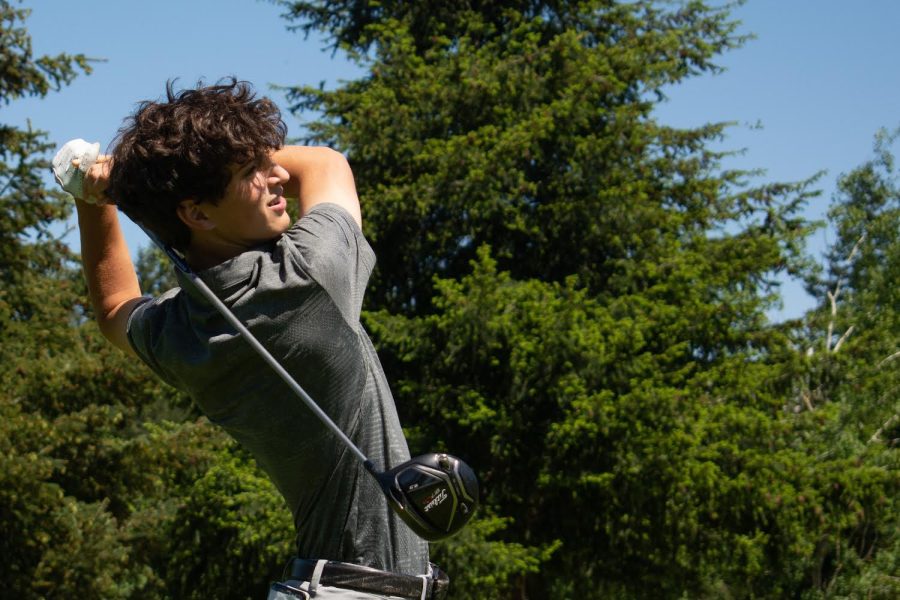 Men's Golf Preview
This season, men's golf will begin their season at the Cougar Invitational on March 14. As the dominant force in the Metro League, they hope to start from where they left off in the previous years. They will look to have an exciting postseason as well, after Covid overshadowed last season.
Brody Marconi and Owen Mackin were two important seniors last year who propelled the team to success. The men's golf team will look to new leaders to organize the team.
One such player is Miles Eastman. As a senior, he has committed to play college golf at Occidental. He expressed his outlook on playing a full season after Covid changed last year.
"I'm really excited for state and postseason competitions," Eastman said. "It feels really good to get back out there, and travel a little more this season."
Eastman also emphasized the expectations for the team. 
"Jesuit has a winning culture, so we're looking for metro titles and state titles," Eastman said. "We also want to get a lot of new guys experience, and have them improve."
Another long term varsity player, Ethan Krause, is also ready for the new season.
"I'm feeling really good," Krause said. "Obviously we want to set our standards high, and we also want to keep a positive attitude and set goals for ourselves throughout the season."
Additionally, Coach Jay Minsker has specific goals for his players. 
"I believe that the expectations will be to win the Metro League and qualify for the state tournaments," Minsker said. "It's a common goal every year that we have."
This year, the theme for the season is "all in." Coach Minsker described the values the team is mainly centered around.
"Everyone has to contribute, and do the best they can," Minsker said. "I know they're going to have good and bad days, but you just have to forget about it and do better on the next hole."
Although the men's tennis team has dominated Metro for the past few years, they are still aware of difficult opponents in the area. Eastman emphasized the strength of a few teams.
"Our main opponents are Westview and Beaverton," Eastman said. "If you look at the rest of the state, Lake Oswego and Summit also have good teams."
As the only seniors on the team, Eastman and Krause will be influential in establishing a strong and competitive team environment. Coach Minsker talked about the impact they bring.
"Both of them are going to lead by example," Minsker said. "Miles and Ethan are leaders, and will help organize the team."
Besides Eastman and Krause, the team will look to younger talent to help. Mason Zimmerman is a sophomore that will be critical to the team's success.
As for the new varsity players that will be joining after tryouts, Minsker expressed his thoughts on what they bring to the table.
"We have a lot of guys who played JV last year, and they put a lot of time and effort to get better," Minsker said. "I'm excited to see how much they've gotten better."
Eastman also shared his thoughts on new players.
"They are really going to help our team," Eastman said. "We have a super young team, and we've gone through a rebuilding process the past couple years with kids that have graduated. The freshman and sophomores will be really big contributors this year."