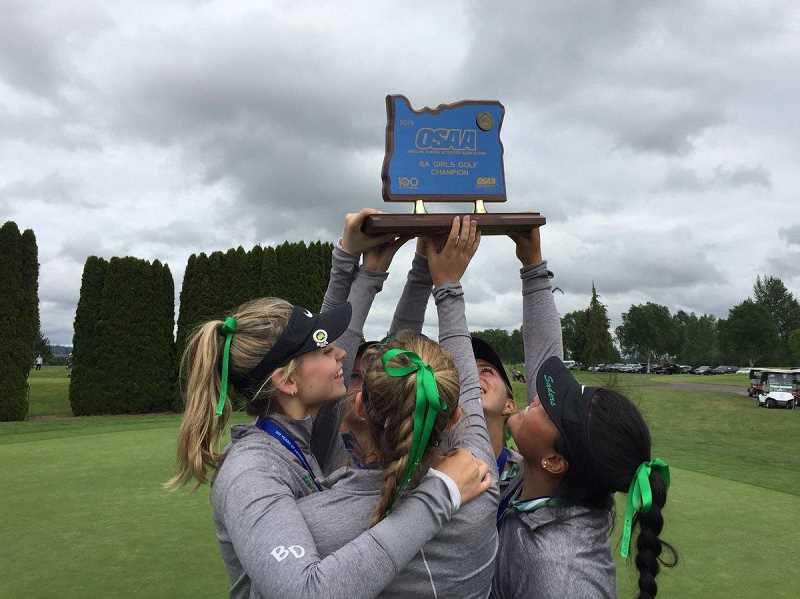 Women's Golf Preview
Women's golf is looking to begin the long Metro League championship, something they have waited three years for. The last time Jesuit was able to compete for metro was before covid, so every single player and coach is ready and knows what they have to do. 
"We expect to compete for the metro league," head coach Michele Gray said.
The team only lost one senior last year so they are relatively bringing back the same team. That senior was Katya Kurkoski. She now golfs in college and was one of their best players. 
"She was our number one golfer," Gray said. 
One player who is stepping up and taking over as leader of the team is senior Beth Milne. Milne has been on the team for four years and she is looking to win another state championship. She won state her freshman year, but due to Covid there has not been state tournaments.  
The team has already been  preparing for the season.
"We have started to practice once a week to get to know the team because we have a lot of new players," Milne said. 
One of the toughest opponents Jesuit will face is Mountainside High School. Jesuit has run into them many times in the last couple of years and will face them again this year.
"Mountainside will be our toughest opponent," Gray said. 
The golf team consists of a strong junior class. Some players to watch out for are Anna Poulin and Quinn Burke. Both players are described as good golfers and good leaders.
Mrs Gray is not the only coach. She has another coach who has been helping her coach the team for the last three years.
"It is myself and Laurie Wagner, a former parent at Jesuit. Itt has been the two of us for the last three years" Gray said.
Mrs Gray shared that she would love to see students come out and support the team. 
The freshman class is described as very competitive. Each new player is coming in hoping to bring something new to the team. 
"We have some strong kids who are looking to join the team," Gray said.